EnGenius ESR580

AC1300 Dual-Band Whole-Home Smart Wi-Fi System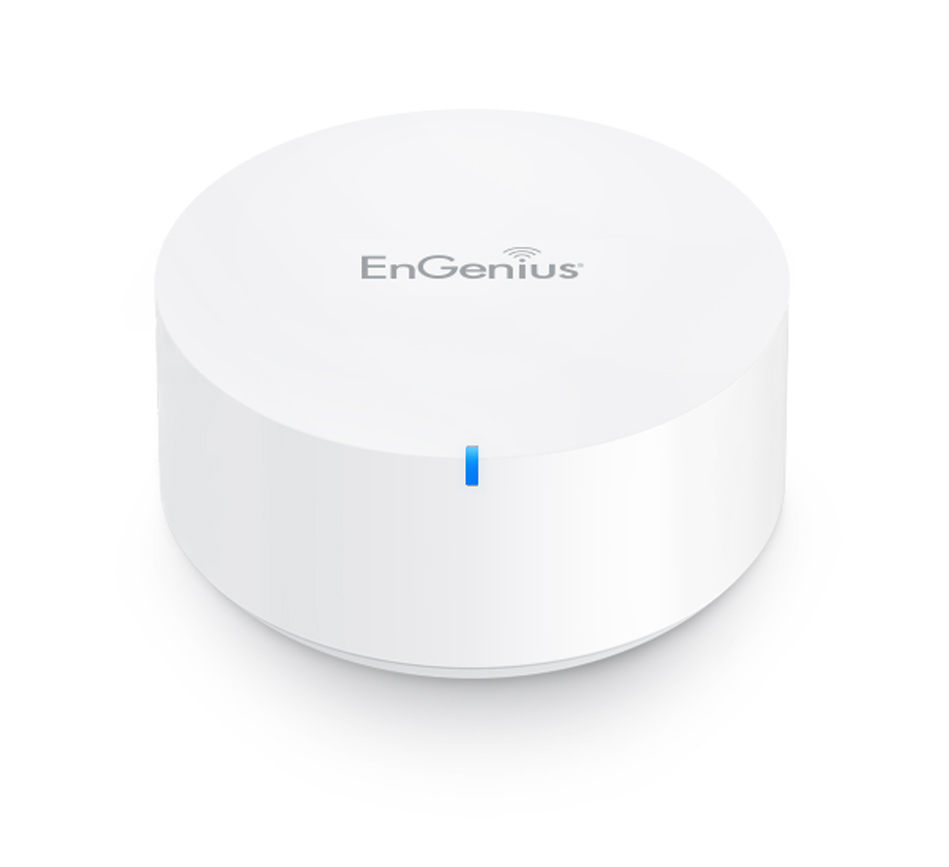 Sorry, this product is no longer available, please contact us for a replacement.
More pricing below, click here!
Overview:
The EnGenius ESR580 Tri-Band Smart Whole-Home Wi-Fi System delivers the strongest Wi-Fi to eliminate dead zones and support high traffic demands with ultrafast 11ac Wave 2 speeds. The Tri-Band mesh router delivers uncompromised 2200mbps wireless speeds and connectivity without interruptions. Experience complete network control with easy network set-up and management with EnMesh.
The hottest high-tech 11ac Wave 2 using MU-MIMO and Beamforming technology
Ultrafast Tri-Band mesh technology automatically detects the best connection
Simplified smart mesh Wi-Fi means no unsightly wires & annoying software
Wall-to-wall wireless coverage eliminates dead spots & connectivity frustrations
Complete worry-free network control belongs to you
The EnMesh Mobile App guides you step by step through a simple, stress-free set-up
Customize parental controls and network management easily via the EnMesh Mobile App
Specifications
Technical Specifications
Standards
IEEE 802.11b/g/n on 2.4 GHz
IEEE 802.11a/n/ac Wave 2 on 5 GHz
Processor
Qualcomm® 717 MHz Quad-Core CPU
4x ARM Cortex A7
Antenna
2 x 2.4 GHz: 4.4 dBi
4 x 5 GHz: 5.6 dBi
Integrated Omni-Directional Antenna
Physical Interface
2 x 10/100/1000 BASE-T, RJ-45 Gigabit Ethernet Port
1x DC Jack
1 x Reset Button
LED Indicators
1 x Power/LAN/2.4 GHz/5 GHz
Power Source
12VDC /1.5A Power Adapter
Wireless & Radio Specifications
Operating Frequency
Tri-Radio Concurrent 2.4 GHz & 5 GHz & 5 GHz
Operation Modes
Access Point Mode
Router Mode
Frequency Radio
2.4 GHz: 2400 MHz ~ 2472 MHz
5 GHz: 5150 MHz ~ 5250 MHz, 5250 MHz ~ 5350 MHz, 5470 MHz ~ 5725 MHz, 5725 MHz ~ 5850 MHz
Transmit Power
Up to 19 dBm on 2.4 GHz
Up to 21 dBm on 5 GHz
Tx Beamforming (TxBF)
Radio Chains/Spatial Stream
2x2:2
SU-MIMO
Two (2) Spatial Stream SU-MIMO up to 1267 Mbps to a single client
MU-MIMO
Two (2) Spatial Stream MU-MIMO up to 867 Mbps to two (2) 1x1 wireless devices simultaneously
Supported Data Rates (Mbps):
2.4 GHz: Max 400
5 GHz: Max 867
5 GHz: Max 867
802.11b: 1, 2, 5.5, 11
802.11a/g: 6, 9, 12, 18, 36, 48, 54
802.11n: 6.5 to 400 Mbps (MCS0 to MCS15)
802.11ac: 6.5 to 867 Mbps (MCS0 to MCS9, NSS = 1 to 2)
Supported Radio Technologies
802.11b: Direct-Sequence Spread Spectrum (DSSS)
802.11a/g/n/ac: Orthogonal Frequency-Division Multiplexing (OFDM)
802.11n/ac: 2x2 MIMO with 2 Streams
Channelization
802.11ac Supports Very High Throughput (VHT)—VHT 20/40/80 MHz
802.11n Supports High Throughput (HT)—HT 20/40 MHz
802.11n Supports Very High Throughput (VHT) Under the 2.4 GHz Radio—VHT 40 MHz (256-QAM)
802.11n/ac Packet Aggregation: AMPDU, ASPDU
Supported Modulation
802.11b: BPSK, QPSK, CCK
802.11a/g/n: BPSK, QPSK, 16-QAM, 64-QAM
802.11ac: BPSK, QPSK, 16-QAM, 64-QAM, 256-QAM
Management Features
Internet Speed Test
Parental Control
Wireless Client Connected List
Guest Network
Fast Roaming (802.11k & 802.11r)
QoS
Mesh Speed Test (between two nodes)
Port Forwarding
Band Steering
DMZ
Auto Firmware Update
Backup/Restore Settings
DoS
UID/DDNS
UPnP
Airtime Fairness
Website Filter
Internet Schedule
Mesh Network Connection Quality
Wireless Security
WPA2 Enterprise (AES)
Hide SSID in Beacons
Client Isolation
Device Dimensions & Weights
ESR580 Device
Weight: .43lbs lbs. (195g)
Width: 5" (127mm)
Length: 5" (127mm)
Height: 2.2" (57 mm)
Packaging
Weight: .93 lbs. (420 g)
Width: 5.8" (33.8 mm)
Length: 5.8" (47.3 mm)
Height: 4.4" (18.8 mm)
Package Contents
1—ESR580 Tri-Band AC2200 Whole-Home Wi-Fi System
1—12V/1.5A Power Adapter
1—Wall Mount Screw Kits
1—RJ-45 Ethernet Cables
1—Quick Installation Guide
Certifications
FCC
IC
Warranty
1 Year
Pricing Notes:
Pricing and product availability subject to change without notice.