EnGenius EWS357AP

Greater capacities. Stronger connections. Reliable management options.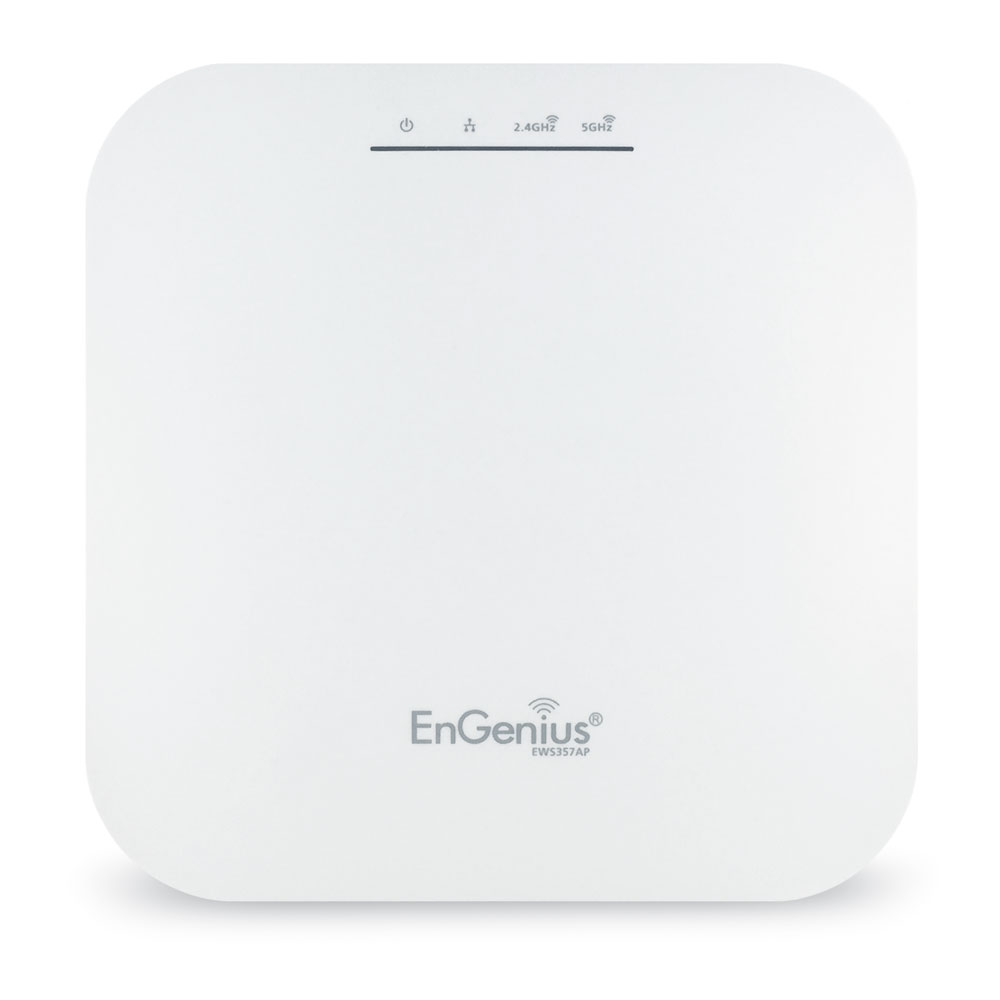 EnGenius Products
EnGenius EWS357AP
WI-FI 6 11AX 2X2 MANAGED INDOOR
#EWS357AP
List Price:
$129.00
Our Price: $105.40
More pricing below, click here!
Overview:
EnGenius Neutron EWS357AP 802.11ax 2x2 Managed Indoor Wireless Access Point features 802.11ax technology, which deepens and expands the capabilities of Wi-Fi and utilizes EnGenius enterprise-level management and AP features. The sleek, low-profile 11ax AP is loaded with new hardware components to run more efficiently and consume less power for maximum theoretical speeds of 574 Mbps (2.4 GHz frequency) and 1,200 Mbps (5 GHz frequency). To give your network elevated security, WPA3 and WPA2-AES make connecting client and IoT devices more secure and easier.
Features & Benefits
High-capacity & high-efficient Wi-Fi (Wi-Fi 6)
Uplink & downlink of OFDMA for more efficient channel use
1024 QAM for 25% increase in throughput
Target Wake Time (TWT) for power-saving wake times
BSS Coloring for tagging packets with "color" to differentiate data
Spatial reuse for simultaneous tranmissions on same channel
Uplink & downlink of MU-MIMO for optimal signal & reception reliability
Operate as a stand-alone AP or centrally manage via switch
Remotely manage 1-1,000+ APs via ezMaster
GigE PoE-compliant ports expand deployment & power options
Low-profile designs for ceiling or wall mount
Features:
Next-Generation Wi-Fi
The Neutron Series AX Access Points take advantage of 11ax technology, which enables more efficient channel use, reduces latency between AP and client devices, and provides ground-breaking features, such as uplink and downlink of OFDMA, Target Wake Time, uplink and downlink of MU-MIMO, BSS Coloring, spatial reuse, and preamble updates.
OFDMA (in both uplink and downlink): enables more efficient channel use, reduces latency between AP and client devices, and provides backward-compatibility with 2.4 GHz and 5 GHz
1024 QAM: boosts throughput by 25% and provides greater reliability in short distances
BSS coloring: tags packets with a "color" to differentiate between adjacent basic service sets to potentially help minimize co-channel interference (CCI)
Spatial reuse: identifies the different "colors" via BSS coloring and simultaneously transmits on the same channel, which reduces waiting time and lessens contention; determines whether the transmission will be deferred or reused on the channel
Uplink & downlink of MU-MIMO: supports up to eight client devices and provides greater network efficiency, focuses radio energy on specific users, and ensures optimal signal and reception reliability
Target Wake Time (TWT): reduces power consumption, schedules wake times, and extends client battery life of mobile and IoT devices
Longer OFDM symbols: enables shorter wait times between data transmissions and tolerates more noise, which allows greater coverage
Flexibility in Deployment
Neutron's new 11ax line of high-performance, managed, indoor ceiling- and wall-mount access points consists of 2x2 11ax dual-band for general use and a 4x4 dual-band 11ax version for high-capacity use that are ready to immediately deploy. Configure APs individually as stand-alone units, locally manage up to 50 per Neutron switch or use ezMaster software to control 1,000+ APs.
Optimize Connectivity With Wireless Mesh on Selected Models
Utilize mesh access point mode on Neutron APs for retrofit or new install applications where wire runs are not possible. Mesh's smart sensing technology adds devices quickly, optimizes routes between APs, and automatically self-heals the network in the event an AP should ever lose connection.
The Latest in Wi-Fi Security
With the Neutron 11ax (WiFi 6) access points, your network is protected by WPA3, which delivers next-generation wireless security by making connecting client and IoT devices more secure and easier, as well as WPA2-AES. The high level of security expected and demanded by enterprises now protects SMBs as well.
Secure Guest Networks
Organizations that offer Internet access to patrons or visitors—notably hotels, retail shops and restaurants— will appreciate Neutron's guest network capabilities. Establish a secure guest network that blocks access to main corporate computers. Create separate Virtual LANs for increased security, network reliability, and bandwidth conservation.
Power-over-Ethernet Convenience
All Neutron 11ax access points support 1 and 2.5 Gigabit PoE ports, enabling placement in discreet locations where power outlets are scarce or unavailable. Power the access points through a connected Ethernet cable directly to a Neutron Managed Gigabit PoE+ switch or with a PoE adapter up to 328 feet from the power source.
Simplified Deployment & Provisioning
In combination with Neutron Switches and ezMaster Network Management Software, Neutron 11ax APs are automatically discovered and provisioned. One-click individual or bulk configurations and upgrades save time. In addition, these access points are quickly and easily deployed and operated by users with limited networking experience.
Manage Up to 50 APs with Neutron Switches
In small settings, any Neutron Managed Switch can act as a wireless controller capable of managing up to 50 Neutron EWS Access Points. IT administrators have access to all connected Neutron devices and a full array of Layer 2 management tools. Choose between 8-, 24-, and 48-Port PoE+ switch models with flexible deployment and management options.
Image Gallery: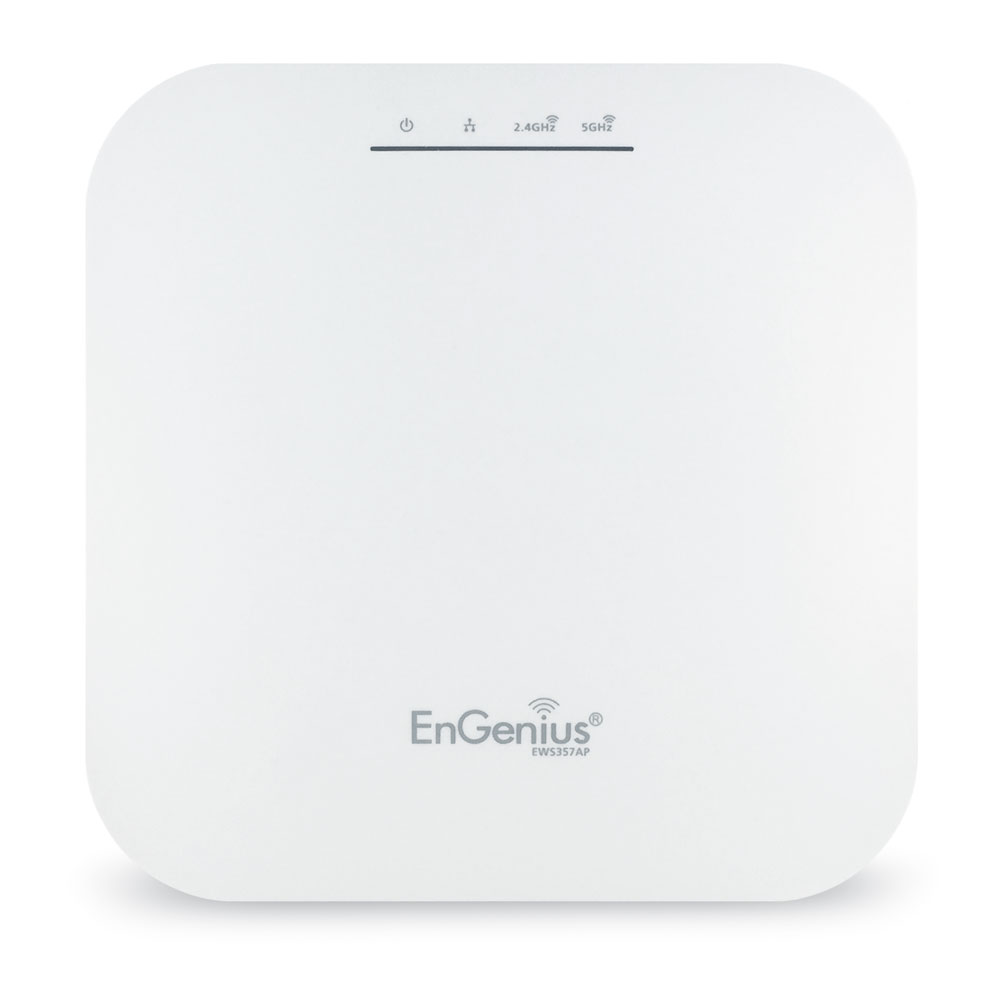 Front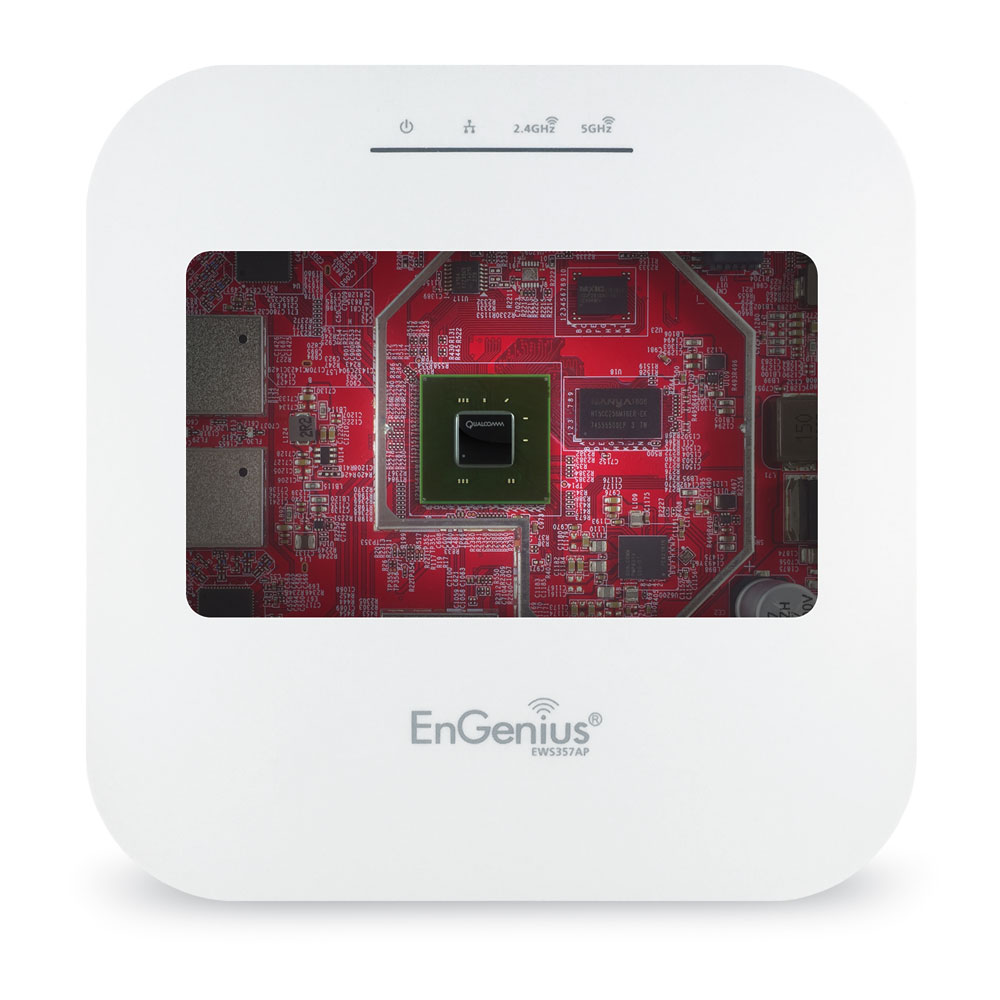 Front PCB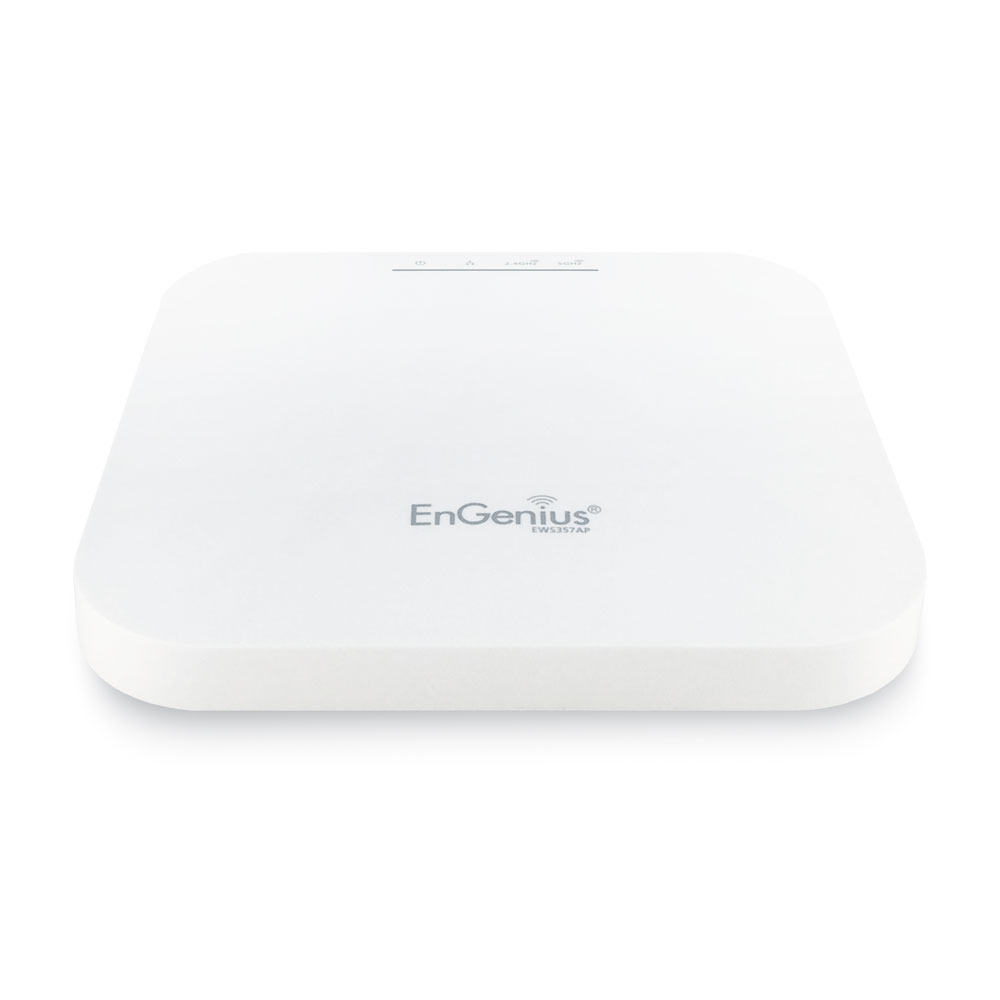 Front Angle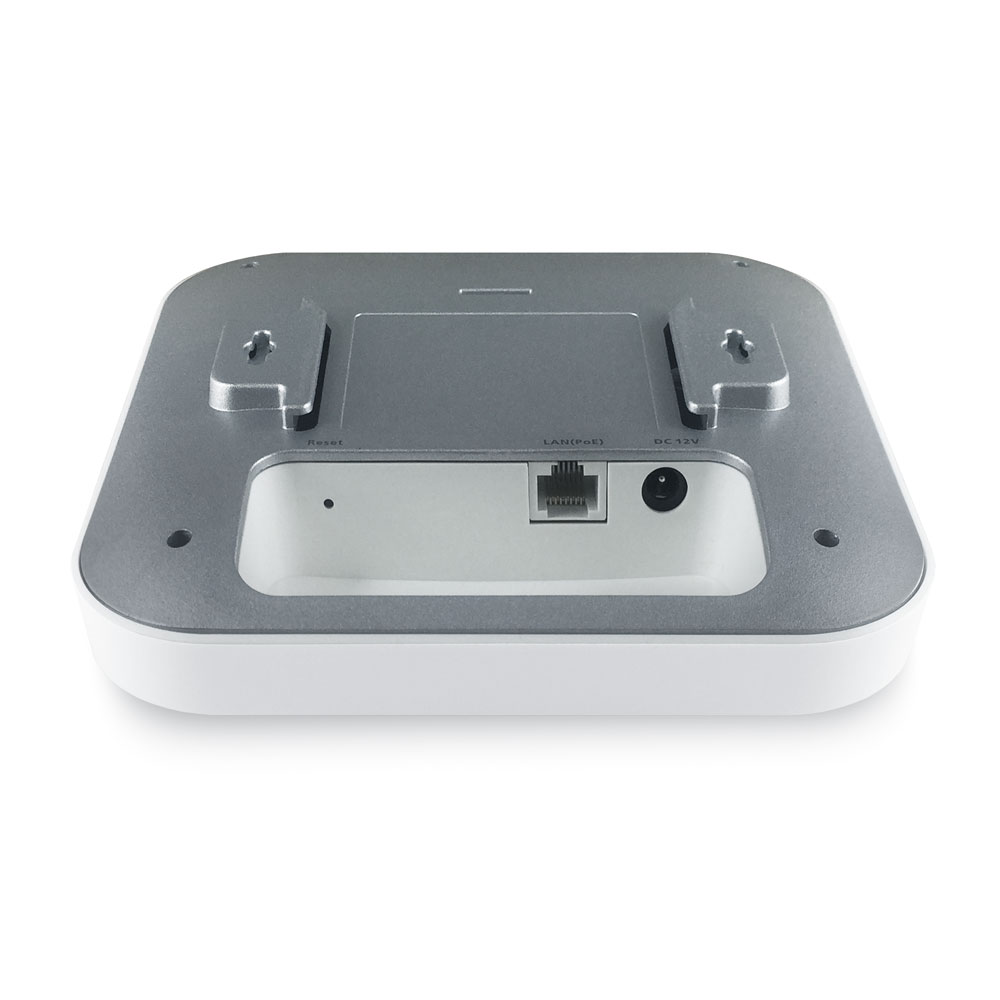 Back Angle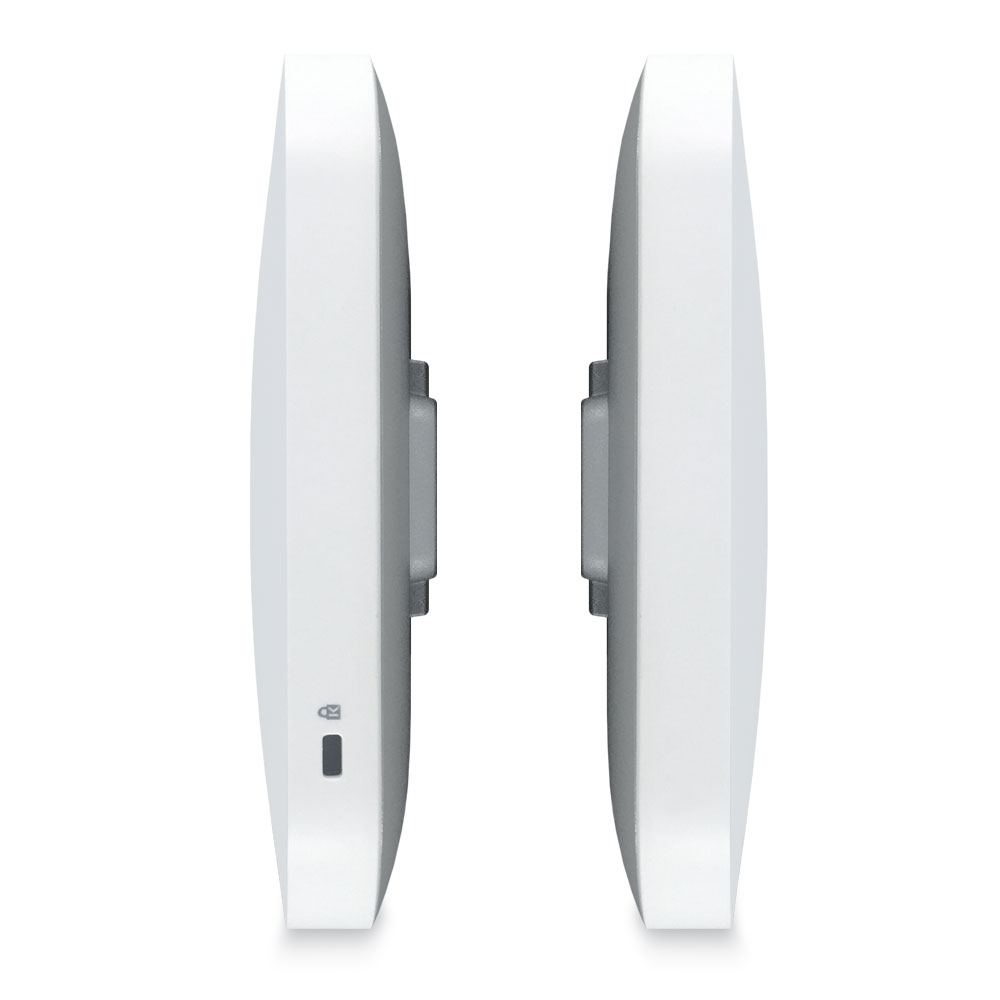 Sides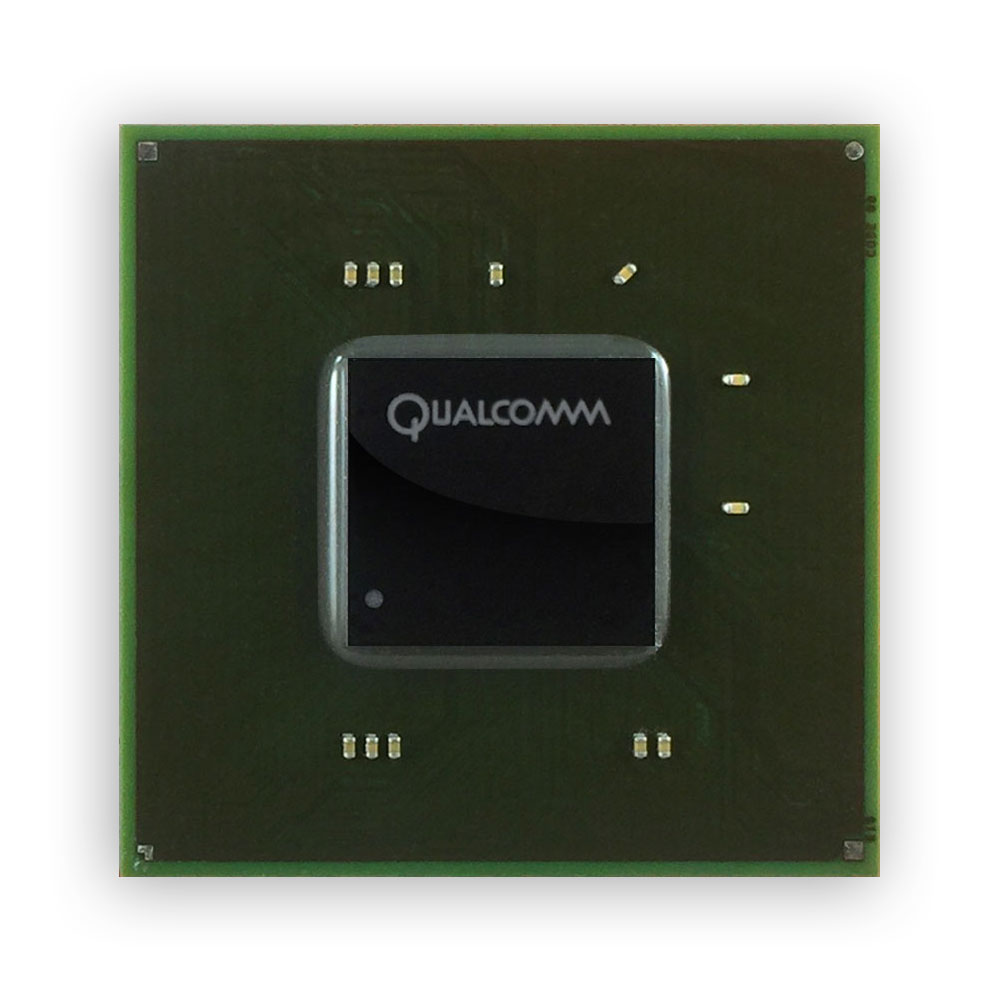 Chip
Specifications:
EnGenius EWS357AP Specifications
Standards
802.11a/b/g/n/ac/ax
Frequency
2.4 GHz & 5 GHz
2.4 GHz Max. Data Rate
574 Mbps
5 GHz Max. Data Rate
1,200Mbps
Radio Chains/Streams
2 X 2:2
RF Output Power (2.4 GHz)
20 dBm
RF Output Power (5 GHz)
20 dBm
Ethernet Ports
1 x Port (PoE+)
1 Gigabit Ethernet
Power-over-Ethernet
802.3af
Power Consumption (Peak)
12.5W
Integrated Antenna
2 x 3 dBi @ 2.4 GHz
2 x 3 dBi @ 5 GHz
Technical Specifications
Standards
IEEE 802.11ax on 2.4 GHz
IEEE 802.11ax on 5 GHz
Backward compatible with 802.11b/g/n/ac
Processor
Qualcomm® Quad-Core CPU ARM Cortex A53s @ 1.0GHz
Antenna
2 x 2.4 GHz: 3 dBi
2 x 5 GHz: 3 dBi
Integrated Omni-Directional Antenna
Physical Interface
1 x 10/100/1000 BASE-T, RJ-45 Gigabit Ethernet Port
1x DC Jack
1 x Reset Button
LED Indicators
1 x Power
1 x LAN
1 x 2.4 GHz
1 x 5 GHz
Power Source
Power-over-Ethernet: 802.3at Input
12VDC /1.25A Power Adapter
Maximum Power Consumption
12.5W
Wireless & Radio Specifications Operating Frequency
Dual-Radio Concurrent 2.4 GHz & 5 GHz
Operation Modes
Managed mode: AP, AP Mesh, Mesh
Stand alone: AP, AP Mesh, Mesh
Frequency Radio
2.4 GHz: 2400 MHz ~ 2835 MHz
5 GHz: 5150 MHz ~ 5250 MHz, 5250 MHz ~ 5350 MHz, 5470 MHz ~ 5725 MHz, 5725 MHz ~ 5850 MHz
Transmit Power
Up to 20 dBm on 2.4 GHz
Up to 20 dBm on 5 GHz
Radio Chains/Spatial Stream
2x2
SU-MIMO
Two (2) spatial streams SU-MIMO for 2.4GHz and two (2) spatial streams SU-MIMO for 5GHz up to 1,774Mbps wireless data rate to a single 11ax wireless client device under the both 2.4G Hz and 5GHz radio
MU-MIMO
Two (2) spatial streams Multiple (MU)-MIMO for up to 1200 Mbps wireless data rate to transmit to one (1) two streams MU-MIMO 11ax capable wireless client devices under 5GHz simultaneously.
Two (2) Multiple (MU)-MIMO for up to 574 Mbps wireless data rate to transmit to one (1) two streams MU-MIMO 11ax capable wireless client devices under 2.4GHz simultaneously
Supported Data Rates (Mbps)
802.11ax:
2.4 GHz: 9 to 287 (MCS0 to MCS11, NSS = 1 to 2)
5 GHz: 18 to 1200 (MCS0 to MSC11, NSS = 1 to 2)
802.11b: 1, 2, 5.5, 11
802.11a/g: 6, 9, 12, 18, 36, 48, 54
802.11n: 6.5 to 300 Mbps (MCS0 to MCS15)
802.11ac: 6.5 to 867 Mbps (MCS0 to MCS9, NSS = 1 to 2)
Supported Radio Technologies
802.11ax: Orthogonal Frequency Division Multiple Access (OFDMA)
802.11b: Direct-sequence spread-spectrum (DSSS)
802.11ac/a/g/n: Orthogonal Frequency Division Multiple (OFDM)
Channelization
802.11ax supports high efficiency (HE)
—HE20/HE40/HE80 MHz
802.11ac supports very high throughput (VHT)
—VHT 20/40/80 MHz
802.11n supports high throughput (HT)
—HT 20/40 MHz
802.11n supports very high throughput under the 2.4GHz radio –VHT40 MHz (256-QAM)
802.11n/ac/ax packet aggregation: A-MPDU, A-SPDU
Supported Modulation
2.11ax: BPSK, QPSK, 16-QAM, 64-QAM, 256-QAM, 1024-QAM
802.11ac: BPSK, QPSK, 16-QAM, 64-QAM, 256-QAM
802.11a/g/n: BPSK, QPSK, 16-QAM, 64-QAM
802.11b: BPSK, QPSK, CCK
Management Multiple BSSID
8 SSIDs for both 2.4GHz and 5GHz radios
VLAN Tagging
Supports 802.1q SSID-to-VLAN Tagging
Cross-Band VLAN Pass-Through
Management VLAN
Spanning Tree
Supports 802.1d Spanning Tree Protocol
QoS (Quality of Service)
Complaint With IEEE 802.11e Standard
WMM
SNMP
v1, v2c, v3
MIB
I/II, Private MIB
Management Features Deployment Options
Stand-Alone (Individually Managed)
Managed Mode
(with Neutron Series Switch/ezMaster)
Stand-Alone Management Features
Auto Channel Selection
Auto Transmit Power
Wireless STA (Client)
Connected List Auto Channel Selection
Captive Portal Per SSID
Fast Roaming (802.11k & 802.11r)
Pre-Authentication (802.11i, 802.11x)
PMK Caching (802.11i)
Band Steering per SSID
Traffic Shaping per SSID/per user
VLAN Per SSID
Backup/Restore Settings
Auto Reboot
E-Mail Alert
Site Survey
Save Configuration as Users' Default
Wireless Management Features (With ezMaster & Neutron Switch)
AP Auto Discovery & Provisioning
AP Auto IP Assignment
AP Group Management
Auto AP Rebooting
AP Device Name Editing
Band Steering Per SSID
Traffic Shaping Per SSID and Per User
Fast Roaming (802.11k & 802.11r)
Pre-Authentication (802.11i, 802.11x)
PMK Caching (802.11i)
AP Client Limiting
Client Fingerprinting
AP VLAN Management
VLAN Per SSID
Captive Portal Per SSID
Multi-Tenant Account
AP Traffic Log
Access Point Status Monitoring
Wireless Client Monitoring
Email Alert
Wireless Traffic & Usage Statistics
Real-Time Throughput Monitoring
Visual Topology View
Floor Plan View
Map View
Wireless Coverage Display
Secure Control Messaging (SSL Certificate)
Local MAC Address Database
Remote MAC Address Database (RADIUS)
Unified Configuration Import/Export
Bulk Firmware Upgrade Capability
One-Click Update
Intelligent Diagnostics
Kick/Ban Clients
Wi-Fi Scheduler
Schedule reboot
Wireless Security
WPA3
WPA2 Enterprise (AES)
Hide SSID in Beacons
MAC Address Filtering, Up to 32 MACs per SSID
Wireless STA (Client) Connected List
SSH Tunnel
Client Isolation
Environment & Physical Temperature Range
Operating: 32ºF~104ºF (0 ºC~40 ºC)
Storage: -22 ºF~176 ºF (-30 ºC~80 ºC)
Humidity (non-condensing)
Operating: 90% or less
Storage: 90% or less
Dimensions & Weights EWS377AP Device
Weight: TBD
Length: 6.30" (160 mm)
Width: 6.30" (160 mm)
Height: 1.31" (33.2 mm)
Packaging
Weight: 1.28 lbs (0.58Kg)
Length: 8.07" (205 mm)
Width: 8.07" (205 mm)
Height: 3.27" (83 mm)
Master Carton
Weight: 15 lbs (6.8Kg)
Length: 17.71" (450 mm)
Width: 16.93" (430 mm)
Height: 9.05" (230 mm)
No. of boxes per carton: 10 units
Package Contents
Dual-Band AX1800 Indoor Access Point
1 – Ceiling Mount Base (9/16" Trail)
1 – Ceiling Mount Base (15/16" Trail)
1 – Ceiling and Wall Mount Screw Kits
1 – Quick Installation Guide
Certifications
FCC, CE
Warranty
1 Year
Pricing Notes:
Pricing and product availability subject to change without notice.
EnGenius Products
EnGenius EWS357AP
WI-FI 6 11AX 2X2 MANAGED INDOOR
#EWS357AP
List Price:
$129.00
Our Price: $105.40