Engenius Network Surveillance Cameras

Bullet IP Cameras
Ideal for use in large homes, retail stores, warehouses, loading docks, residential facilities, parking lots, and other locations that require 24/7 surveillance, EnGenius IP Surveillance Cameras will perform rain or shine, day or night.
IP-Rated, Weatherproof Outdoor Housing
Ensure Night Visibility up to 82 Feet
120° Wide Angle HD Image Capture
PoE Support Extends Power to Unwired Areas
Dome & Mini IP Cameras
Homes, stores, offices, warehouses, and campuses are all more secure when IP surveillance cameras are situated at key entry points and in populated areas. Photon Series Indoor Dome, and IoT Mini-Surveillance Cameras help protect your properties day and night.
Integrate With Existing Wi-Fi Networks
Ensure Night Visibility up to 49 Feet
Capture Wide-Angle, HD Images
PoE Support Extends Power to Unwired Areas
Bridge Systems
The Wireless IP Surveillance Systems are designed to provide long-range point-to-point and point-to-multipoint surveillance coverage for expansive venues. Transmit streaming video over great distances – up to five (5) miles point-to-point at stable, robust wireless speeds.
High-Gain Antenna Extends Surveillance Connections
IP-Rated Waterproof & Dustproof Casing Withstands Harsh Climates
Flexible PoE Power Supports Installs in Unwired Areas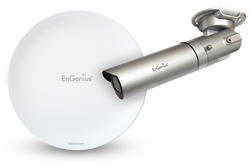 Wired/Wireless 802.11n
1920 x 1080P Resolution
300 Mbps on 2.4 GHz; to 90 Mbps at .5 mile
13 dBi Internal High-Gain Directional Antenna
1.2/7" 2 MP Image Sensor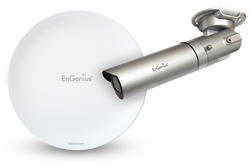 Wired/Wireless 802.11n
1920 x 1080P Resolution
300 Mbps on 5 GHz; to 90 Mbps at .5 mile
19 dBi Internal High-Gain Directional Antenna
1.2/7" 2 MP Image Sensor