EnGenius EWS2908P

Managed Gigabit 802.3af Compliant 55W PoE 8 Port Network Switch
Sorry, this product is no longer available, please contact us for a replacement.
More pricing below, click here!
Overview:
Neutron Series EWS Managed Gigabit Switches offer enterpriseclass features, simplified network configuration, monitoring, and management options and optimal network performance for small to mid-size organizations.
Choose between 8-, 24-, and 48-Gigabit ports and Power-overEthernet (PoE+)-ready Layer 2 switches with 1-10 Gbps SFP+ ports. EWS Managed Switch model options also include desktop and rack mountable, fanless and SmartFan designs.
EWS Managed Gigabit Switches support easy deployment and operation. Organizations with limited IT support and budgets can create a reliable, efficiently managed network in no time.
10/100/1000 GbE Ports
On-Board Network Management Tools
802.3at/af PoE+ Ready
Network Troubleshooting, Monitoring & Email Alerts
1-10 Gbps SFP+ Slots Extend Connectivity via Fiber Uplinks, Redundancy & Failover
Full-Featured Layer 2 Switching
Topology View Displays Network Devices & Relationships
Added Bonus: License-Free AP Management Built-In
Added Bonus: License-Free Remote Management With ezMaster™
Features & Benefits:
In-Switch Management
Simplified Network Management, Visibility & Troubleshooting
Achieve network management, visibility, and troubleshooting locally through the switch's on-board Web interface tools. Establish eventbased email alerts for notification of predetermined activities.
Supports 4 Different Types of Management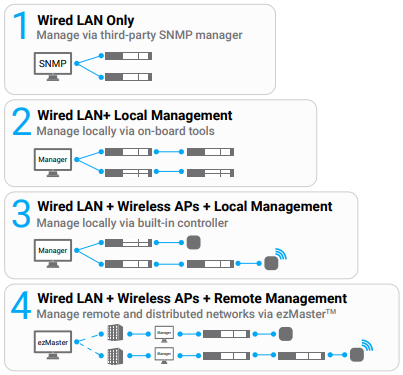 In-Depth Network Visibility
Network Topology View automatically maps the network deployment to display device relationships across the infrastructure. Troubleshoot issues without manual tracking, and access the management interface of other EWS Switches directly from Topology View with QuickLink.
Full-Feature Layer 2 Gigabit Switching
High-Speed Gigabit
Provide reliable Gigabit access for networked devices and reduce delays that interrupt communications. The switch's 1 or 10 Gbps SFP+ slot options are suitable for connecting wired network segments throughout buildings that extend beyond the limitations of Ethernet cabling.
Power & Connect Multiple Devices
Optimize the installation and power management of network devices such as access points, IP cameras, and VoIP phones by providing 802.3at/af PoE+ power and data on all ports. Regulate power budgets according to device requirements and remotely power cycle individual ports.
Network Traffic Management
Neutron full-featured Layer 2 Switches offer performance-enhancing features that reduce multicasting traffic, speed up port blocking and port forwarding, and increase bandwidth via load balancing. Control each port's available bandwidth speeds for connected devices like APs in areas where more or less speed is needed, such as in lobbies or conference rooms.
VLAN/Voice & Quality of Service
Segment the network by departments or traffic types for increased performance and security with 802.1Q VLAN. While 802.1p Class of Service prioritizes compliant VoIP and video traffic ensuring bandwidth intensive, time-sensitive data is forwarded immediately for clear, smooth voice and video delivery.
Access Control & Security
Protect the network via 802.1X port-based client authentication and security through a RADIUS server. Utilizing Access Control Lists (ACLs), administrators can see who has access to network segments while screening traffic from unauthorized MAC or IP addresses. Establish a Guest VLAN to grant and limit Internet resources for visitors while keeping the network secure.
Network Monitoring & Troubleshooting
Enable 3rd party SNMP management and monitor the network's performance by viewing port statistics, system logs, and RMON data. Perform port diagnostics through Ping Tests, diagnose cable failure and trace the route data takes through the network to troubleshoot slowdowns or connection issues.
Added Bonus: License-Free Access Point & Remote Management
Locally Manage Network Devices With On-Board Tools
Quickly discover, configure and monitor network devices and manage up to 50 APs, Switches, or IP Cameras within the local subnet, license-free, through the switch's suite of wireless management features.
Centrally Manage Wired & Wireless Devices via ezMaster
Manage Access Points, Switches, and IP Cameras through ezMaster Network Management Software for remote, centralized management of hundreds of devices across the network or multiple sites regardless of size or location without licensing or subscription fees.
Utilize ezWiFi Planner and upload your designed Wi-Fi floorplans into the switch's interface or ezMaster to show optimized Access Point placement.
Simplified Device Management
Centralized device management is easy through both the switch's on-board tools and ezMaster Software. Group devices for streamlined configuration, provisioning and monitoring; view wired and wireless traffic via a comprehensive at-a-glance dashboard and get rich analytics and reporting.
Specifications:
Technical Specifications
Network Ports 8 x 10/100/1000 Mbps Ports Switching Capacity 20 Gbps Forwarding Mode Store and Forward SDRAM 256 MB Flash Memory 32 MB
Packet Buffer Memory: 512 KB PoE Output Ports 1~8 Output Up to 15.4W Total PoE Budget 55 W Power & Source Full Load Power Consumption: 79.4 Watts
110 to 240 VAC 50/60Hz LED Indicators 1 x Power LED
1 x Fault LED
1 x PoE Max LED
1 x LAN Mode LED
1 x PoE Mode LED
Copper Ports: LAN/PoE Mode, Link/Act
SFP Ports: Link/Act, Speed (EWS2910P, EWS7952FP, EWS7926EFP only)

Software Features / Layer 2 Features 802.3ad Link Aggregation
- Maximum of 8 Groups/8 Ports per Group
Port Mirroring
- One-to-One
- Many-to-One
Spanning Tree Protocol
- 802.1D Spanning Tree Protocol (STP)
- 802.1w Rapid Spanning Tree Protocol (RSTP)
- 802.1s Multiple Spanning Tree Protocol (MSTP)
MAC Address Table
- 8K Entries
Static MAC Address
- 256 Entries
802.1ab Link Layer Discovery Protocol
IGMP Snooping
- IGMP v1/v2/v3 Snooping
- Supports 4094 IGMP Groups
- IGMP per VLAN
- IGMP Snooping Querier
- IGMP Snooping Fast Leave
MLD Snooping
- MDL Snooping v1/v2
- Supports 4,094 MLD Groups
- MLD per VLAN
Jumbo Frame
- Up to 9,216 bytes
802.3x Flow Control
802.3az Energy Efficient Ethernet VLAN 802.1Q Support
VLAN Group
- Max 4,094 Static VLAN Groups
Voice VLAN
Pricing Notes:
Pricing and product availability subject to change without notice.