EnGenius EMD1

Portable, Powerful & Pocket-Sized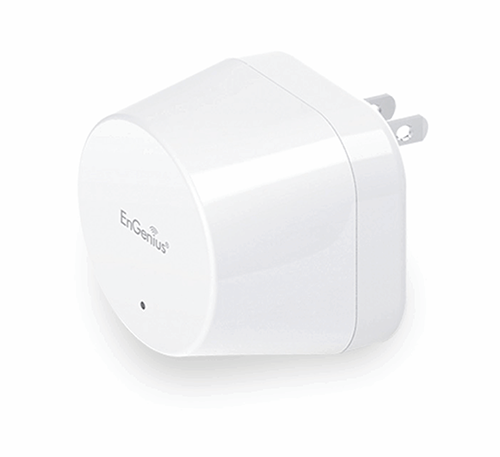 Sorry, this product is no longer available, please contact us for a replacement.
More pricing below, click here!
Overview:
EnGenius Mesh Dot EMD1 is a 802.11ac Wave 2 Dual-Band Access Point that installs in an instant, adding Wi-Fi, strengthening range, and increasing speed in homes or small offi ces. Portable and easy to use, Mesh Dot adds Wi-Fi where you need it, in more remote areas of the home like garages, attics or basement work spaces, and backyards.
Portable, Powerful & Pocket-Sized
The Mesh Dot adds Wi-Fi and customizes an existing home network quickly and easily when added to an EnMesh Whole Home Wi-Fi System. Need to add a device to resolve a spotty Wi-Fi signal in your backyard pool area? Having trouble watching how-to videos in your garage workshop during a tricky project? Simply take the Mesh Dot with you, plug it into an electrical socket, and create your own hotspot!
This tiny-but-mighty device fi ts in the palm of your hand, plugs in easily, and blends into most home or offi ce settings. It can be used wirelessly or connected via an Ethernet cable and port. Whether the Mesh Dot resides in a dedicated spot, or moves about creating portable hotspots based on need, the Mesh Dot is the perfect way to plug and play. Up to seven Mesh Dots can be added to an EnMesh Whole Home Wi-Fi Router.
Fast Wave 2 Wireless Speeds
Enjoy smooth HD streaming, accelerated surfi ng, and rapid fi le loading through fast Wave 2 speeds reaching 867 Mbps on 5 GHz and to 400 Mbps on the 2.4 GHz frequency band ensuring ample capacity for all connected digital devices. Ensure network performance for newer 11ac mobile phones, laptops and tablets, and maintain peak performance for older wireless devices through simultaneous dual-band connections.
Smart Mesh Wi-Fi Simplifies Setup & Optimizes Connections
Simple, quick step-by-step setup is completed via the EnMesh Mobile App. This solution utilizes a smart wireless method called meshing to connect Mesh Dots quickly, without running wires or setting up software. Mesh technology uses smart sensors that are always scanning the environment to detect the optimal connection quality and speeds, and immediately fix network slowdowns, re-routing data in the event a Dot ever loses connection.
You're in Total Control
The EnGenius EnMesh Mobile App not only makes installing the Mesh Dot easy; it makes monitoring and controlling the network just as simple. Multiple features give users full insight and control into the entire home network.
Speed-test your Internet connection and monitor the link quality of each Mesh Dot. Securely share Wi-Fi with guests and enable parental controls to define Internet usage rules and schedules for each family member. Automatically update each Mesh Dot and fix and detect network problems with one-touch troubleshooting.
Advanced Management
Take your mesh system to the next level, locally or remotely, with EnGenius' managed gigabit switches or their license-free network management software – ezMaster™. EnGenius managed gigabit switches offer local management for up to 50 devices within the same location.
ezMaster Management Software includes remote monitoring and expanded management features. This flexible and scalable solution offers network management with rich reporting and analytics, business-class features and no licensing or annual subscription fees.
Network Management
The EnGenius Mesh Dot EMD1 can be managed with either the EnGenius' EnMesh App or via Advanced Network Management software, ezMaster, creating a scalable solution that's perfect for a home, offi ce, or small business.
Manage Mesh Dots with EnGenius Managed Switches
EnGenius' Managed Gigabit Switches can manage up to 50 EnGenius devices on the network, including Mesh Dots. Through the switch, gain access to all connected EnGenius devices and a full array of wireless and Layer 2 management tools. Managed Mesh Dots are wired via Ethernet or wireless and maximize fl exible deployment and management options with no AP license or subscription fees.
ezMaster™ Network Management Software
EnGenius ezMaster Software's simple, intuitive Webbased interface allows fl exible access point monitoring locally or remotely. Quickly and easily set up, manage, monitor, and troubleshoot multiple Mesh Dots at the same time. See real-time network performance and monitor AP traffi c through ezMaster's at-a-glance dashboard. ezMaster provides management local or remotely with no licensing or subscription fees.
Features & Benefits
Perfect for creating hotspots in diffi cult-to-cover spots inside or outside the home
Portable, compact and easy to use – either wirelessly or wired with 1 Gigabit port
Boosts signal speed, strength, and coverage
Create Wall-to-Wall Wireless Coverage That Eliminates Dead Spots
Mesh Utilizes Smart Sensors to Automatically Optimize Connections
High Performing Wave 2 Supports Buffer-Free Video & Audio in Every Room
Simplifi ed Mesh Wi-Fi: No Wires to Run & No Software to Setup
Quick, Step-by-Step Setup via EnMesh Mobile App
Full Network Insight, Parental Controls, and Secure Guest Wi-Fi via EnMesh App
Advanced Management via Managed Switches or ezMaster™
Specifications:
Standards: IEEE 802.11b/g/n on 2.4 GHz
IEEE 802.11a/n/ac on 5 GHz Antenna Integrated Omni-Directional Antennas Physical Interface 1 x 10/100/1000 BASE-T, RJ-45 Gigabit Ethernet Ports LED Indicators 1 Color-Status LED
-White: Mesh & Internet Connection Status
-Blue: Bluetooth Connection Status
-Red: No Internet Connection or No Mesh Connection
-Orange: Mesh Connection Signal is Weak


Wireless & Radio Specifications
Operating Frequency Dual-Radio Concurrent 2.4 GHz & 5 GHz Operation Modes Mesh Mode, AP Mode Max. Nodes 8 (including the EnMesh Whole Home Wi-Fi System Router) Wireless Initial Setup (for home use) EnMesh Whole Home Wi-Fi System
EnMesh App Required Frequency Radio 2.4 GHz: 2400 MHz ~ 2835 MHz
5 GHz: 5150 MHz ~ 5250 MHz, 5250 MHz ~ 5350 MHz, 5470 MHz ~ 5725 MHz, 5725 MHz ~ 5850 MHz Transmit Power Up to 19 dBm on 2.4 GHz
Up to 19 dBm on 5 GHz Radio Chains/Spatial Stream 2x2:2 MU-MIMO Max. Speeds 400 Mbps on 2.4 GHz
867 Mbps on 5 GHz Supported Data Rates (Mbps): 2.4 GHz: Max 400
5 GHz: Max 867
802.11b: 1, 2, 5.5, 11
802.11a/g: 6, 9, 12, 18, 36, 48, 54
802.11n: 6.5 to 400 Mbps (MCS0 to MCS15)
802.11ac: 6.5 to 867 Mbps (MCS0 to MCS9, NSS = 1 to 2)

Supported Radio Technologies 802.11b: Direct-Sequence Spread Spectrum (DSSS)
802.11a/g/n/ac: Orthogonal Frequency-Division Multiplexing (OFDM) Channelization 802.11ac Supports Very High Throughput (VHT)—VHT 20/40/80 MHz
802.11n Supports High Throughput (HT)—HT 20/40 MHz
802.11a/b/g Supports High Throughput (HT)—20 MHz Supported Modulation 802.11b: BPSK, QPSK, CCK
802.11a/g/n: BPSK, QPSK, 16-QAM, 64-QAM
802.11ac: BPSK, QPSK, 16-QAM, 64-QAM, 256-QAM Features – with EnMesh Whole Home Wi-Fi System Auto Channel Selection
Auto Transmit Power
Wireless STA (Client) Connected List
Guest Network
Fast Roaming (802.11k & 802.11r)
AirPrint® Server Support
Restore Factory Settings
Auto Reboot
Internet Speed Test
Mesh Connection Status
USB Features: SAMBA
UPnP Support
System Recovery
Manual/Auto Firmware Update
Band Steering
Port Forwarding
UID/DDNS Remote Control Parental Controls Wi-Fi Access Scheduler
Pause Internet
Guest Network per Band
Website & Keyword Filter
- URL
- IP
- Port
- ICMP
QoS (Quality of Service) Wireless Security WPA2 Enterprise (AES)
SSID Password Network Services DHCP
Static IP
PPPoE Mobile App EnMesh (setup, monitoring, parental control)
EnFile (private cloud storage)
Available for iPhone® & Android™
Pricing Notes:
Pricing and product availability subject to change without notice.