EnGenius DuraWalkie

2-Way Radio Handset for DuraFon PRO Systems.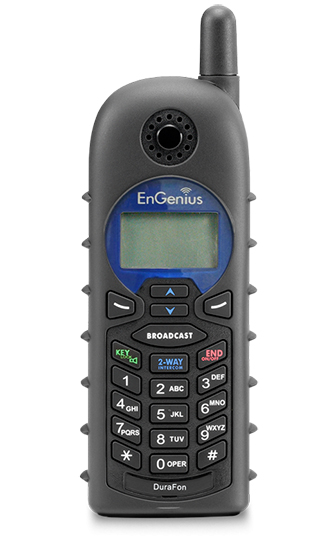 EnGenius Products
EnGenius DuraWalkie
EnGenius DuraWalkie 2 Way Radio
#DURAWALKIE
List Price:
$249.99
Our Price: $218.04
Designed with 2-way radio walkie talkie function, the optional DuraWalkie compliments the DuraFon PRO system offering users a choice in handsets. Not every employee requires access to dial tone, the DuraWalkie allows specific employees to always be in touch yet do not have the ability to make an outgoing telephone call. It is part of the DuraFon premises mobility communications solution.
The EnGenius DuraWalkie has many exciting features for users of all types. It's one of best selling 2-Way Radios of its class. While working with DuraFon PRO system, is an expandable cordless portable handsets in larger properties outside of a conventional office like large resort properties, schools, sports arenas, warehouses, expansive agricultural properties, industrial plants, oil and gas fields. The scalable DuraFon PRO system supports from four to 32 lines and provides reliable, long-range communications to up to 90 ruggedized DuraFon PRO or DuraWalkie handsets.
Battery Hot Swapping
Permits the changing of the battery while the call is on hold.
Broadcast/Intercom Features
Simultaneously alert all handsets with messages for bulletins or emergencies.
Digital Spread Spectrum (DSS) Technology
Feature added for extra privacy and clarity.
2 Handset Antennas Included
The short antenna is availble for extra convenience; the long antenna allows maximum range
Frequency Hopping Security
Occurs 100 times per second.
Electrical Specifications
For use with DuraFon Pro Systems Only
Frequency
902-928 MHz
RF Power
Peak - 708 mW ; Average - 76 mW
Channel Spacing
200 kHz
Number of Channels
128
Modulation
MSK
Multiple Access
Frequency Hopping TDMA
Frequency Hopping Rate
100 per second
TDMA Frame Length
10 ms
Number of Slots/Frame
8
Number of Users/Carrer
4
Receiver Sensitivity
Antenna Connector: Non-Standard
Antenna Gain
2 dBi (Long) ; 0.5 dBi (Short)
Speech Coding
8 kbps G.729A
Transmission Data Rate
170.678 kbps
User Data Rate
128 kbps duplex
Duplex
Time Division Duplex (TDD)
Voice Quality
TIA/EIA-470B
No. of System ID
65,536
Auto-Attendant Coding
8 kbps G.729
Battery Capacity
3.7v, 1700mAh Li-ion Battery
Charger Current
500 mA
Charge Time
4 hours (from empty)
Environmental & Physical
Temperature Range
Operating: 14 ~ 140ºF
Storage: 14 ~ 158ºF
Humidity
Operating: 20 ~ 75%
Regulation Compliance
FCC Part 15, Part 68
Dimensions & Weights
DuraFon Pro HC
Weight: 0.39 lbs.
Dimension with Short Antenna
Width: 2.28"
Depth: 1.22"
Height: 6.34"
Package Contents
DuraWalkie 2 Way Radio
Desktop Charging Cradle w/ AC Adaptor
Li-Ion Battery Pack
Optimal Performance Handset Antenna
Low Profile Handset Antennap
Belt Clip