EnGenius FreeStyl 1

Extreme Range Scalable Cordless Phone System.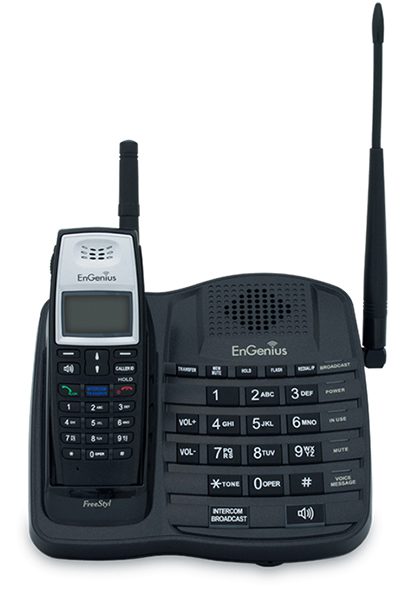 EnGenius Products
EnGenius FreeStyl 1
EnGenius FreeStyl 1 900 MHz Cordless Phone
#FREESTYL-1
Get a Quote!
More pricing below, click here!
Overview: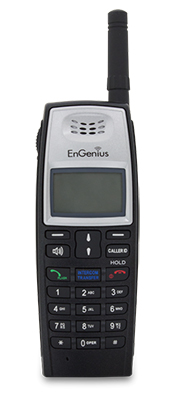 The EnGenius FreeStyl 1 is a scalable 900 MHz Cordless Phone System with extreme wireless signal range that's ideal for businesses with employees who roam beyond the confines of their offices or cubicles; or for expansive properties (farms, ranches, resorts, luxury estates) so owners or staff can stay connected over extended distances.
Going Where DECT and Wi-Fi Phones Cannot Go — The FreeStyl 1 in many cases is a complimentary addition to an existing digital desk phone systems, DECT phone systems and Wi-Fi phone systems. It can connect to both digital and analog PBX systems and provides companies or homeowners a solution that provides connectivity far beyond DECT or Wi-Fi phones particular on properties where outdoor Wi-Fi is unavailable or not an option.
A Scalable Solution — Individual FreeStyl 1 handsets are available for purchase from EnGenius authorized resellers so users can continue to add to their system. Each FreeStyl 1 base station supports up to 9 individual FreeStyl 1 handsets. Each handset includes its own charging station. Furthermore, it is not only use as a cordless phone system, the built-in speakerphone on both the base and handset units and a two-way radio for instant communication. The wireless intercom is private and secure and works as a two-way radio from either handset to handset or handset to base. The FreeStyl 1 is the perfect choice for users who do not require our rugged DuraFon, but prefer something with a little more style.
FreeStyl 1 system works well with:
Additional FreeStyl1 handsets
FreeStyl1 long optimal antenna assembly for handset
FreeStyl 1 handset pouch
Extreme Range Coverage
Up to 25,000 sq. ft. of facility coverage, up to 6 floors in-building penetration.
Outperforms 2.4 or 5.8GHz DECT solutions
High power/high sensitivity coverage penetrates concrete, wood and drywall.
Scalable system
Expandable to 9 total handsets in this one-line system.
Versatile
This multi-functional cordless system offers walkie talkie like, point-to-point communication that operates independent of the base station.
Business friendly feature
Simultaneous broadcast to multiple handsets from any handset. Plug directly to phone jack on the wall or plug directly to analog port of a PBX. Auto Attendant - call redirect assistance.
No Recurring Costs
No Subscriber contracts – (unlike cellular or 2-way radio licensing). No Monthly service charges or fees – (unlike cellular and phone companies).
Specifications:
EnGenius FreeStyl 1 Specifications
Electrical Specifications
Frequency
902-928 MHz
RF Power
Peak - 27 dBm ; Average - 21 dBm
Channel Spacing
101 kHz
Number of Channels
252
Modulation
Differently Encoded MSK
Multiple Access
Frequency Hopping TDMA
Frequency Hopping Rate
100 per second
TDMA Frame Length
10 ms
Number of Slots/Frame
4
Antenna Connector
Reverse TNC
Antenna Gain
2.5 dBi
Speech Coding
8 kbps G.729A
Transmission Data Rate
85.333 kbps
User Data Rate
64 kbps duplex
Duplex
Time Division Duplex (TDD)
Voice Quality
TIA/EIA-470B
No. of System ID
65,536
Battery Capacity
AC/DC 100~240V/12V, 1A
Charger Current
550 mA
Charge Time
3 hours (from empty)
Environmental & Physical
Temperature Range
Operating: 32 ~ 122ºF
Storage: -40 ~ 158ºF
Humidity
Operating: 20 ~ 75%
Regulation Compliance
FCC Part 15, Part 68
Package Contents
FreeStyl 1 Base Station and Handset
5VDC/1A, AC100~240V Power Adapter x 2
Desktop charger
Quick Installation Guide
CD with User's Manual in pdf
Warranty
1 year
Actual range may vary depending on many factors including environmental conditions, building material, radio interference in the operating environment, and mix of devices in the network. Features and specifications subject to change without notice.
Compare:
EnGenius FreeStyl 1 & 2 Comparisons
Model
FreeStyl 1
FreeStyl 2
Range
In Building
Up to 6 floors
Up to 6 floors
Warehouse
Up to 25,000 sq. ft.
Up to 25,000 sq. ft.
Open Area
Up to 10 acres
Up to 10 acres
Antenna
Base
RT-TNC Dipole
RT-TNC Dipole
Handset
Low Profile
Low Profile
Auto Attendant
No
No
Base Dialing/td>
Yes
No
Battery
mAH (milliAmp Hours)
1100
1100
Standby Time
60 hours
60 hours
Talk Time
5.5 hours
5.5 hours
Charge Time
3 hours
3 hours
Broadcast
Base
Yes
No
Handset
Yes
Yes
Caller ID
Yes
Yes
Compatible with
FreeStyl 2
FreeStyl 1
Expandibility of Handsets
Up to 9
Up to 9
Frequency
900 MHz
900 MHz
Frequency Hopping
Yes
Yes
Headset Jack
2.5mm
2.5mm
Intercom
Base
Yes
No
Handset
Yes
Yes
Phonebook entries
Up to 50
Up to 50
Ports
Ports
RJ-11
RJ-11
Lines
1
1
Tel
1
1
Voicemail
No
No
Pricing Notes:
Pricing and product availability subject to change without notice.
EnGenius Products
EnGenius FreeStyl 1
EnGenius FreeStyl 1 900 MHz Cordless Phone
#FREESTYL-1
Get a Quote!
EnGenius FreeStyl 1 Accessories
AC Adapter for FreeStyl 1 Base Units
#FREESTYL-1-ACB
Get a Quote!
FreeStyl 1 Handset Standard Battery
#FREESTYL-1-BA
Get a Quote!
FreeStyl1 Low Profile Handset Antenna
#FREESTYL1HSA2
List Price:
$11.99
Our Price: $8.53
AC Adaptor for FreeStyl 1-ACC (Charging Cradle) ( DC5.5V/1.5A AC100-240V)
#FREESTYL1-ACC
List Price:
$24.99
Our Price: $18.10
#FREESTYL1-ANTB
List Price:
$11.99
Our Price: $8.83
#FREESTYL1-CC
List Price:
$39.99
Our Price: $31.05
#FREESTYL1H
List Price:
$169.99
Our Price: $167.88
#FREESTYL1HSA1
List Price:
$9.99
Our Price: $6.22