EnGenius EWS550AP

All-in-One Communication "Hub" for In-Room Wireless Connectivity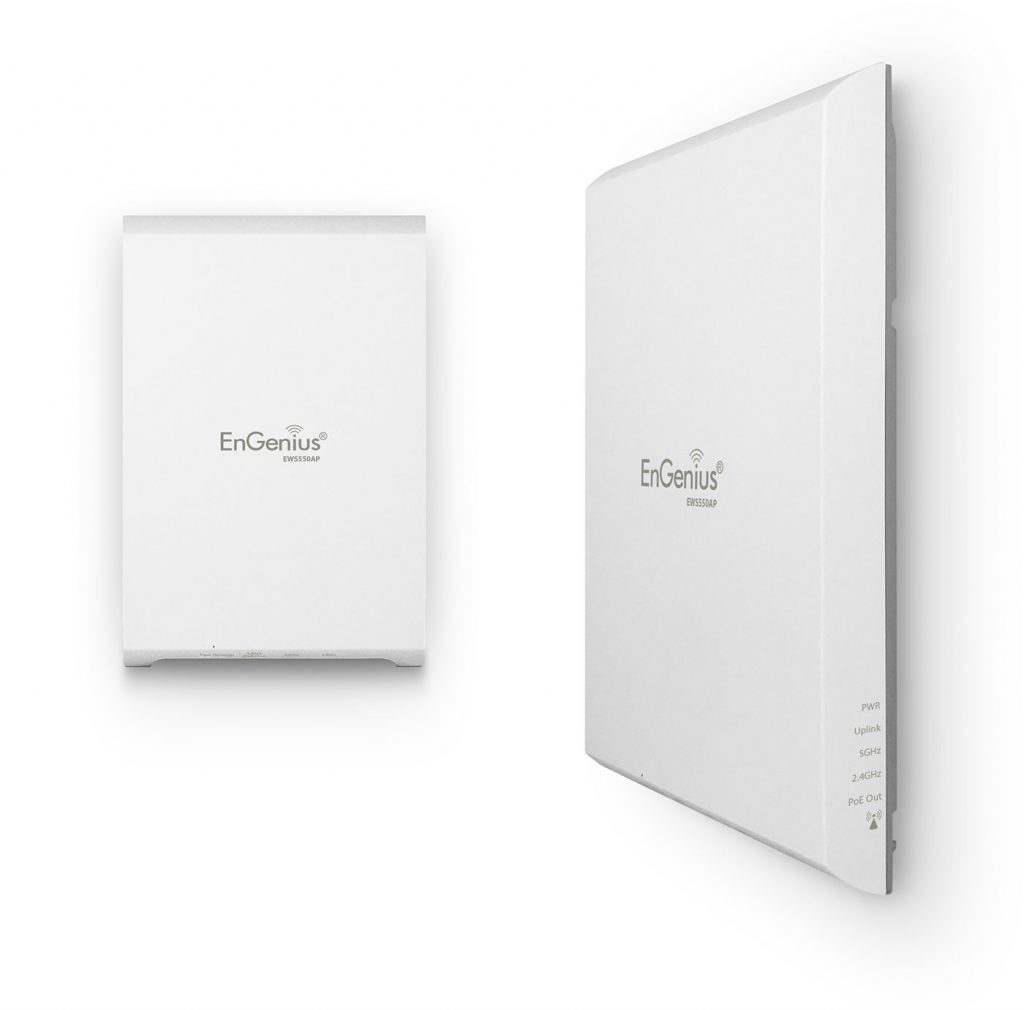 Sorry, this product is no longer available, please contact us for a replacement.
More pricing below, click here!
Overview:
The 11ac Wave 2 Wall Plate AP with built-in 3-port Gigabit switch provides in-demand, high-speed in-room wired and wireless connectivity and PoE in a single high-performance device. The easy-to-deploy, low-profile AP provides flexible, reliable connectivity for hotel guest rooms, dorms, classrooms and multi-tenant dwellings.
2x2:2 11ac Wave 2 Speeds to 867 Mbps (5 GHz); to 400 Mbps (2.4 GHz)
(3) GigE Switch Ports Connect In-Room IPTVs, Game Consoles or Network Projectors
Sleek, Low Profile Design Mounts Onto a Standard Wall J-Box
MU-MIMO & Beamforming Improves User Capacities & Signal Reliability
Features & Benefits:
High-Capacity 11ac Wave 2 Speeds to 2.5 Gbps
Dual-Radio MU-MIMO Improves Performance, Expands Capacities
Beamforming Technology Optimizes Signal, Reception & Reliability
Operate as a Stand-Alone AP or Centrally Manage
Remotely Manage 1-1,000+ APs via ezMaster™
Versatile 4x4, 3x3 & 2x2 11ac & Single-Band 11n Models
No Access Point Licensing or Subscription Fees
GigE PoE-Compliant Ports Expand Deployment & Power Options
Low-Profile Ceiling, Wall-Mount & Wall Plate Designs Blend With Environment
Mesh Wireless Support Simplifies Setup, Optimizes Signals & Self-Heals (Select Models)
System Requirements:
Recommended environment for managing up to 500 APs
CPU: Intel® Core™ i7 quad-core or above
RAM: 4 GB minimum
HDD: 500 GB (actual requirement dependent on log size)
OS: Microsoft® Windows® 7 or later + VMware® Player 7.0 or compatible virtualization software
Recommended environment for managing up to 1,000+ APs
CPU: Intel® Xeon® Processor E3 or above
RAM: 4 GB minimum
HDD: 500 GB (actual requirement dependent on log size)
OS: Microsoft® Windows® 7 or later + VMware® Player 7.0 or compatible virtualization software
Browser Requirements
Internet Explorer 10 or better
Firefox 34.0 or better
Chrome 31.0 or better
Safari 8.0 or better
Network Topology Requirements
At sites where APs are deployed: A DHCP-enabled network for APs to obtain an IP address
About Neutron:
EnGenius' Neutron Series line of Managed Indoor Access Points provides wireless connectivity that's flexible, scalable and reliable for a broad range of indoor applications.
Whether you are looking to connect a luxury home or office or need to provide ultra-fast Wi-Fi access to a large resort or campus, Neutron WS Access Points meet the high-bandwidth requirements of today's mobile users.
No matter what size network you need to support, Neutron EWS Access Points are flexible enough to meet your needs. Start small and grow or o big. Deploy and manage a few or 1,000+ APs on an unlimited number of networks distributed across various locations—regardless of their size nd infrastructures. Neutron Series easily scales with your networking needs.
Ultra-Fast 11ac Wave 2 Speeds
EnGenius' 11ac Wave 2 Access Points deliver the highest available speeds for Wi-Fi devices reaching 2.5 Gbps. Beamforming technology focuses ignals directly to client devices, providing optimal, reliable reception even in densely crowded environments. Four spatial streams and dual- oncurrent MU-MIMO radio operation sends beams to multiple users simultaneously, creating increased network capacity.
Flexibility in Deployment
Neutron's versatile line of high-performance, managed, indoor ceiling- and wall-mount access points range from single-band 11n models to igh-capacity 4x4 dual-band 11ac Wave 2 versions. Wall plate models serve as all-in-one communication "hubs" for in-room wireless connectivity. onfigure APs individually as stand-alone units, locally manage up to 50 per Neutron Switch or use ezMaster software to control 1,000+ APs.
Optimize Connectivity With Wireless Mesh
Utilize mesh access point mode on select Neutron APs for retrofit or new install applications where wire runs are not possible. Mesh's smart ensing technology adds devices quickly, optimizes routes between APs, and automatically self-heals the network in the event an AP should ever lose connection.
Protected by Advanced Encryption
With Neutron EWS APs, your network is protected from attacks at multiple levels through advanced wireless encryption standards such as Wi-Fi rotected Access Encryption and authentication. Network threats are quickly detected and avoided through rogue AP detection, email alerts and eal-time wireless invasion monitoring, allowing for immediate action to divert network hacks and other security threats.
Secure Guest Networks
Organizations that offer Internet access to patrons or visitors—notably hotels, retail shops and restaurants—will appreciate Neutron's guest etwork capabilities. Establish a secure guest network that blocks access to main corporate computers. Create separate Virtual LANs for ncreased security, network reliability and bandwidth conservation.
Power-over-Ethernet Convenience
All Neutron EWS Access Points feature at least one Gigabit PoE port, enabling placement in discreet locations where power outlets are scarce or unavailable. Power the APs through a connected Ethernet cable directly to a Neutron Managed Gigabit PoE+ Switch or with a PoE adapter up to 328 feet from the power source.
Simplified Deployment & Provisioning
In combination with Neutron Switches and ezMaster Network Management Software, Neutron EWS APs are automatically discovered and provisioned. ne-click individual or bulk configurations and upgrades save time. In addition, these access points are quickly and easily deployed and perated by users with limited networking experience.
Manage Up to 50 APs with Neutron Switches
In small settings, any Neutron Managed Switch can act as a wireless controller capable of managing up to 50 Neutron EWS Access Points. IT dministrators have access to all connected Neutron devices and a full array of Layer 2 management tools. Choose between PoE+ and non-PoE switch odels with flexible deployment and management options.
Pricing Notes:
Pricing and product availability subject to change without notice.