EnGenius EWS1200D-10T

8-Port Managed Gigabit Smart Switch With WLAN Controller & Centralized Network Managemen

Sorry, this product is no longer available, Please, contact us for a replacement product!
Overview:
The Neutron EWS1200D-10T Managed Smart Switch offers simplified network configuration, monitoring, and management options with an easy-to-use Web interface. Locally manage wireless APs via the built-in controller and centrally manage wired and wireless networks via ezMaster.
Product Highlights
(8) 10/100/1000 Mbps Gigabit Ethernet Ports; 2 SFP Ports
(4) Types of In-Switch Network Management Available
20 Gbps Switching Capacity
Network Troubleshooting, Monitoring & Email Alerts
Simplified Management & Optimal Network Performance for Small-to-MidSize Organizations
The EnGenius Gigabit Managed Smart Switches with WLAN Controller feature 8-, 24- or 48- Gigabit ports and support full feature Layer 2 manageability. The Switches offer simplified network configuration, monitoring, and management options plus ezMaster Centralized Network Management Software, a robust, easy-to-use Web-based tool. Enterprise-class features optimize network efficiency ensuring peak performance while reducing expenses for cost-conscious SMB organizations.
Whether installed in small or mid-size organizations such as medical offices, warehouses, or large homes, the Smart Switch's design and easy-to-use interface enables effortless and efficient deployment and operation. Organizations with limited IT support and budgets can create a reliable, efficiently managed network in no time.
Features and Benefits:
10/100/1000 Mbps GbE Ports
Onboard Tools Manage Wired & Wireless Devices
SFP Slots Support Extended Connectivity via Fiber Uplinks, Redundancy & Failover
Network Troubleshooting, Monitoring, & Email Alerts
Centrally Manage Wired & Wireless Networks via ezMaster
Configure, Manage & Monitor Up to 50 Neutron EWS APs Locally via Controller Mode
Security: Access Control List/Port Security; 802.1X & RADIUS Authentication
IGMP & MLD Snooping Provides Advanced Multicast Filtering & Network Efficiency
802.3ad Link Aggregation (LACP) Supports Traffic Load Balancing
Voice VLAN for Fast, Reliable Deployment of VoIP Services
Advanced QoS with IPv4/IPv6 Ingress Traffic Filtering (ACLs) & Prioritization
Energy Efficient Ethernet (802.3az) Improves Energy Savings with Compliant Devices
Dual Firmware Images Improve Reliability & Network Uptime
Silent, Fanless Design (8/24 port) & Smart Fan Feature (48 port)
High Performance Gigabit & Management Flexibility
Each of the Switch's Gigabit Ethernet ports provide seamless, high-speed access for networked devices while reducing bottlenecks that can interrupt communications. The Switch offers deployment flexibility and four types of management options while efficiently supporting both wired and wireless networks.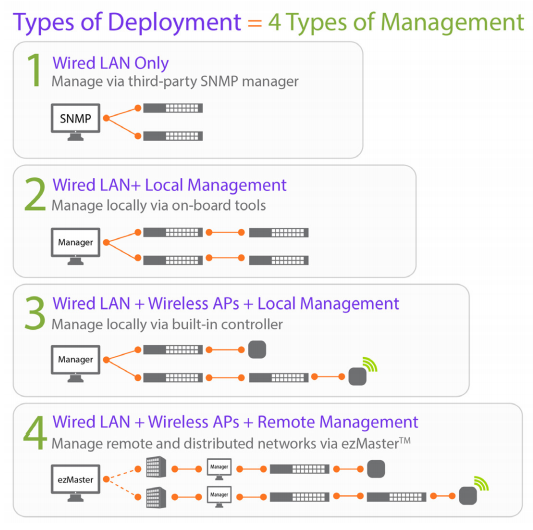 Wireless Device Management
Quickly discover, configure, and monitor Neutron EWS Access Points and manage up to 50 devices within the local subnet through the Switch's builtin wireless network controller features.
Centrally Manage the Wired & Wireless Network
Remotely manage Neutron EWS Access Points, Switches, and IP Cameras through ezMaster Network Management Software. Centrally manage hundreds of EWS devices across the network regardless of its size or location with no licensing or subscription fees.
VLAN/Voice & Quality of Service
Segment the network by departments or traffic types for increased performance and security with 802.1Q VLAN. Prioritize compliant VoIP and video traffic using 802.1p Class of Service (CoS) ensuring high bandwidth, time-sensitive data is forwarded immediately for clear, smooth voice and video delivery.
Network Security
Establish a Guest VLAN to limit Internet resources for visitors while securing the network from sophisticated Trojans and malware that can use guest's mobile devices to attack the network.
Deployment: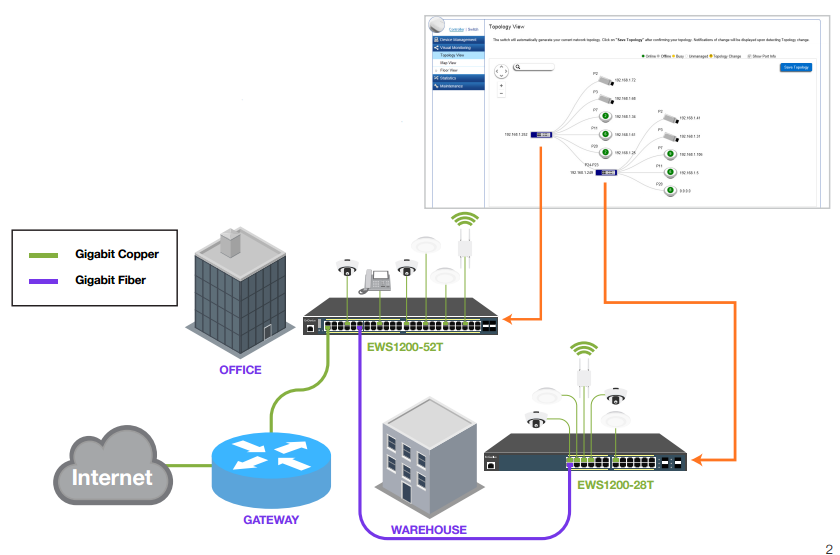 Specifications:

EnGenius EWS1200D-10T Specifications
Port Standards
802.3 10Base-T Ethernet
802.3u 100Base-TX Ethernet
802.3ab 10000Base-T Ethernet
802.3x Full-Duplex Flow Control
Network Ports
8 10/100/1000 Mbps Ports
2 10/100/1000 Mbps SFP Ports
Performance
Switching Capacity: 20 Gbps
Forwarding Mode: Store-and-Forward
SDRAM: 256 MB
Flash Memory: 32 MB
Packet Buffer Memory: 1.5 MB
Address Database Size: 8,000 MAC Addresses
Power Source
DC 12V/1A
Physical Interface
LED Indicators
Reset Button
Desktop/Wall Mount
LED Indicators
Device:
Power LED
Fault LED
Ports
Link/Activity/Speed (per Ethernet port)
Link/Activity/Speed (per SFP slot)
Environmental & Physical
Temperature Range
Operating: 32 to 104° F/0 to 40° C
Storage: -4 to 158° F/-20 to 70 ° C
Humidity (Non-Condensing)
5% - 95%
Package Contents
(1) EWS1200D-10T GigE Managed Smart Switch
(1) Power Cord
(1) Rack Mount Kit
(1) Quick Installation Guide
Device Dimensions & Weights
Device
Weight: 1.34 Ibs. (0.61 kg)
Width: 9.44" (240 mm)
Depth: 4.13" (105 mm)
Height: 1.06" (27 mm)
Warranty
1 Year
Certifications
CE
FCC
Software Features
Layer 2 Features

802.3ad Link Aggregation
- Maximum of 8 Groups/8 Ports per Group
Port Mirroring
- One-to-One
- Many-to-One
Spanning Tree Protocol
- 802.1D Spanning Tree Protocol (STP)
- 802.1w Rapid Spanning Tree Protocol (RSTP)
- 802.1s Multiple Spanning Tree Protocol (MSTP)
MAC Address Table
- 8K Entries
Static MAC Address
- 256 Entries
802.1ab Link Layer Discovery Protocol
IGMP Snooping
- IGMP v1/v2/v3 Snooping
- Supports 4094 IGMP Groups
- IGMP per VLAN
- IGMP Snooping Query
- IGMP Snooping Fast Leave
MLD Snooping
- MDL Snooping v1/v2
- Supports 4,094 MLD Groups
- IGMP per VLAN
Jumbo Frame
- Up to 9,216 bytes
802.3x Flow Control
802.3az Energy Efficient Ethernet
VLAN
- 802.1Q Support
VLAN Group
- Max 4,094 Static VLAN Groups
Voice VLAN

QoS

802.1p Quality of Service
- 8 Queues per Port
Queue Handling
- Strict
- Weighted Round Robin (WRR)
QoS Based on:
- 802.1p Priority
- DSCP
Bandwidth Control
- Port-Based (Ingress/Egress, 64 Kbps~1000 Mbps)
Broadcast/Unknown Multicast/Unknown Unicast Storm Control
Access Control List (ACL) Layer 2/3
- Supports Maximum 50 Entries (ACL)
- Supports Maximum 256 Entries (ACE)
ACL Based on:
- MAC Address
- VLAN ID
- 802.1p Priority
- Ethertype
- IP Address
- Protocol Type
- DSCP

Security

802.1X
- Guest VLAN
- Port-Based Access Control
Supports RADIUS Authentication
Port Security
- Up to 256 MAC Addresses per
Port Port Isolation
DoS Attack Prevention
BPDU Attack Prevention
Monitoring
- Port Statistics
- System Log
- RMON

Management

Web Graphical User Interface (GUI)
Command Line Interface (CLI)
BootP/DHCP Client/DHCPv6 Client
SSH Server
Telnet Server
TFTP Client
HTTPS
SNMP
- Supports v1/v2c/v3
- SNMP Trap
- SNTP
- Configuration Restore/Backup
- Dual Images
Diagnostic
- Cable Diagnostic
- Ping Test
- Trace Route
MIB/RFC Standards
- RFC1213
- RFC1493
- RFC1757
- RFC2674
- RFC 2863

Wireless Management Features
AP Supported (up to 50 APs in controller mode)

Access Point Auto Discovery & Provisioning
Access Point Auto IP-Assignment
Access Point Group Management
Remote Access Point Rebooting
Access Point Device Name Editing
Access Point Radio Settings
Band Steering
Traffic Shaping
RSSI Threshold
Fast Roaming
Access Point Client Limiting
Client Fingerprinting
Wireless Security (WPA/WPA2 Enterprise, WPA/WPA2 PSK)
AP VLAN Management
VLANs for Access Point- Multiple SSIDs
Secured Guest Network
Capture Portal
Access Point Status Monitoring
Rogue AP Detection
Email Alert
Wireless Client Monitoring
Background Scanning
Wireless Traffic & Usage Statistics
Real-Time Throughput Monitoring
Visual Topology View
Floor Plan View
Wireless Coverage Display
Map View
Secure Control Messaging
SSL Certificate
Local MAC Address Database
Remote MAC Address Database (RADIUS)
Unified Configuration Import / Export
Intelligent Diagnostics
Bulk Firmware Upgrade Capability
One-Click Update
Kick/Ban Clients
Gigabit Managed Switches Comparison:
EWS1200-52T
EWS1200-28T
EWS1200D-10T
10/100/1000 Base-T Ports
48
24
8
100/1000 SFP Ports
4
4
2
RJ45 Console Port
1 RJ45
1 RJ45
-
Rackmount
19" 1U
19" 1U
9.44" (desktop)
Total PoE Budget
740W
370W
185W
Switching Capacity
104 Gbps
56 Gbps
20 Gbps
Forwarding Mode
Store-and-forward
Store-and-forward
Store-and-forward
MAC Address Table
8k
8k
8k
Packet Buffer Memory
1.5 MB
512 KB
512 KB
Power Source
60W Internal Power
30W Internal Power
DC12V/1A External
Full Load Power Consumption
54.02 Watts
24.48 Watts
6.9 Watts
Management
ezMaster Network Management Software, Web GUI, CLI, SNMP, RMON, HTTPS, Dual Image
Wireless Controller Supports EWS APs
Up to 50
Up to 50
Up to 50
Advanced QoS with IPv4/ IPv6 Multicast Filtering
IGMP and MLD Snooping
Auto-VoIP
VLANs
Max 4094 Static Groups, Voice VLAN
Network Standards

IEEE 802.3 Ethernet
IEEE 802.3i 10Base-T Ethernet
IEEE 802.3u 100Base-TX Fast Ethernet
IEEE 802.3ab 10000Base-T Gigabit Ethernet
IEEE 802.3x Full-Duplex Flow Control
IEEE 802.3z Gigabit Ethernet 1000Base-SX/LX
IEEE 802.3ad Link Aggregation (Trunking)
IEEE 802.1D Spanning Tree Protocol (STP)
IEEE 802.1w Rapid Spanning Tree Protocol (RSTP)
IEEE 802.1s Multiple Spanning Tree Protocol (MSTP)
IEEE 802.1Q VLAN Tagging
IEEE 802.1ab Link Layer Discovery Protocol (LLDP)
IEEE 802.1p Quality of Service
IEEE 802.1X RADIUS Access Control
IEEE 802.3az Energy Efficient Ethernet
EzMaster Network Management Software:
Flexible Distributed Network Management
EzMaster Network Management Software expands the flexibility and scalability of Neutron Series EWS Managed Access Points and Switches. EzMaster allows organizations, such as branch offices and managed service providers, to easily and affordably deploy, monitor and manage a large number of Neutron APs, Controller Switches and Managed Smart Switches across geographically diverse properties. Centrally manage an unlimited number of independent distributed networks in the same subnet or crosssubnet from a single, at-a-glance network dashboard, no matter where they're located. Deploy ezMaster locally, remotely or via a Cloud-based service with or without an onsite controller.
Powerful, Scalable Options
EzMaster scales with your growing business needs. Manage 1,000+ Neutron EWS Access Points and Switches and 10,000+ concurrent users. Together, Neutron APs, Switches and ezMaster provide a flexible, fully integrated solution with redundancy support and future expandability for broader device connectivity.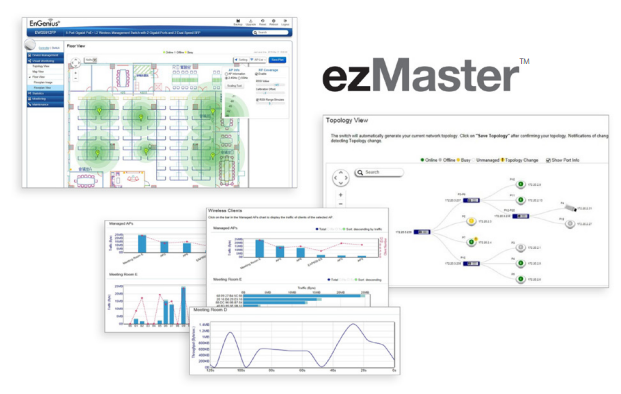 Simplified Device Management
EzMaster Network Management Software makes centralized device management easy. How? Through centralized bulk configuration, provisioning and monitoring, a comprehensive at-a-glance network dashboard, rich analytics and reporting, and much more.
EzMaster Software Features
Centralized Management

Configure, Managed & Monitor 1,000+ Neutron Devices
Cross-Network AP Management
AP Group Configuration

Access Point Configuration & Management

Auto Channel Selection
Auto Tx Power
Background Scanning
Band Steering (Auto Band Steering & Band Balancing)
Client Isolation
Client Limiting
Fast Roaming
L2 Isolation
LED On/Off Control
Multiple SSID
RSSI Threshold
Secure Guest Network
Traffic Shaping
VLAN Isolation
VLAN Tag

Comprehensive Monitoring

Device Status Monitoring
Floor Plan View
Map View
Rogue AP Detection
System Status Monitoring
Visual Topology View
Wireless Client Monitoring
Wireless Coverage View
Wireless Traffic & Usage Statistics

Management & Maintenance

Bulk Firmware Upgrade
Captive Portal
Email Alert
ezRedundancy
Kick/Ban Clients
One-Click Update
Remote Logging

Seamless Migration
SmartSync Redundancy
Syslog
System Requirements
Recommended environment for managing up to 500 APs
CPU: Intel Core i3 3.6 GHz dual-core or above
RAM: 4 GB minimum
HDD: 500 GB (actual requirement dependent on log size)
OS: Microsoft Windows 7 or later + VMware Player 7.0 or compatible virtualization software
Recommended environment for managing up to 1,000+ APs
CPU: Intel Core i5 3.2 GHz quad-core or above
RAM: 4 GB minimum
HDD: 500 GB (actual requirement dependent on log size)
OS: Microsoft Windows 7 or later + VMware Player 7.0 or compatible virtualization software
Browser Requirements
Internet Explorer 10 or better
Firefox 34.0 or better
Chrome 31.0 or better
Safari 8.0 or better
Network Topology Requirements
At sites where APs are deployed: A DHCP-enabled network for APs to obtain an IP address