EnGenius EWS1025CAM

11ac Managed Wireless Access Point With Integrated 2-MP IP Camera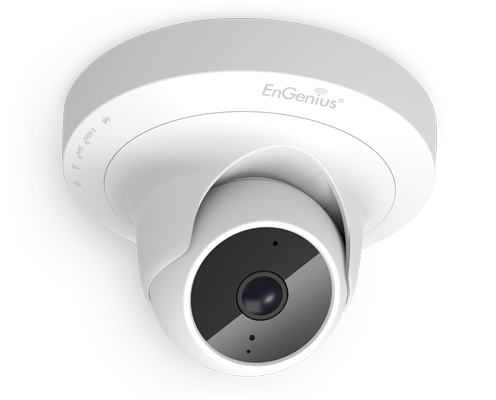 Sorry, this product is no longer available, Please, contact us for a replacement product!
Overview:
The EWS1025CAM combines an 11ac Managed Wireless AP and an integrated 2-MP IP camera featuring night vision and email alerts. The space-saving hybrid offers one installation for both an AP and camera, simplifying wiring with self-healing mesh networking while reducing install time and costs.
Product Highlights
AP MeshCam 11ac AP & 2-MP IP Surveillance Camera
Operate Alone, Centrally Manage, or Remotely Manage via ezMaster
802.3at/af-Compliant PoE Offers Flexible Device Placement
HD Images & Night Visibility to 65 Feet
Feature-Rich Hybrid 11ac Mesh AP Camera
The Neutron Mesh Surveillance System is a dual-functional 11ac Managed Wireless Access Point with mesh capabilities and an integrated 2-MP IP Camera featuring night vision and email alerts. This space-saving hybrid offers one installation for both an AP and IP camera, simplifying wiring with self-healing mesh networking and management via controller or ezMaster Network Management Software.
The Neutron Mesh Surveillance System is the first of its kind. Merging the capabilities of both an IP camera and a highspeed wireless access point, the System improves deployment options and the IP Camera's performance by combining technologies. Ideal for overcoming installation-wiring hurdles in retrofit applications, the System utilizes wireless mesh to optimize connections automatically between multiple EWS1025CAMS and other supported Neutron devices.
Features & Benefits:
Dual-Purpose System
The Mesh Surveillance System provides a dual-functional, aesthetically pleasing option for large residences, commercial, retail, and anywhere both Wi-Fi and surveillance are desired. Utilize the EWS1025CAM's mesh networking to provide these resources in entryways, hallways, stairwells, and lobbies and in retrofit applications such as landmark buildings, museums, and locations where long wire runs are prohibitive.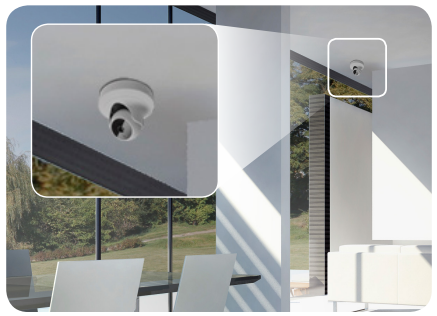 Increase Network Speed & Capacities
The onboard access point features high-performance 2x2 11ac dual-band Wi-Fi speeds ensuring smooth HD video delivery and ultra-fast file loading. The System supports greater user capacities while efficiently steering 5 GHz-capable network traffic off the heavily congested 2.4 GHz frequency band.
Wireless Mesh Flexibility
Easily create an adaptive mesh network when connecting multiple EWS1025CAMs or other Neutron mesh-compatible APs, and extend wireless access to larger areas without running cable to every unit. Employ mesh's auto-sensing technology to add devices quickly, optimize routes between mesh units, and self-heal in the event a network node is down.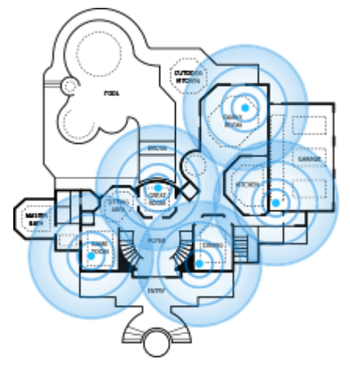 Reduce Wiring Challenges with Power-over-Ethernet
The System is designed to reduce wiring challenges and installation time and costs with a single cable run. Power each unit via one Ethernet cable with 802.3at/af Power-over-Ethernet (PoE) up to 325 feet from the power source or with a DC power input.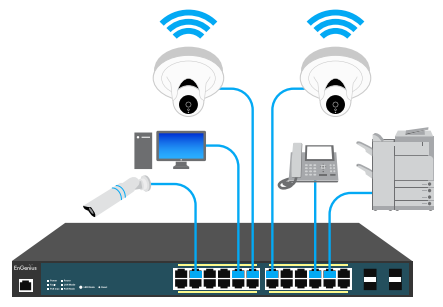 Secure Guest Networks & Workgroups
Establish and secure Guest Networks and block access to central computers and servers. Limit Internet resources for visiting guests and ensure your network is secure from sophisticated Trojans and malware that can use guest's mobile devices to attack your network.
Highly Defined Images & Clear Day/Night Viewing
The EWS1025CAM features a 2-MP Progressive Scan CMOS sensor and 1920 x1080P HD video, which ensures precise image details and smooth video playback. With its powerful, 24-piece built-in IR LED illuminators, the Mesh Surveillance System transmits clear, distinct images day or night in low light or total darkness up to 65 feet.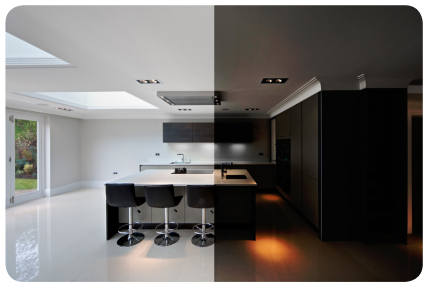 Motion & Audio Detection Triggers Provide Instant Proof
To immediately capture suspicious activity, the EWS1025CAM supports motion and audio detecting-triggers, to automatically activate a recording of the covered area ensuring all activity is monitored. Its built-in microphone can hear events giving you a more accurate representation of a situation.
EnViewer Mobile App
Remote Viewing & Push Notifications
Remotely view and monitor up to four (4) cameras simultaneously and instantly record video with EnGenius' free EnViewer Mobile App. View, record and receive motion or audio-triggered event alerts directly to your mobile device for instant notification of events-in-progress.
Zone Coverage
Set precise zone coverage within designated areas to record activity or detect motion near entryways or around windows within the camera's field of view. Customize sensitivity in each zone for greater control and set motion and audio detection mobile alerts.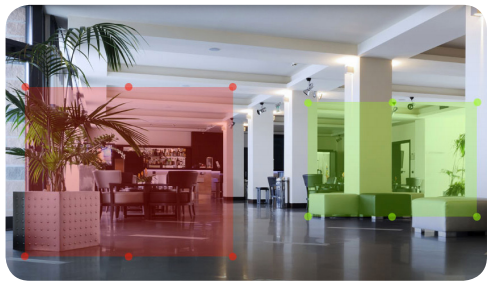 Video Management Software (VMS)
Monitor Up to 16 Cameras Simultaneously
EnGenius' 16-Channel Video Management Software is included free with the Neutron Mesh Surveillance System. Streamline camera setup and configuration with the VMS' Discovery Tool. Import building floor plans to create a camera location map through eMap and easily monitor the entire camera network regardless of its location. Additional features:
Optional Split-Screen Camera Views
Monitor Up to 16 Cameras Simultaneously
View Live Monitoring, Record Video & Playback Options
Quickly Search Archived Video via Time Bar
Schedule Recordings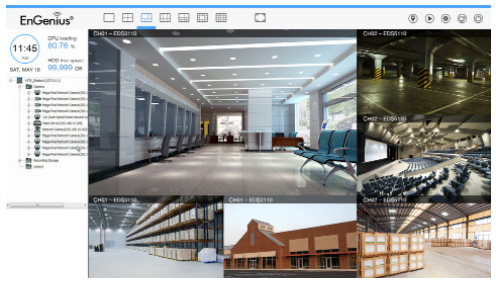 Network Management
Manage Up to 50 APs with Neutron Managed Switches
Neutron Switches also act as wireless controllers capable of managing up to 50 Neutron EWS1025CAMs and other Neutron EWS Access Points. In controller mode, IT administrators have access to all connected Neutron devices and a full array of Layer 2 management tools. Choose between PoE+ and non-PoE switch models with flexible deployment and management options.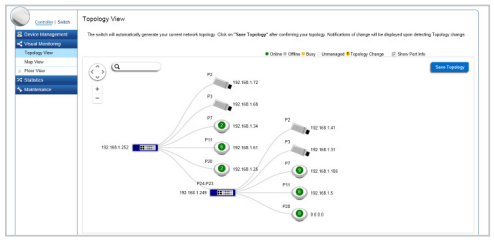 Specifications: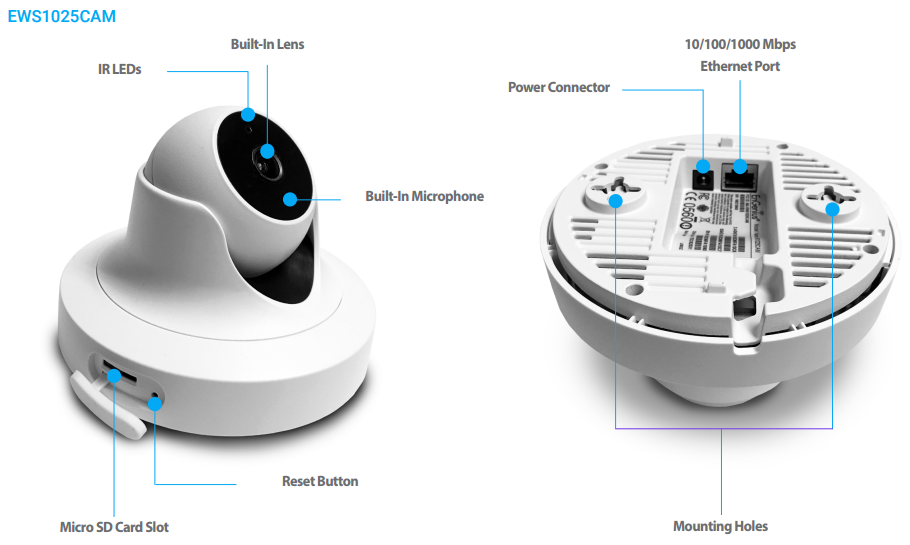 EnGenius EWS1025CAM Specifications
Standards
IEEE 802.11b/g/n on 2.4 GHz
IEEE 802.11a/n/ac on 5 GHz
IEEE 802.3at/af
IEEE 802.11r
IEEE 802.11k
IEEE 802.11i
IEEE 802.11x
Memory Capacity
Micro SD/SDXC – (up to 64G)
Antenna
5dBi 5 GHz & 5dBi 2.4 GHz Internal High-Gain Antennas
Physical Interface
1 x 100/1000 Gigabit Ethernet Port
- Supports 802.3at/af PoE Input
1 x Reset Button
1 x Power Connector
1 x Micro SD/SDXC Slot
24 Pcs IR LEDs
1x Embedded Microphone
LED Indicators
1 x Power
1 x 2.4 GHz
1 x 5 GHz
1 x Ethernet
1 x Mesh
Power Source
24V Proprietary Compliant Source
12VDC/1.5A
Active Ethernet (PoE)
Camera
Image Sensor
Sony 1 /2.9" 2-Megapixel Progressive Scan CMOS
Lens
Fixed Board Lens
Fixed-Focus, f=2.8 mm / F2.0
F.O.V.
120° (diagonal)
IR Illuminator
24 Pcs LEDs, Up to 65 Feet
Day/Night
Removable IR-Cut Filter
Minimum Illumination
Color (IR-Off): 0.01 Lux / F2.0
B/W (IR-On): 0 Lux / F2.0
Shutter Time
1/2 sec. to 1/10,000 sec.
Video
Compression
H.264/MJPEG
Stream
2x Video Streams
Frame Rates
Up to 30 FPS at 1920 x 1080P
Image Settings
Adjustable Image Size, Quality & Bit Rate
Configurable
Brightness
Sharpness
Contrast
White Balance
Saturation
Exposure
AGC/AWB/AES
Flip & Mirror
Time Stamp & Text Caption Overlay
Auto/Manual Day & Night Mode
3D Noise Reduction
Low Light Compensation (LLC)
Audio
Audio Streaming
1-Way
Interface
Built-In Microphone
Networking
Wireless & Radio Specifications
Dual-Concurrent Radio
Operation Modes
Mesh Access Point/Access Point
Standalone: Access Point, Client Bridge, WDS Access Point, WDS Bridge, WDS Station
Transmit Power
Up to 21dBi on 2.4 GHz
Up to 19dBi on 5 GHz
Max transmit power is limited by regulatory power
Radio Chains/Spatial Streams
2x2:2
Supported Data Rates (Mbps)
2.4 GHz: Max 300
5 GHz: Max 867
802.11b: 1, 2, 5.5, 11
802.11a/g: 6, 9, 12, 18, 24, 36, 48, 54
802.11n: 6.5 to 300 (MCS0 to MCS15)
802.11ac: 6.5 to 867 (MCS0 to MCS9, NSS=1~2)
Supported Radio Technology
802.11b: Direct-Sequence Spread-Spectrum (DSSS)
802.11a/g/n/ac: Orthogonal Frequency-Division Multiplexing (OFDM)
Channelization
802.11ac with 20/40/80 MHz channel width
802.11n with 20/40 MHz channel width
802.11a/b/g with 20 MHz channel width
Supported Modulation
802.11b: BPSK, QPSK, CCK
802.a/g/n: BPSK, QPSK, 16-QAM, 64-QAM
802.11ac: BPSK, QPSK, 16-QAM, 64-QAM, 256-QAM
Management
Multiple BSSID
Supports up to 16 SSIDs, 8 SSIDs per Radio
VLAN Tagging
Supports 802.1q SSID-to-VLAN tagging
VLAN Pass through
Spanning Tree
Supports 802.1d Spanning Tree Protocol
QoS
Compliant with IEEE 802.11e Standard
WMM
SNMP
v1, v2c, v3
MIB
I/II, Private MIB
Management Features
Deployment Options
Standalone (Individually Managed)
Managed Mode (with Neutron Series Switch/ezMaster)
Stand-Alone Management Features
Auto-Channel Selection
Wireless STA (Client) Connection List
Guest Network
Fast Roaming (802.11k & 802.11r)
Pre-Authentication (802.11i, 802.11x)
PMK Caching (802.11i)
RSSI Threshold
Band Steering
Traffic Shaping
VLANs for Access Point – Multiple SSIDs
Backup/Restore Settings
Auto Reboot
E-Mail Alert
Wireless Management Features (with ezMaster & Neutron Switch)
AP Auto Discovery and Provisioning
AP Auto IP Assignment
AP Cluster Management
Remote AP Rebooting
AP Device Name Editing
AP Radio Settings
Band Steering
Traffic Shaping
Fast Roaming (802.11k & 802.11r)
Pre-Authentication (802.11i, 802.11x)
PMK Caching (802.11i)
RSSI Threshold
AP Client Limiting
Client Fingerprinting
AP VLAN Management
VLANs for AP - Multiple SSIDs
Secured Guest Network
Captive Portal
Access Point Status Monitoring
Rogue AP Detection
Wireless Client Monitoring
Background Scanning
Auto Transmit Power
Auto Channel
Email Alert
Wireless Traffic & Usage Statistics
Real-time Throughput Monitoring
SmartSync Redundancy
Visual Topology View
Floor Plan View
Map View
Wireless Coverage Display
Secure Control Messaging (SSL Certificate)
Local MAC Address Database
Remote MAC Address Database (RADIUS)
Unified Configuration Import/Export
Bulk Firmware Upgrade Capability
One-Click Update
Intelligent Diagnostics
Kick/Ban Clients
Wi-Fi Scheduler
Traffic Shaping
Configuration
Web Interface (HTTP)
CLI (Telnet)
Control Features
Managed Mode (by Neutron Switch/ezMaster)
Band Steering
Auto-Reboot
One-Click Firmware Upgrade
Firmware Upgrade: Web Interface or CLI (FTP/HTTP)
Security
WEP Encryption (64/128/152 bit)
WPA/WPA2 Enterprise (PSK using TKIP or AES)
Hide SSID in Beacons
MAC Address Filtering, Up to 50 MACs per SSID
SSH Support
Client Isolation
Supporting Protocol
IPv4, TCP, UDP, DHCP, NTP, DNS, DDNS, SMTP, FTP, HTTP, UPnP, NFS/Samba Client, QoS/DSCP, RTP, RTSP, 3GPP, PPPoE, Time Zone Management
ONVIF Compatible (Profile S)
Alarm & Event/Recording
Event Trigger
Motion/Tamper/Audio Detection
Event Notification
Email/Push Notifications
Event Actions
File Upload to NFS/SAMBA/FTP/SMT/Local SD Card/EnGenius Cloud & Play Audio
EnGenius Simple Smart Recording (Only for EnGenius Cloud Series Routers/Gateways)
Video Buffer
5-Seconds Pre-Alarm & Post-Alarm
Video Playback
PC/iPhone/Android via EnViewer App
Viewing System Requirements
Operating System
Microsoft Windows XP/2000/2003/Vista/7/8
Web Browser
IE, Safari, Chrome, Firefox, Opera
Video Management Software
Microsoft Windows XP/2000/2003/Vista/7/8/10
EnViewer Mobile APP
iOS/Android Devices
Live Viewing for Up to 5 Clients
Environmental & Physical
Temperature Range
Operating: 32°F to 122°F, 0°C to 50°C
Humidity (non-condensing)
Operating: 80% or less
Storage: 80% or less
Device Dimensions & Weights
Device
Weight: 1.11 lbs.
Diameter: 5.27" (134 mm)
Height: 3.81" (97 mm)
Package Contents
EWS1025CAM
12V/1.5A Power Adapter
Mounting Bracket
Mounting Screw Set
T-Rail Mounting Kit
RJ45 Ethernet Cable
Quick Installation Guide
Certifications
FCC
CE
EzMaster Network Management Software:
Flexible Distributed Network Management
EzMaster Network Management Software expands the flexibility and scalability of Neutron Series EWS Managed Access Points and Switches. EzMaster allows organizations, such as branch offices and managed service providers, to easily and affordably deploy, monitor and manage a large number of Neutron APs, Controller Switches and Managed Smart Switches across geographically diverse properties. Centrally manage an unlimited number of independent distributed networks in the same subnet or crosssubnet from a single, at-a-glance network dashboard, no matter where they're located. Deploy ezMaster locally, remotely or via a Cloud-based service with or without an onsite controller.
Powerful, Scalable Options
EzMaster scales with your growing business needs. Manage 1,000+ Neutron EWS Access Points and Switches and 10,000+ concurrent users. Together, Neutron APs, Switches and ezMaster provide a flexible, fully integrated solution with redundancy support and future expandability for broader device connectivity.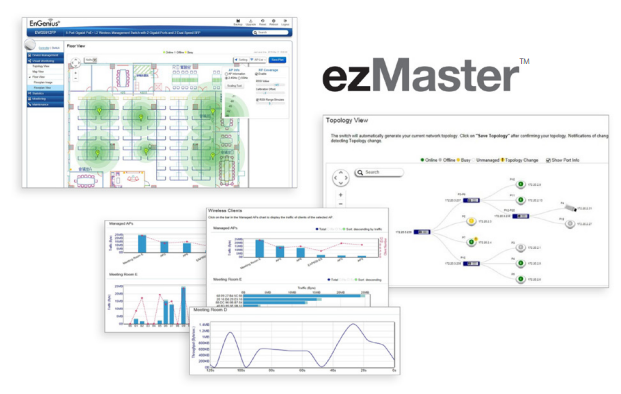 Simplified Device Management
EzMaster Network Management Software makes centralized device management easy. How? Through centralized bulk configuration, provisioning and monitoring, a comprehensive at-a-glance network dashboard, rich analytics and reporting, and much more.
EzMaster Software Features
Centralized Management

Configure, Managed & Monitor 1,000+ Neutron Devices
Cross-Network AP Management
AP Group Configuration

Access Point Configuration & Management

Auto Channel Selection
Auto Tx Power
Background Scanning
Band Steering (Auto Band Steering & Band Balancing)
Client Isolation
Client Limiting
Fast Roaming
L2 Isolation
LED On/Off Control
Multiple SSID
RSSI Threshold
Secure Guest Network
Traffic Shaping
VLAN Isolation
VLAN Tag

Comprehensive Monitoring

Device Status Monitoring
Floor Plan View
Map View
Rogue AP Detection
System Status Monitoring
Visual Topology View
Wireless Client Monitoring
Wireless Coverage View
Wireless Traffic & Usage Statistics

Management & Maintenance

Bulk Firmware Upgrade
Captive Portal
Email Alert
ezRedundancy
Kick/Ban Clients
One-Click Update
Remote Logging

Seamless Migration
SmartSync Redundancy
Syslog
System Requirements
Recommended environment for managing up to 500 APs
CPU: Intel Core i3 3.6 GHz dual-core or above
RAM: 4 GB minimum
HDD: 500 GB (actual requirement dependent on log size)
OS: Microsoft Windows 7 or later + VMware Player 7.0 or compatible virtualization software
Recommended environment for managing up to 1,000+ APs
CPU: Intel Core i5 3.2 GHz quad-core or above
RAM: 4 GB minimum
HDD: 500 GB (actual requirement dependent on log size)
OS: Microsoft Windows 7 or later + VMware Player 7.0 or compatible virtualization software
Browser Requirements
Internet Explorer 10 or better
Firefox 34.0 or better
Chrome 31.0 or better
Safari 8.0 or better
Network Topology Requirements
At sites where APs are deployed: A DHCP-enabled network for APs to obtain an IP address