EnGenius ENS500-AC

Outdoor CPE Turbocharges Delivery of High Bandwidth Performance Over Long Distances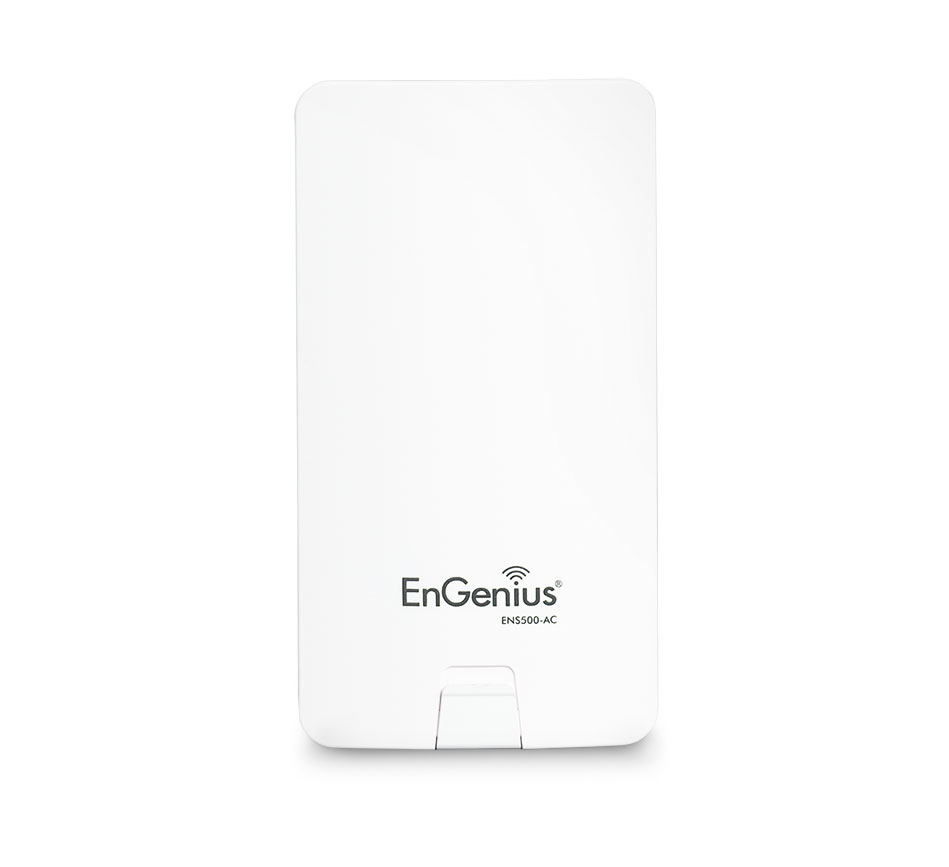 Sorry, this product is no longer available, please contact us for a replacement.
More pricing below, click here!
Overview:
Powerful onboard quad-core processors combine with new 11ac Wave 2 technology that is up to 30% faster than previous 11ac 3x3 devices. It offers greater connection reliability and high bandwidth performance over long ranges for point-to-point or point-to-multipoint connectivity with reduced interference.
QuadQuad-Core CPU, 717 MHz "Turbo Engine"
802.11ac 2x2 Wave 2 MU-MIMO
Beamforming Optimizes Antenna Signal, Reception & Reliability for Clients
High Transmit Power Extends Wi-Fi PtP
Integrated 14 dBi High-Gain Directional Antennas
IP55-Rated Weatherproof & Dustproof Housing
Features & Benefits:
Quad-Core CPU, 717 MHz "Turbo Engine"
11ac Wave 2 Wireless Speeds to 867 Mbps (5 GHz); to 400 Mbps (2.4 GHz)
Up to 30% Faster Throughput Over 11ac Wave 1 3x3 APs
Integrated Directional or Detachable Omni Antennas
360-Degree, 3-Axis Pivot Arm Locks for Precise Alignment (EnStation5-AC)
IP55-Rated Housing Withstands Harsh Environments
MU-MIMO Improves Performance & Device Capacities
Beamforming Optimizes Antenna Signal, Reception & Reliability for Clients
High Power Extends Wi-Fi Outdoors or Building-to-Building
GigE PoE Port & Adapter Included for Placement Where Power is Limited
Multi-Operation Modes: Access Point, Client Bridge & WDS
Suite of Advanced AP Management & Security Features
Simple Web-Based AP Monitoring & Management Software
Stand-Alone or Manage in AP Mode via EnGenius Switches or ezMaster™ Software
System Requirements:
Recommended environment for managing up to 500 APs
CPU: Intel® Core™ i7 quad-core or above
RAM: 4 GB minimum
HDD: 500 GB (actual requirement dependent on log size)
OS: Microsoft® Windows® 7 or later + VMware® Player 7.0 or compatible virtualization software
Recommended environment for managing up to 1,000+ APs
CPU: Intel® Xeon® Processor E3 or above
RAM: 4 GB minimum
HDD: 500 GB (actual requirement dependent on log size)
OS: Microsoft® Windows® 7 or later + VMware® Player 7.0 or compatible virtualization software
Browser Requirements
Internet Explorer 10 or better
Firefox 34.0 or better
Chrome 31.0 or better
Safari 8.0 or better
Network Topology Requirements
At sites where APs are deployed: A DHCP-enabled network for APs to obtain an IP address
About EnTurbo:
EnTurbo Outdoor Access Points and Bridges turbocharge high bandwidth wireless speed, coverage, and reliability in point-to-point and point- o-multipoint connections. EnTurbo makes powerful, next generation Wave 2, business-class Wi-Fi affordably accessible for small to mid-size businesses and large residences.
Turbocharged Performance
EnTurbo's powerful onboard Qualcomm® 717 MHz quad-core processors turbocharge wireless performance and efficiency with up to 30 percent aster throughput compared to 11ac Wave 1 3x3 access points. Combined with new 11ac technology, EnTurbo Access Points and Bridges maximize speed nd performance, support greater user device capacity and enhanced connection reliability.
Outdoor Access Points
Provide broad-reaching, fast 11ac Wave 2 access to users in a variety of settings. EnTurbo Outdoor APs are flexible and small enough for use n either indoor or outdoor environments. Achieve high-powered, long-range connections with integrated or detachable antenna options.
Create Wi-Fi Hot-Spots
Pair the ENS620EXT and ENS500EXT-AC with EnGenius' sector antennas to create a powerful wireless base station with 120° sector-wide overage. Offer high-capacity, long-range, point-tomultipoint coverage and create large Wi-Fi hotspots for:
Outdoor Shopping Centers
Warehouses & Arenas
Campus Quads & Stadiums
Campgrounds & Marinas
Outdoor Theaters & Recreational Facilities
Internet Service Providers
Outdoor Long-Range Bridges
Extend the wireless network in locations where cabling is not possible or practical while eliminating the expense of extended cable runs. onnect a secondary device such as an IP surveillance camera or access point for greater deployment flexibility.
Deliver precise short and long-range point-to-point links in settings such as:
Between Buildings
Across Large Campuses & Stadiums
Over Vast Acreage: Parks, Golf Courses, Ranches
City Blocks, Parking Lots & Marinas
In Sizeable Indoor Structures: Distribution Centers & Arenas
EnStation5-AC: Precise, Long-Range Point-to-Point Connectivity
The EnTurbo EnStation5-AC offers high 23 dBm output power and high receive sensitivity. This coupled with its embedded 19 dBi highgain directional antennas that emit a narrow signal beam, deliver stable connectivity, optimal bandwidth and high-speed data rates over extremely ong distances – up to 5 miles in clear, line of sight point-to-point deployments.
Position for Maximum Connectivity
Easily position EnStation5-AC for maximum connectivity with its 360-degree, 3-axis pivoting arm that locks in place to ensure precise alignment between other EnStation5-AC devices.
PoE Supports Flexible Power Options
Connect and power EnTurbo Outdoor APs and Bridges via their dual-PoE Gigabit ports and included PoE Adapter for placement in locations where ower outlets are unavailable such as on roofs, poles or other remote areas.
Flexible Operation & Configuration Options
Access Point, Client Bridge, and WDS mode configurations broaden the Outdoor APs and Bridge's adaptability to your network needs. With ultiple operation modes, these flexible devices offer versatility in point-to-point or point-to-multipoint deployments.
Optimal Performance in Harsh Environments
EnTurbo Outdoor APs and Bridges are designed to perform in harsh conditions and feature ruggedized IP55-rated enclosures. Ensure your etwork operates in extreme outdoor climates and indoor industrial environments where temperature is a factor. EnTurbo is protected from rolonged exposure to sunlight, cold, frost, snow, rain, hail, heat and humidity.
Pricing Notes:
Pricing and product availability subject to change without notice.