EnGenius EnMesh™ Whole-Home Wi-Fi System

Stylish, High-Performance, AC1200 Dual-Band Mesh Router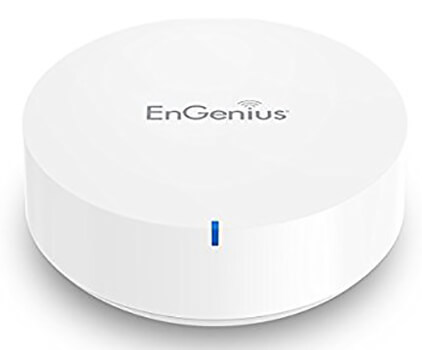 Sorry, this product is no longer available, Please, contact us for a replacement product!
Overview:
EnGenius AC1200 Mesh Router EMR3000 is a new concept of Dual Band Dual Concurrent Wireless Mesh router. It can be easily deployed and maintained with simple configuration deployment and recovery capacity. It does not need complicated settings. Just plug your first EMR3000 into your cable or DSL modem, simply establish Mesh network from your mobile phone APP via few steps. Additional EMR3000 just need power on from the wall outlet and it will auto connect to existing EMR3000 Mesh network, that's all. Enjoy your whole home Wi-Fi network coverage in a minute!!
AC1200 Speeds Support Buffer-Free Video & Audio in Every Room
Simplified Mesh Wi-Fi: No Wires to Run & No Software to Set Up
Quick, Step-by-Step Setup via EnMesh™ Mobile App & Bluetooth®
Full Network Insight, Control & Troubleshooting Features
Available in Single Packs (EMR3000) & 3-Packs (EMR3000-KIT)
Single Pack Covers Approx. 1,500 sq. ft.; 3-Pack Covers Approx. 4,500 sq. ft.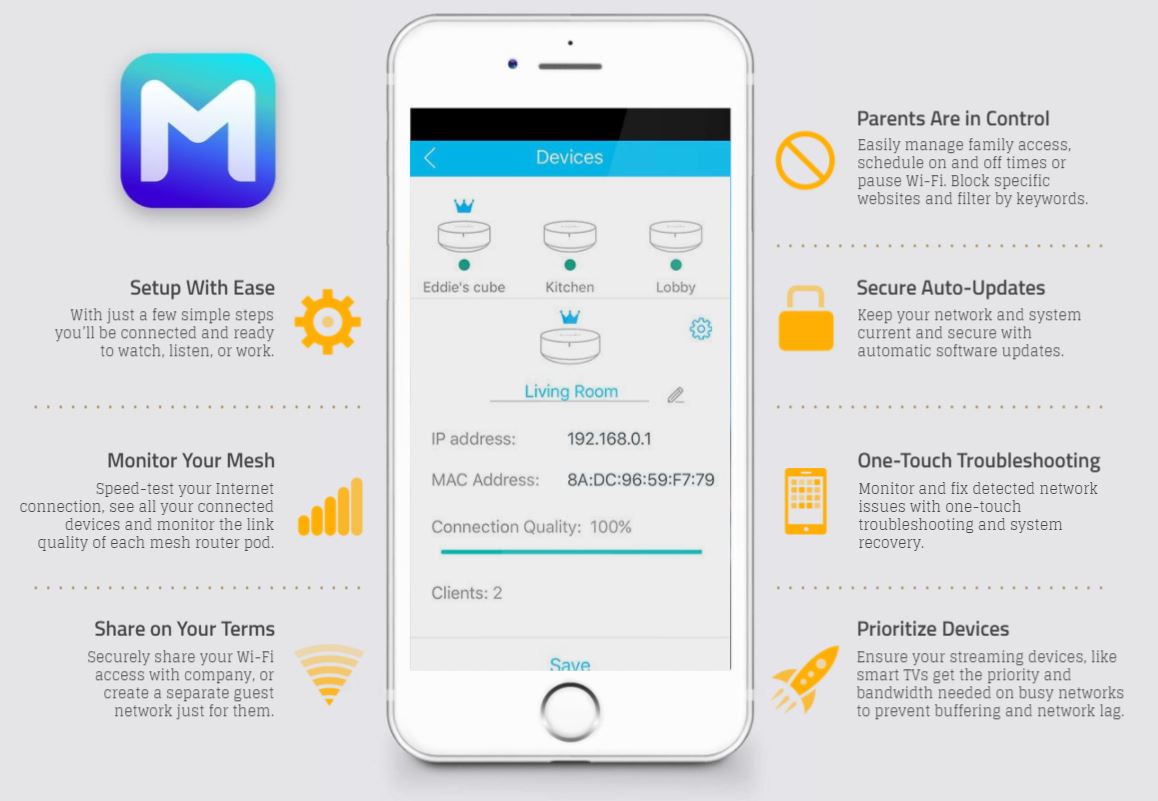 Features:
Better, Faster Wall-to-Wall Connections
The EnMesh™ Whole-Home Wi-Fi System blankets your entire home or small office in reliable, high-speed wall-to-wall wireless.
This simple-to-use system gives you total control over your network in a sleek, stylish design that ensures complete whole-house coverage, eliminating dead spots and buffer lag with mesh technology.
Wi-Fi in Every Corner
Do you struggle with endless buffering, dead spots or weak signals throughout your home or small office? Eliminate your Wi-Fi woes by placing mesh router pods around your home, wherever you want, to create a single, whole-home mesh network.
Get connected and stay connected. EnMesh system's mesh technology uses smart sensors that automatically detect and adjust your connection quality while it blankets your home in reliable wireless for full coverage in every corner.
Live Buffer-Free
Tired of that little buffer wheel? Enjoy smoking fast, high-performance Wi-Fi speeds and buffer-free video and audio to all of your devices in every room, on the patio, and beyond. Get the speed you need where and when you want it.
Wi-Fi Simplified
No running wires. No software to setup. With just a few simple steps you'll be up and running. Simply plug a mesh router pod into your existing modem, download the EnMesh Mobile App and follow the quick step-by-step setup guide. Place router pods anywhere you need coverage, and let Smart Link automatically connect them for you.
You're in Total Control
The same EnMesh app that makes installing your Whole-Home Wi-Fi system easy also makes monitoring and controlling your new EnMesh network just as simple. Keep your devices secure, allow guest access, and manage family screen time.
Your Personal Cloud Storage
Connect a USB storage device to your EnMesh Whole-Home Wi-Fi System and access your files and media wherever you go while they remain safe. Save on subscription-based cloud storage services by creating your own personal cloud storage with EnGenius' free EnFile™ Mobile App.
A Sleek, Stylish Design
It's time to bring your router out of the shadows. You won't want to hide this beauty with its clean, minimalist design. Each sleek, stylish mesh router pod is small enough to discretely place throughout your home or office, blending nicely into its surroundings.
Specifications:
EnGenius EPA5006GAT Specifications
Physical Interface
2x 10/100/1000MbpsEthernetPort(1WAN/1LAN)
1xUSB2.0Port
1xResetButton
1xDCJack
LED indicator
1 LED indicator with 4 different colors and types
White - Mesh and Internet connection status
Blue - Bluetooth connection status
Red - No Internet connection or no Mesh connection
Orange - Mesh connection signal is weak
Package Content
1x EMR3000
1x Power Adapter
1x Quick Start Guide
1x RJ-45 Ethernet Cable
3-Pack bundle kit
- 3x EMR3000
- 3x Power Adapter
- 1x Quick Start Guide
- 1x RJ-45 Ethernet Cable
Hardware Specfication
Dimension: 127 x 47.2mm (Diameter x Height)
Power Adapter: 12V / 1.5A
Certification

CE/FCC/NCC/BSMI

Physical/Environment Condition
Operation Temp.: 0°C ~ 40°C
Humidity 90% or less (Non-Condensing)
Storage Temp.: -20°C ~ 60°C
Humidity 95% or less (Non-condensing)
Wireless Specification
IEEE802.11ac/a/b/g/n
Wireless Band: 2.4GHz / 5GHz
Dual Band Internal High Performance antenna
2.4GHz Tx Output Power: 20´1 dBm (MAX.)
2.4GHz Rx Sensibility: -85dBm (MAX.)
5GHz Tx Output Power: 19´1dBm (MAX.)
5GHz Rx Sensibility: -83dBm (MAX.)
(The MAX. Power may be different depending on local regulations)
Software Features
All setup on EnMesh mobile APP
Mesh easy connection/ setup via bluetooth
Mesh connection status overview
Parental Control
Guest Network
Encryption: WEP / WPA / WPA2 / TKIP /AES
WAN: PPPoE / Static IP / DHCP
Band steering
DHCP Server
URL / IP / Port / ICMP Filtering
UID / DDNS / EnGenius DDNS Service
UPnP Support
Remote Control
Firmware Upgrade
Airprint server
Emergency Recovery Page (System failure)
Backup / Restore Setting
EnMesh & EnFile Mobile App. (iOS/Android) Supported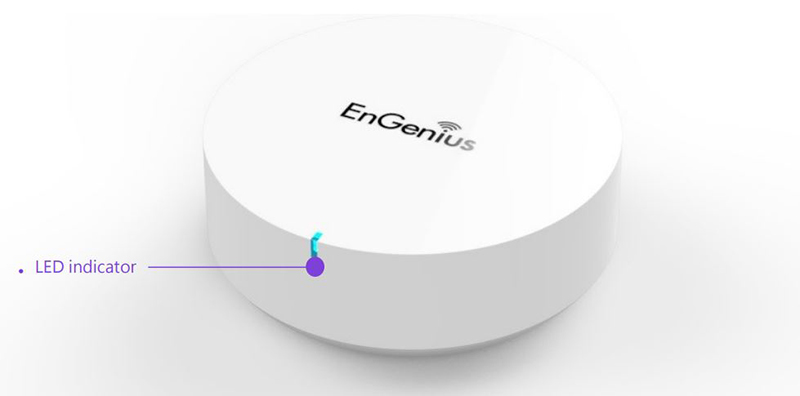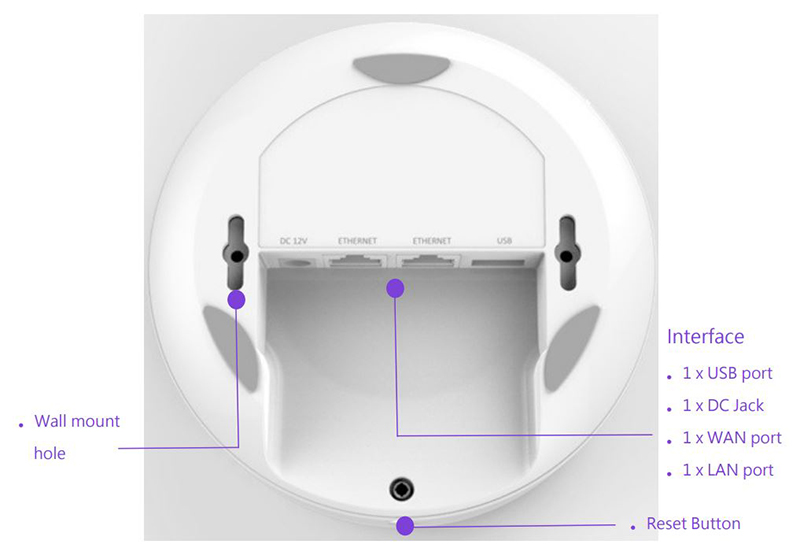 FAQs
What is EnMesh™?
EnMesh is EnGenius' optimized mesh networking solution that utilizes mesh technology for its consumer and business product lines. An EnMesh wireless network does not require wiring between each device making mesh networks easy and cost-effective to install and operate.
Why is a mesh network better?
Compared to conventional Wi-Fi solutions for the home, such as Wi-Fi routers and extenders, a mesh network extends wireless ranges throughout your entire home to provide full, widespread coverage and fast speeds in each room to eliminate dead spots or weak signals. Placing mesh router pods throughout your home distributes the wireless signals more evenly beyond the reach of a single router's signal.
A mesh network requires no expensive CAT5 cabling, making it perfect and affordable for home use. The nature of a mesh network makes it easy to setup because the technology utilizes an advanced mesh algorithm that enables each mesh router pod to intelligently "talk" to its neighboring pods. These continuous "conversations" between your mesh router pods simplifies set up and enhances network performance.
What is Mesh Technology?
Mesh technology uses smart sensors in each mesh router pod. These sensors are always scanning your home, "talking" with other mesh router pods in your home, ensuring the EnMesh network can quickly optimize its connection quality and speeds.
Mesh identifies and immediately fixes network slowdowns automatically by re-routing data to nearby mesh router pods in the event a given pod ever gets too busy passing large data, such as streaming video or loses connection.
How many mesh router pods do I need?
A single mesh router pod covers up to 1,500 square feet, while the three-pack kit (Model: EMR3000-KIT) covers homes up to 4,500 square feet. Wirelessly connect multiple router pods to cover a home of nearly any size. To extend your coverage area, simply add more pods.
How large a home can EnMesh cover? How many mesh routers can I add before the system reaches its high-performance capacity limit?
For home use, and to ensure the best mesh Wi-Fi connection, we recommend the system be restricted to no more than 8 devices.
Will EnMesh work with my Internet Service Provider and modem?
Yes. The EnMesh Whole-Home Wi-Fi System will work with most major Internet Service Providers (ISP) and is compatible with nearly all modems. The first mesh router pod plugs into your existing broadband modem during the setup process. Then, follow the EnMesh app steps to create your EnMesh Wi-Fi network.
Can I use my existing combination modem/router device with the EnMesh system?
Definitely. The EnMesh system will replace the router and Wi-Fi functions of your combination device. You can also add the system behind your existing modem/router to extend your Wi-Fi coverage. If you want to use the EnMesh system with a combo modem/router, we recommend you contact your ISP for assistance in disabling the Wi-Fi on your modem/router device.
Can the EnMesh system be used as a range extender?
No. The system cannot be used as an extender for a traditional router. The mesh router pods eliminate your need for a range extender by creating a whole-home mesh network when used with multiple mesh router pod devices.