EnGenius EDS6115

1-Megapixel Wireless Day/Night Mini Dome IP Surveillance Camera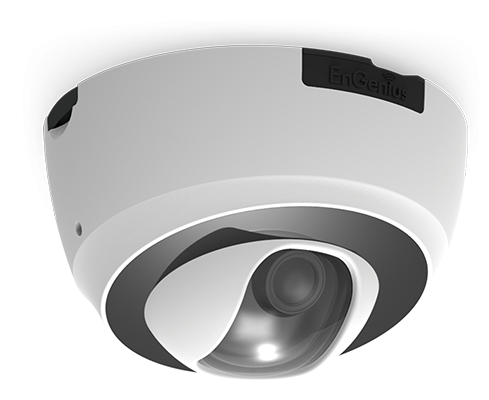 EnGenius Networked Surveillance Cameras
EnGenius EDS6115
EnGenius EDS6115, 1-MP Wireless Day/Night Mini Dome IP Surveillance Camera
Features Power-over-Ethernet, Micro SD/SDHC storage, remote viewing and 720P HD dual-stream video to 30 fps
#EDS6115
List Price:
$249.00
Our Price: $155.81
More pricing below, click here!
Overview:
The EDS6115 Wireless Dome Camera integrates with existing networks and provides clear image quality indoors in low light or total darkness up to 32 feet with powerful built-in IR LEDs. Run power and data over a single cable for deployment flexibility where outlets are scarce with 802.af PoE support.
Highlights
802.11n Wireless Speeds to 300 Mbps
86.8-Degree Wide-Angle Lens Captures Images Over Broader Areas
H.264 Video Provides 1280x720 HD Performance Using Less Bandwidth
Supports Triple Codecs: H.264/MPEG-4 & MJPEG to 30 fps
Photon Series Professional-Grade IP Surveillance Cameras
EnGenius Photon Series, of professional-grade IP Surveillance Cameras, offer superior, high definition image performance in deployments that need 24/7 monitoring. Retail businesses, corporate or school campuses, multi-tenant housing and luxury estates, are all more secure with a Photon Series IP Camera situated at strategic access points.
With built-in infrared (IR) lighting and motion detection, properties can be monitored day or night in low light or complete darkness. Remotely view cameras and receive email alerts and 10-second video clips directly to an iPhone, iPad or Android smartphone or tablet for global 24/7 surveillance with EnGenius' EnViewer mobile App. Extend your camera network to maximize coverage virtually anywhere. Choose the Photon IP Camera or Wireless IP Surveillance System that best meets your surveillance needs, including indoors or outdoors with wired, and near or long-range wireless network access.
Features & Benefits:
Features
Wide angle CMOS lens captures high-res images over broader areas
Mechanical IR cut filters & built-in IR illuminators for night viewing to 85-ft./25m
High-speed wired & 802.11n wireless cameras for flexible deployments
Power-over-Ethernet (802.11af) extends power to unwired areas
H.264 Video provides up to 1920 x 1080 HD performance with less bandwidth
Triple Codecs: H.264/MPEG-4 & MJPEG to 30 fps
Dual-stream supports varying frame-rates & resolutions
Includes 16-Channel VM Software with live monitoring
Receive alarm alerts directly to your mobile device for rapid response
Remotely view cameras from your mobile device with free EnViewer mobile App
ONVIF-compliant for easy integration with 3rd party products
Point-to-point & point-to-multipoint surveillance over large distances
IP66-rated waterproof
Photon Series IP Surveillance Cameras are ideal for deployment in:
Luxury Homes & Estates
Small Businesses
Small-to-Medium Corporate Campuses
Transportation Hubs – Airports, Bus Depots, & Train Stations
Schools, Colleges & Universities
Stadiums & Arenas
Multi-Tenant Dwellings
Hotels & Resorts
Warehouse Operations
Military Bases
Medical Centers
Parks & Golf Courses
Parking Structures
Shopping Malls
Network Integration
Security concerns top the agenda of many organizations today leading to an increased presence of surveillance cameras in homes and businesses alike. As surveillance systems become an integral part of the network, the need to quickly integrate and monitor them along with existing networks becomes increasingly important. EnGenius Photon Series IP Cameras seamlessly integrates quickly and easily with EnGenius' complete line of wired and wireless networking solutions.
IP Cameras - Superior Surveillance Technology
Today's surveillance cameras are far superior to their older analog CCTV cousins, providing the highest quality digital images along with the highest frame rates for clearer faces, sharper details and smoother video. Also unlike their analog counterparts, IP cameras integrate easily into existing wired or wireless Ethernet networks and offer:
Simplified Installation –Plug-and-play configuration is standard for IP Cameras. Provide power, network connectivity and stream video over a single CAT5/6 cable or go wireless and simply plug the camera into an electrical outlet vs. the configuration time and multiple cables needed for a single analog camera installation.
Elimination of Unnecessary Hardware – Connect to existing network switches and store video footage directly to network connected computers or storage servers (NAS), eliminating the need for analog to digital conversion hardware such as video encoders and Digital Video Recorders (DVR).
Affordable Scalability – Add cameras as needed, with no limits associated to your DVR's camera connection capacity. Greater Functionality – Easily view IP camera feeds remotely via the Internet, receive automated alerts via email and integrate with feature-rich monitoring software for Intelligent Surveillance; features only previously available with expensive analog video encoder/DVR systems.
Open Platform – Utilizing a standards-based architecture ensures IP cameras and Video Management Software is interoperable with a wider range of network devices, including Windows-based PCs, as compared to proprietary Network Video Recorders (NVRs) and DVRs.
Improved Image Quality – On-camera digital processors optimize video, transmitting consistent, high-quality digital images without degradation, compared to lower quality analog CCTV video, which must be converted to digital by the
Wireless Cameras offer Affordability, Flexibility & Scalability in Deployment Scenarios
Choose an EnGenius Photon Series Wireless Camera for even greater flexibility in the most demanding deployments. Eliminate the need for expensive trenching or concrete cutting for CCTV cable-runs in outdoor perimeter camera placements, and cabling through walls, attics or floors. Wireless Cameras also offer a greater level of scalability and are easily added to an existing system with minimal planning.
Photon Wireless IP Cameras support fast wireless speeds up to 150 Mbps, providing high-speed performance, maximizing HD video transmissions.
Wireless IP Surveillance System
Not all surveillance challenges fit into a neat little box. Campuses, civic centers, shopping complexes, plus indoor and outdoor arenas can be crowded with buildings and other obstructions, and may be saturated with a spectrum of RF signals. EnGenius Wireless IP Surveillance System is designed to provide long-range, point-to-point and point-to-multipoint surveillance coverage for expansive venues, transmitting streaming video at stable, robust wireless speeds over great distances – up to 5 miles point-to-point in challenging environments.
Available in both Wireless N300 speeds, the 2.4 GHz IP Surveillance System (EDS8012 or EDS8022) or the 5 GHz IP Surveillance System (EDS8015 or EDS8025), is designed to withstand extreme environmental conditions and features certified IP-rated housing.
Highly Defined Resolution
All Photon Series IP Surveillance Cameras support the latest Progressive Scan CMOS sensor technology, providing crystal clear details in moving objects like car license plates or facial features making these important details less ambiguous. With High Definition quality video running 1080p at 30 frames per second, Photon IP Cameras provide superior quality and smooth video over analog CCTV with smaller file sizes, which is ideal for viewing video on mobile devices, sending via email and maximizing available storage space.

Optimize Images in Varied Lighting
With Wide Dynamic Range technology, select Photon Series IP Cameras can be fine-tuned to ensure an optimal level of configuration for customized lighting environments, providing clear images, even in highly backlit areas indoors and out.

Alarm Alerts
Intergrate IP camera with 3rd party digital alarms, sensors or other electronic devices that activate when motion detectors are triggered, serving as an added deterrent to prolonged suspicious activity.

Excellent Performance in Harsh Environments
Need to deploy surveillance cameras in harsh environments? Select Photon IP Cameras include IP66-rated dust and waterproof housing designed to withstand harsh environmental conditions. With an included cable management bracket, each device is protected and accompanying cables are hidden from damage while offering a clean aesthetic.
Place Almost Anywhere with PoE Support
Extend your camera network to maximize coverage virtually anywhere. Select the Photon IP Camera that best meets your surveillance needs including indoor, outdoor, wired or wireless network access. All cameras are 802.3af-compliant and can be powered via Power-over-Ethernet (PoE), eliminating the need for a nearby electrical outlet.
Push Notification
Remotely view and monitor up to four (4) cameras simultaneously from anywhere and instantly record video with EnGenius' EnViewer mobile App. View, record and receive triggered event alerts directly to your smartphone or tablet for instant notifications of events-in-progress with free downloadable App for Android and iOS.
24/7 Vigilance
Monitor your business during or after hours, even in low light or in complete darkness up to 85-feet, with EnGenius Day/Night IP Surveillance Cameras. Receive Motion and Audio Detection alerts (on select models) and recordings directly to your smartphone or iPad ensuring a quick response to suspicious activity.
Zone Coverage
Set precise zone coverage within designated areas to record activity or detect motion near entryways or around registers and loading docks within each camera's field of view. Customize sensitivity in each zone for greater control and even set Motion and Audio Detection Alerts to trigger a connected audible alarm (on select models).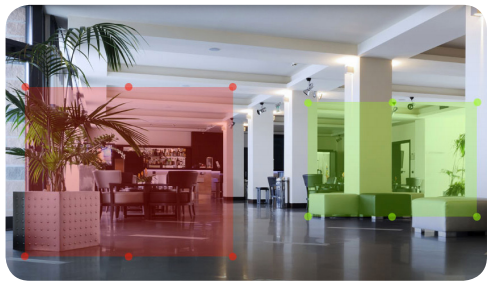 16-Channel Video Management Software (VMS)
Unlike proprietary NVRs and DVRs that are expensive to purchase, maintain and upgrade, EnGenius' Video Management Software comes free with all Photon Series IP Surveillance Cameras, further enhancing the line's affordability and lower total cost of ownership.
Optional split-screen camera view
Monitor up to 16 cameras simultaneously
View live monitoring, record video and playback options
Quick search of archived video via time bar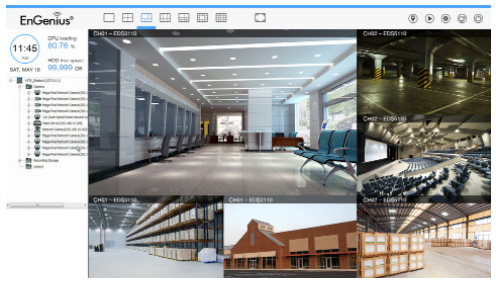 Enterprise Viewing Capacity
EnGenius VMS Software allows personnel to easily monitor the entire camera network, whether in a multi-building environment or at an entirely separate location. View feeds from up to 16 cameras concurrently, in real-time, and plan for future expansion to 32 or 64-channel capacities with future software upgrades, available via www.engeniustech.com. Conduct basic configuration and initiate firmware upgrades right from your desktop and import your office building's floor plan to create a camera location map through eMap. Schedule recordings based on time or date, such as after hours or when shipments are due to arrive. Setup and configuration is streamlined with VMS' Discovery Tool, which quickly locates EnGenius IP Cameras.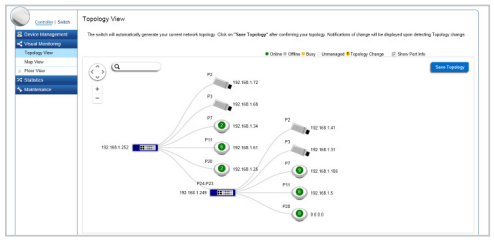 Specifications: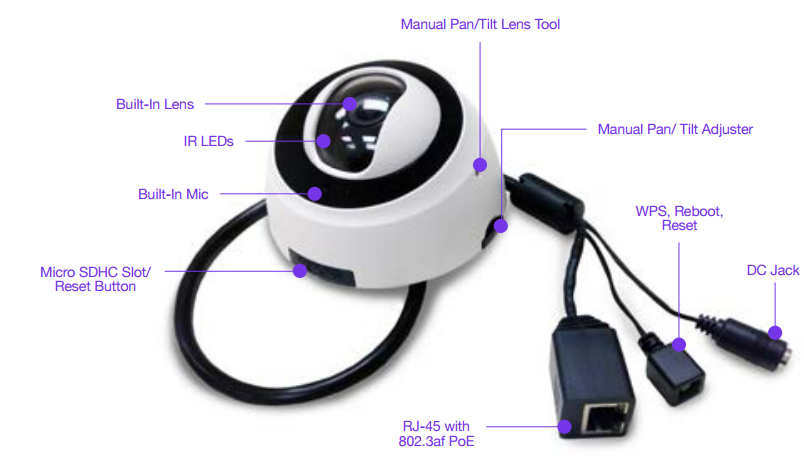 EnGenius EDS6115 Specifications
Camera
Image Sensor
1/4" 1-Megapixel Progressive Scan CMOS Image Sensor
Lens
Fixed Board Lens
Fixed-Focus, 3.3 mm @ F1.8
F.O.V.
86.8° (diagonal)
Day/Night
Removable Mechanical IR-Cut Filter
Minimum Illumination
Color (IR-Off): 0.5 lux @ F1.8
B/W (IR-On): 0 lux @ F1.8
IR Illuminator
12 pcs IR Illuminator LEDs, effective up to 32-feet/10 meters with wide angle
Shutter Time
1/7.5 sec. to 1/24,000 sec.
Physical Interface
1 x Micro SD/SDHC slot
1 x Reset Button
All-in-One Cable
1 x RJ45 10/100 Base-T (802.3af PoE)
1 x DC Jack (12V/1A)
1 x Reboot/WPS/Reset Button
Power Input
Power Input: 12V/1A/PoE 48V
Video
Compression
H.264/MPEG4/MJPEG
Stream
2x Video Streams
Frame Rates
Up to 30 fps at 1280 x 720P
Image Settings
Adjustable Image Size, Quality & Bit Rate
Configurable
Brightness
Sharpness
Contrast
White Balance
Saturation
Exposure
AGC/AWB/AES
Flip & Mirror
Time Stamp & Text Caption Overlay
Auto/Manual Day & Night Mode
Audio
Audio Streaming
1-Way
Compression
G.711
Interface
Built-in Microphone
Networking
Wireless Standard
IEEE 802.11b/g/n
Antenna
3 dBi High-gain Internal Antenna
Network
10/100 Mbps Ethernet, RJ-45
Power-over-Ethernet (PoE 802.3af class 2)
EnGenius DDNS
Auto NAT Pass Through/ UPnP Traversal
Protocol
IPv4, TCP, UDP, DHCP, NTP, DNS, DDNS, SMTP, FTP, HTTP, UPnP, NFS/Samba client, QoS/DSCP, RTP, RTSP, 3GPP, PPPoE
SMB
ONVIF Compatible (Profile S)
Security
Admin/User account level
Password Protection
WEP/WPA/WPA2-PSK
Alarm & Event/Recording
Event Trigger
Motion/Audio-In Detection
Event Notification
Email/Push Notifications
Event Actions
File Upload to NFS/SAMBA/FTP/SMT/Local SD Card/EnGenius Cloud & Play Audio
EnGenius Simple Smart Recording (Only for EnGenius Cloud Series Routers/Gateways)
Video Buffer
5-Seconds Pre-alarm & Post-alarm
Video Playback
PC/iPhone/Android
Schedule Recording
Yes
Mobile Apps Supported
iPhone/iPad/Android devices
Viewing System Requirements
Operating System
Microsoft Windows XP/2000/2003/Vista/2007/2008
Web Browser
IE, Safari, Chrome, Firefox, Opera
View Clients
Live viewing for up to 5 clients
Environmental & Physical
Temperature Range
Operating: 32° F to 122° F (0°C to 50° C)
Storage: -4º F to 140º F (-20º to 60º C)
Humidity (non-condensing)
Operating: 80% or less
Device Dimensions & Weights
Device
Weight: 0.50 lbs. (226 g)
Width: 2.57" (65 mm)
Length: 3.77" (95 mm)
Height: 2.57" (65 mm)
Package Contents
EDS6255 2MP Wi-Fi Dome IP Camera
Mount with attachment screws
RJ-45 Ethernet Cable (10/100 Base-T 802.3af PoE)
Quick Installation Guide
QR Code Label
Power Adapter
CD with User Manual
Certifications
FCC
CE
Warranty
1 Year
Photon Series IP Surveillance Cameras Comparison:
| Models | EDS5250 | EDS5110 | EDS5255 | EDS5115 | EDS6255 | EDS6115 |
| --- | --- | --- | --- | --- | --- | --- |
| Camera Type | Bullet | Bullet | Bullet | Bullet | Mini-Dome | Mini-Dome |
| Progressive Scan CMOS Image Sensor | 1 /2.7" 2-Megapixe | 1/4" 1-Megapixel | 1 /2.7" 2-Megapixe | 1/4" 1-Megapixel | 1 /2.7" 2-Megapixe | 1/4" 1-Megapixel |
| LAN Interface | Wired | Wired | Wired/Wireless 802.11b/g/n | Wired/Wireless 802.11b/g/n | Wired/Wireless 802.11b/g/n | Wired/Wireless 802.11b/g/n |
| Ethernet Ports | 1 x 10/100Mbps | 1 x 10/100Mbps | 1 x 10/100Mbps | 1 x 10/100Mbps | 1 x 10/100Mbps | 1 x 10/100Mbps |
| Weatherproof | Yes (indoors/outdoors) | Yes (indoors/outdoors) | Yes (indoors/outdoors) | Yes (indoors/outdoors) | No (indoors only) | No (indoors only) |
| Night Vision | To 85-ft. | To 32-ft. | To 85-ft. | To 32-ft. | To 49-ft. | To 32-ft. |
| IR LEDs | 12-pieces | 12-pieces | 12-pieces | 12-pieces | 12-pieces | 12-pieces |
| HD Resolution | 1920 x 1080P | 1020 x 720P | 1920 x 1080P | 1020 x 720P | 1920 x 1080P | 1020 x 720P |
| Frame Rate | 30 fps | 30 fps | 30 fps | 30 fps | 30 fps | 30 fps |
| Motion Detection | | | | | | |
| Field of View (diagonal) | 120-degrees | 62-degrees | 120-degrees | 62-degrees | 120-degrees | 86.8-degrees |
| Wide Dynamic Range Technology | | | | | - | - |
| 802.3af-PoE Compliant | | | | | | |
| On-board MicroSD | - | - | - | - | | |
| Built-in Microphone | - | - | - | - | | |
| Remote Access via EnViewer Mobile App | | | | | | |
| Email Notifications | | | | | | |
| Included VM Software | | | | | | |
Pricing Notes:
Pricing and product availability subject to change without notice.
EnGenius Networked Surveillance Cameras
EnGenius EDS6115
EnGenius EDS6115, 1-MP Wireless Day/Night Mini Dome IP Surveillance Camera
Features Power-over-Ethernet, Micro SD/SDHC storage, remote viewing and 720P HD dual-stream video to 30 fps
#EDS6115
List Price:
$249.00
Our Price: $155.81