EnGenius ECB350

High-Powered, Long-Range Wireless N300 Indoor Access Point / Client Bridge with Gigabit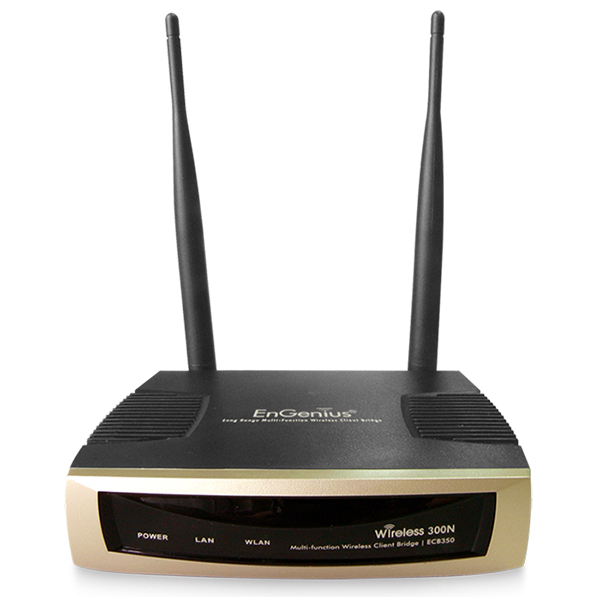 More pricing below, click here!
Overview:
The EnGenius ECB350 is an ideal solution for expanding an existing network and increasing bandwidth to support additional users. This 2.4GHz Wireless-N Indoor Access Point/Client Bridge that features up to 29 dBm RF Tx (transmit) power for long range coverage, wireless speeds up to 300Mbps and a Gigabit Ethernet port for connecting to a switch or router.
The ECB350's robust transmit power, enhanced receive sensitivity and its MIMO (Multiple In/Multiple Out) antenna array extends wireless coverage and enhances connectivity to client devices even in areas where connections have been previously challenging or nonexistent.
This capability also helps to reduce the number of Access Points needed to deploy over large properties and helps to eliminate the need for roaming clients to constantly reassociate to different APs in the building or throughout the property.
This powerful and versatile, multi-functional 802.11n wireless device features eight different operation modes (Access Point/Client Bridge/Universal Repeater/WDS Bridge/WDS AP/WDS Station/AP Router/Client Router) to meet the changing needs of evolving business environments. The ECB350 is designed for extending networks within large or multi-story buildings or expansive, client-intensive facilities like hotels, resorts, hospitals, office buildings, universities or other multibuilding campus facilities that need to offer employees, guests, staff or students access to network resources likeprinters, content or the Internet.
The ECB350 includes EnGenius Zone Controller Access Point Management software that provides a robust suite of tools for IT managers, installers and network administrators who deploy, manage and maintain wireless networks. With Zone Controller, EnGenius Wireless Indoor and Outdoor Access Points and Client Bridges can be configured, controlled and monitored from one central location.
Product Features:
High-power, Long-range Wi-fi:
Up to 29 dBm RF Tx (transmit) power provides more than twice greater Wi-Fi coverage over mainstream competitors
Wireless-N With Multiple Operation Modes:
Offers multiple operation modes for different network topologies.
8 operation modes: Access Point/Client Bridge/Universal Repeater/WDS Bridge/WDS AP/WDS Station/AP Router/Client Router
Wireless-n 6x Speed Over 802.11g Networks:
MIMO delivers up to 300Mpbs speed rate
Gigabit Ethernet Port:
Up to 10X faster data transfer than Fast Ethernet. Ideal for streaming videos, VOIP, music, and multimedia applications
SSID-to-VLAN Mapping:
Supports 802.1q mapping of SSIDs and up to four VLANs
IEEE802.3af PoE Compliant:
Supports Power-over-Ethernet (IEEE 802.3af) and enables deployment in ceilings and other areas where power outlets may not be available.
AP Management Software:
Includes EnGenius Zone Controller for configuring, managing and monitoring multiple APs from one central location
Specifications:
EnGenius ECB350 Specifications
Hardware Specifications
MCU/RF
AR7242 + AR9283
Memory
32 MB
Flash
8 MB
Physical Interface
LAN: 1 x 10/100/1000 Gigabit Ethernet (RJ-45) port
Reset Button
Power Jack
LED Status
Power/Status
LAN (10/100/1000Mpbs)
WLAN (Wireless connection)
Power requirement
Power Supply: 90 to 240 VDC ± 10%, 50/60 Hz
(Depends on different countries)
Active Ethernet (Power over Ethernet, IEEE802.3af)
48 VDC/0.375A
Device: 12V/1A
RF Specifications
Wireless standard
IEEE802.11 b/g/n
Frequency
2.400 ~ 2.484GHz (b/g/n)
Modulation Technology
OFDM: BPSK, QPSK, 16-QAM, 64-QAM DBPSK, DQPSK, CCK
Operating Channels
11 channels
Transmit Power
802.11b(2.412 ~ 2.472 GHz)
29 dBm @ 1Mbps
29 dBm @ 2Mbps
29 dBm @ 5.5Mbps
29 dBm @ 11Mbps
802.11g(2.412 ~ 2.472 GHz)
29 dBm @ 6Mbps
29 dBm @ 9Mbps
28 dBm @ 12Mbps
28 dBm @ 18Mbps
24 dBm @ 24Mbps
24 dBm @ 36Mbps
23 dBm @ 48Mbps
23 dBm @ 54Mbps
802.11n(2.412 ~ 2.472 GHz)
26 dBm @ MCS0/MCS8
26 dBm @ MCS1/MCS9
25 dBm @ MCS2/MCS10
25 dBm @ MCS3/MCS11
24 dBm @ MCS4/MCS12
24 dBm @ MCS5/MCS13
23 dBm @ MCS6/MCS14
23 dBm @ MCS7/MCS15
Receiver Sensitivity
802.11b (2.412 ~ 2.472 GHz) best ≤ -98 dBm
802.11g (2.412 ~ 2.472 GHz) best ≤ -93 dBm
802.11n (2.412 ~ 2.472 GHz) best ≤ -93 dBm
Antenna
2x external 5dBi SMA antennas (Diversity support)
Environment & Physical
Temperature Range
Operating: 0 to 50° C (32° to 122° F)
Storage: -20 to 60° C (-4° to 140° F)
Humidity (non-condensing)
Operating: 90% or less
Storage: 90% of less
Dimensions
L: 5.32"(135mm), W: 4.14"(105mm), H: 1.18"(30mm)
Weight
0.77 lb. (280g)
Certifications
FCC, CE, IC
Software Specifications
Topology
Infrastructure/Ad-Hoc
Operation Mode
Access Point/Client Bridge/Universal Repeater/WDS Bridge/WDS AP/WDS
Station/AP Router/Client Router
Multiple BSSID
Supports up to 4 BSSIDs
LAN
IP (check validity and DHCP server IP range)
DHCP Server
DHCP range, lease time, client list
VLANs
Supports 802.1q (up to 4 VLANs)
SSID to VLAN mapping
Spanning Tree
Supports 802.1d Spanning Tree Protocol
Wireless
Wireless mode: 11b/11g/11n
Channel selection (setting varies by country)
Channel bandwidth (Auto, 20MHz, 40MHz)
Transmission rate: 11n only, 11b/g/n mix, 11b only, 11b/g, 11g only
VPN
VPN pass-through (PPTP, L2TP, IPSEC)
QoS
WMM
WPS
Software only
Security
WEP Encryption - 64/128 bit
WPA Personal (WPA-PSK using TKIP or AES)
WPA Enterprise (WPA-EAP using TKIP)
802.1x Authenticator
SSID broadcast enable/disable
WLAN MAC Address Filter
WLAN L2 isolation (AP mode)
Wireless STA (Client) connected list (Idle/Connection Time, Pkt statistics)
Management
Tx Power Control
Adjust transmit power by dBm
Configuration
Web-based configuration (HTTP)/Telnet
Telnet Server
CLI
Firmware Upgrade
Upgrade firmware via web browser
Administrator Setting
Administrator Username & Password change
Reset Setting
Reboot (press 1 second). Reset to Factory Default (press 10 second)
System Monitoring
Status Statistic and Event log
SNMP
V1 , V2c
MIB
MIB I , MIB II(RFC1213) and Private MIB
Traffic Measurement
Per interface
Auto-channel Selection
Automatically selecting least congested channel
Bandwidth Measurement
IP range and bandwidth management
Backup & Restore
Save & restore settings through Web interface
Diagnosis
IP pinging statistics
AP Detection
Scanning for available EnGenius APs
Ideal For
Product Comparison:
Model
ECB1750
ECB1200
ECB600
ECB350
ECB300
Frequency
802.11 a/b/g/n/ac
802.11 a/b/g/n/ac
802.11 a/b/g/n
802.11 b/g/n
802.11 b/g/n
Maximum Data Speed
450 + 1300Mbps
300 + 867Mbps
300 + 300Mbps
300Mbps
300Mbps
LAN Interface
10/100/1000
10/100/1000
10/100/1000
10/100/1000
10/100
Encryption
WPA2 WPA WEP
WPA2 WPA WEP
WPA2 WPA WEP
WPA2 WPA WEP
WPA2 WPA WEP
SDRAM
128 MB
128 MB
64 MB
32 MB
32 MB
FlashMemory
16 MB
16 MB
16 MB
8 MB
4 MB
RF Power (dBm)
2.4 GHz: 29 dBm
5 GHz: 29 dBm
2.4 GHz: 26 dBm
5 GHz: 26 dBm
2.4 GHz: 29 dBm
5 GHz: 26 dBm
29 dBm

29 dBm
Receive Sensitivity
≤-94 dBm
≤-94 dBm
≤-94 dBm
≤-94 dBm
≤-94 dBm
Antenna
6 x 5 dBi Omni RP-SMA Female
4 x 5 dBi Omni RP-SMA Female
4 x 5 dBi Omni RP-SMA Female
2 x 5 dBi Omni RP-SMA Female
2 x 5 dBi Omni RP-SMA Female
Transmit Power (mW)
800mW/800 mW
400mW/400mW
800mW/400mW
800mW
800mW
Operation Modes
Access Point, Client Bridge, WDS AP, WDS Station, Universal Repeater
Access Point, Client Bridge, AP Router, WDS AP, Universal Repeater
Number of SSID
16 (8 per radio)
16 (8 per radio)
16 (8 per radio)
8
8
802.1q zVLAN
QoS
AP Management Software (EZC)
PoE
802.3at
802.3at
802.3at/af
802.3af
802.3af
User Support
Up to 50 on each radio
Up to 50 on each radio
Up to 50 on each radio
Up to 32
Up to 32
Views: