EnGenius EBK1000 Home Guardian Kit

Home Guardian Kit with HD720P IP Camera and Dual Band IoT Gateway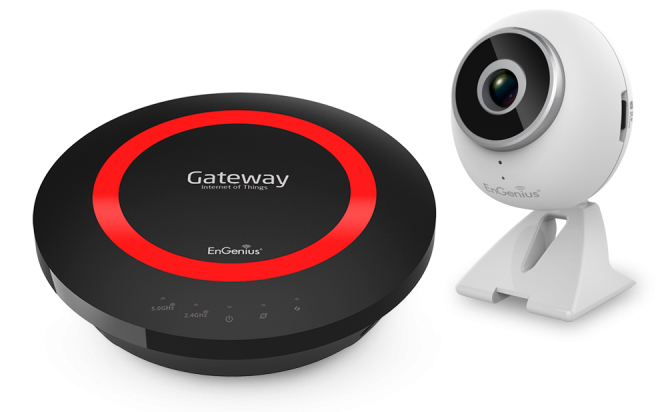 Sorry, this product is no longer available, please contact us for a replacement.
Overview:
The EnGenius Home Guardian Kit (EBK1000) is an IoT (Internet of Things) solution that includes the EPG5000 Dual Band Wireless AC1750 IoT Intelligent Cloud Gateway and one EDS1130 HD720P IP Network Camera for monitoring a home or small business. The EPG5000 includes a Gigabit WAN port for optimal download and upload connectivity to a cable or DSL modem, a USB port, and a built-in 4-Port Gigabit Ethernet switch for large file transfers, and connecting home entertainment devices like HDTVs, Blu-ray players, set top boxes or game consoles so they can access a family's Internet connection. Both products work with a suite of free EnGenius IoT mobile apps available for iPhone, iPad or Android devices.
The EDS1130 camera features a 1-Megapixel resolution and includes an IR-Cut filter for day/night mode for monitoring of rooms, entryways, patios, and more. This High Definition Camera is capable of streaming up to 2 codecs simultaneously with up to 30 frames per second using H.264, MPEG-4, or Motion JPEG.
With the EDS1130 Camera and EnGenius EnViewer™ mobile app available as a free download on the Apple Store and Google Play Store, users can conveniently and remotely monitor the care of children, elderly family members, or even pets. The Camera's 2-Way audio capability with built-in microphone and audio output jack when connected to an external speaker system lets users speak directly to caregivers or family members. The Camera's audio out capability also lets users pre-program an alarm that will sound if the Camera detects motion. Users can also be notified immediately with event notification push messages that display on the EnViewer app icon in the display of their mobile device, triggered by the camera's motion detection feature.
For easy record keeping, the EDS1130 can also snap JPEG images or record video clips with its included recording software or on its video home page and sent directly to any connected DLNA storage device, a computer, network attached storage, or to a micro SD/SDHC card in the camera's built-in micro SD/SDHC card slot capable of supporting up to 32 GB SD/SDHC cards (SD card not included). For monitoring in low-light or dark environments, the EDS1130 also includes hidden IR LEDs for night viewing up to sixteen (16) feet for locations such as entryways, patio doors, side doors, windows, and more to be secured any time day or night.
Setup is easy for the EDS1130. Just plug the network camera into a power outlet and pair it with a WPS-capable wireless router using its one-touch WPS button for a hassle-free setup. For secure management, the EDS1130 supports EnGenius DDNS, making it a cost competitive and convenient solution ideal for securing locations such as residences and small businesses.
Connect, stream video and transfer files at wireless speeds of up to 1300 Mbps on the EPG5000's 5 GHz band and up to 450 Mbps on its 2.4 GHz band. The EPG5000 allows for a secure network with several security features and settings including industry standard wireless encryption such as WPA/WPA2 (Wireless Protected Access) to prevent unauthorized access to the home network; an advanced SPI (Stateful Packet Inspection) firewall to block malicious software from the Internet from accessing networked devices; MAC Address filtering to grant only known computers and devices network access; and URL filtering to block access to unwanted or offensive websites.
The EPG5000 also enables friends or visitors to gain Internet access or access to specific devices, like networked printers, while denying access to other networked computers or hard drives in the home that may contain private information via the a Guest Account feature.
To prioritize bandwidth-intensive applications like video and gaming or bandwidth sensitive applications like VoIP (Voice over IP) telephone calls for optimal connectivity whether over wired or wireless connections. The Gateway also employs intelligent QoS (Quality of Service).
Free Downloadable Personal Cloud Mobile Apps
To take full advantage of the Home Guardian Kit's capabilities download these free EnGenius IoT mobile apps, available for iPhone, iPad or Android smartphones and tablets on the Apple Store or Google Play store respectively.
EnShare
The EPG5000 high-powered Gateway also includes a USB port for attaching a storage device and sharing media content in the office, home or away from the office or home to and from mobile devices suh as smartphones or tablets and laptop computers with the free EnShare app for iPhone, iPad or Android smartphones and tablets.
EnTalk-Lite™
Connect with family, friends, and colleagues like never before with the EnTalk-Lite app for the EPG5000. Capable of supporting up to 10 SIP accounts, small business users or families and friends can reroute calls over the Internet for conducting long-distance and international calls at lowered costs.
EnRoute
The EnRoute app allows administrators to keep track of the location of business colleagues or family members who belong to a registered account on a device such as a smartphone or tablet. Features such as GPS tracking, location sharing, and parental controls allows for easier management of devices and users. Never lose track of friends or family again.
EnViewer
With the EnViewer app, users can view multiple live video feeds from the EDS1130 and other EnGenius IP Cameras and receive alert messages when triggered by the camera's motion-detection feature straight to users' iPhone, iPad or Android smartphones and tablets to stay synced with family or personnel.
Features:
Faster File Transfers and Smoother Video Streaming
Utilizes 802.11n as well as 802.11ac standard speeds, with up to 1300 Mbps on its 5 GHz frequency band and up to 450 Mbps on its 2.4 GHz band. Ideal for media streaming, online gaming, and large file transfers in and around the home.
Share Music and More with EnShare USB Media Sharing
EnShare lets users access media content from a storage device attached to the USB port of the EPG5000 in or away from home and enables users to upload content back to the attached USB drive on the EPG5000 when away from home via an available Internet connection.
Access EDS1130 Camera with the EnViewer App
Available as a free download on the Apple or Google Play store, EnViewer lets small business owners or homeowners view EnGenius IP Camera feeds by connecting to the EPG5000 Gateway using a smartphone. Snap a JPEG or record video using a connected smartphone. Receive alert messages to a smartphone when triggered by camera's motion detection feature.
Captures fine detail in video or still images
HD 720P quality with real-time recording at 30 frames per second. Up to 1-Megapixel Resolution for better image clarity.
Detects Activities
Motion and audio detect capability sends alert messages and video clips to your mobile device through EnViewer so you can respond accordingly and alert family members, law enforcement, the fire department or other emergency personnel.
Around-the-Clock Surveillance
An IR-Cut filter for day/night mode helps users keep track of loved ones and the home any hour of the day. Hidden IR LEDs for night viewing in low light environments up to sixteen (16) ft, makes it ideal for entryways, patio doors, side doors, windows, and more.
Specifications:
EPG5000 IoT Gateway Technical Specifications
Device Interface
Gigabit WAN Port
4 Gigabit LAN Ports
USB2.0 Port
Push Button for WPS
Reset Button
IEEE Standards
802.11a/b/g/n/ac
Up to 450 Mbps wireless speed in the 2.4 GHz frequency band
Up to 1300 Mbps wireless speed in the 5 GHz frequency band
802.3i/u/ab
LED Indicators
Power
WLAN (Wireless Connection)
Internet
Package Contents
EPG500 IoT Gateway
Power Adapter (12V 1.5A)
Quick Start Guide
RJ45 Ethernet Cable
Power Specification
External Power Adapter
DC In, 12V 1.5A
Certifications
FCC/CE/IC
Physical/Environmental Conditions
Operating Temperature: 0º~40º
Humidity: 90% or less (non-condensing)
Storage Temperature: -20º~60º
Humidity: 95% or less (non-condensing)
EDS1130 Camera Technical Specifications
Camera
Image Sensor:
1/4" Megapixel Progressive Scan CMOS
Lens:
Board Lens
Fixed Focus, 4 mm @ F2.4
Day/Night: Built-in Mechanical IR-Cut Filter
Minimum Illumination:
Color (IR-off): 0.2 Lux/F = 1.8
B/W (IR-on): 0 Lux/F = 1.8
IR Illuminator:
6 pcs IR Illuminators, effective up to 16.4 feet/5 meters
Power consumption: Up to 7W
Video
Compression: H.264/MPEG/MJPEG
Simultaneous Streams: 2x Video Streams
Frame Rates:
H.264: Up to 30 fps at 1280 x 720
MPEG-4: Up to 30 fps at 1280 x 720
MJPEG: Up to 30 fps at 1280 x 720
Image Settings:
Adjustable Image Size, Quality & Bit Rate
Configurable Brightness, Sharpness, Contrast, Saturation, White Balance, & Exposure
AGC/AWB/AES
Flip & Mirror
Time Stamp & text Caption Overlay
Manual/Auto Day & Night
Audio
Audio Streaming: 2-Way
Compression: G.711
Input/Output Gain Control
Interface:
Built-in Microphone
External Audio Out
Networking
Network:
10/100 Mbps Ethernet
RJ-45
Built-in Wi-Fi IEEE 802.11b/g/n (150 Mbps)
Built-in High Sensitive Internal Wireless Antenna
EnGenius DDNS
Auto NAT Pass Through/UPnP Traversal
WPS Settings
protocols:
IPv4, TCP, DHCP, NTP, DNS, DDNS, SMTP, FTP, HTTP, UPnP, RTP, RTSP, PPPoE, SMB
Security
Password Protection
IP Address Filtering
User Access Log
Wireless Encryption: WEP, WPA, WPA2, WPS Button
2-Level Accounts:
Admin/Guest
Alarm & Event Recording
Alarm:
Motion Detection
Audio Detection
Event Actions:
File Upload to FTP, SMB, SMTP, Mobile App., EnGenius Cloud Router
Notification:
Email
Push Notifications (For Mobile Apps only)
Video Playback (PC/iPhone/iPad/Android)
EnGenius Smart Recording (Only for EnGenius Cloud Series Routers)
Mobile Apps
Supports:
iPhone/IPad/Android Devices
EPG5000 Software Features
Frequency Bands
2.400~2.484 GHz (11b/11g/11n)
5.18~5.82 GHz (11a/11n/ac)
Operating Mode
AP Router
Wireless Features
Auto Channel Selection
Output Power Control
WMM (Wireless Multimedia)
MSSID (Multiple SSID)
Security
WEP/WPA-PSK/WPA2-PSK
TKIP/AES
Hidden SSID
MAC Address Filtering
802.1X Authentication
DDoS
DHCP Server/Client
SPI (Static Packet Inspection)
NAT
Port Forwarding
DMZ
Port Mapping/Triggering
VPN with PPTP, L2TP, IPSec, L2TP over IPSec
VPN Tunnels: 5
QoS
IP Filtering
Port Filtering
DDNS
IPv6 Pass-through
MAC Clone
Traffic Monitor
WAN Type: PPPoE/DHCP/Static IP
USB Features: SAMBA
Dimensions and Weights
EPG500 Device
Weight: 0.5 lbs.
Diameter: 6.36"
Height: 1.64"
Warranty
1 Year
EDS1130 Camera Environmental & Physical
Temperature Range
Operating: -32º~104ºF/-0ºC~40ºC
Storage: /-4Fº~140ºF/-20ºC~60ºC
Humidity (non-condensing)
Operating: 95% or less
Storage: 95% or less
Physical
Local Storage
SDHC Slot
Power Input:
12V/1A
Certifications
FCC, IC
Dimensions, Weight & Package Contents
Device Dimensions & Weight (with Stand)
Length: 1.93 inches
Width: 2.99 inches
Height: 4.69 inches
Weight: 0.23 lbs
Package Contents
EDS1130 IP Network Camera
12V/1A Power Adapter
RJ-45 Ethernet Cable
Quick Installation Guide
Warranty
1 Year