EnGenius EAP1200H

Dual Band AC1200 Indoor Access Point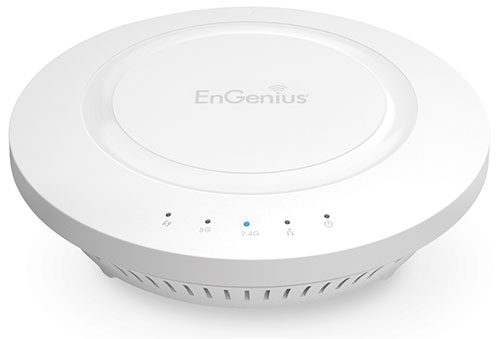 Sorry, this product is no longer available, please contact us for a replacement.
Overview:
Joining the Electron Series' expansive line of mix-and-match business-class networking products, the EnGenius EAP1200H is a Ceiling Mount AC1200 Dual Band Wireless Indoor Access Point designed for spacious interior environments including large homes and offices, small and mid-sized business, multi-floor buildings, hotels, hospitals and other settings where network expansion is needed. The EAP1200H features dual-band, concurrent operations with Band Steering and combines high-transmit power, enhanced receive sensitivity MIMO and 4 internal high-gain antennas providing expanded user capacity, maximized network performance and greater device network connectivity.
Achieving the latest 802.11ac speeds and superior, super fast 5 GHz performance, the EAP1200H yields up to 867 Mbps data rates on the 5 GHz band and up to 300 Mbps speeds on the 2.4 GHz band supporting the newest laptops, tablets and cell phones at speeds nearly 2Xs faster than previous wireless standards.
An expert in wireless communications and RF technology, EnGenius delivers feature-rich, long-range wireless communications technology for voice and data. The versatility and performance of the company's solutions lower total cost of ownership, increase productivity and maximize return on investment.
Key Features and Benefits:
802.11ac wireless speeds up to 867 Mbps on 5 GHz band
802.11n wireless speeds up to 300 Mbps on 2.4 GHz band
Low-profile design features internal antennas and smoke detector-style ceiling mount housing
Up to 26 dBm transmit power per band for longer range and enhanced wireless coverage
Internal 3D Sectorized Antenna Array that minimizes RF interference
Dua-Band-capable for expanded user capacity and support for higher bandwidth applications
Band Steering detects Dual-Band clients, shifting them to 5 GHz while optimizing data flow
Power-over-Ethernet (PoE)-compatible for flexible power options with PoE 802.3at-capable Switches or the EnGenius Gigabit PoE Injector EPE-4818G
Easy AP monitoring through EnGenius' SNMP-based EZ Controller software
Fast Roaming with PMKSA support for enhanced security when roaming between neighboring APs
Secured Guest Network option keeps primary network secure, limiting Internet resources
SSID-to-VLAN Tagging – tag and assign different user access rights on the company VLAN
Supports IPv4/IPv6
Designed for use in: large homes and offices, small and mid-sized businesses, multi-floor buildings, hotels, hospitals and other settings where network expansion is needed
Features & Benefits:
Accelerated Dual-Band Performance with Band Steering
The EnGenius EAP1200H leverages the accelerated speed and performance of 802.11ac laptops and other devices ensuring smooth, rapid wireless HD video streaming and large file transfers. This AP features speeds up to 867 Mbps on the 5 GHz band, when associated with AC client devices, and up to 300 Mbps on the 2.4 GHz band. Its Dual-Band feature expands user capacity, and like a traffic cop, Band Steering automatically directs Dual-Band clients to the less congested 5 GHz frequency, maximizing efficiency and network performance to a large number of clients simultaneously.
Powerful, Long-Range Connectivity
With powerful connectivity capacity, the EAP1200H's integrated, sectorized 3D antenna array transmits up to 26 dBm of power per band providing more than 2Xs greater coverage over mainstream competitor's solutions. Combining high-transmit power, enhanced receive sensitivity MIMO (Multiple In/Multiple Out) and high-gain Internal 5dB; antennas, the AP's wireless signal is able to penetrate floors, ceilings and walls for greater device connectivity.
Customize Wireless Access for Different Departments or Workgroups
Create and configure up to eight (8) separate wireless networks per frequency band for a total of 16 SSIDs. Utilizing SSID-toVLAN tagging (802.11q) can help increase security, network reliability and conserve bandwidth by limiting who has access to connect. Secured Guest Network Option Establish and secure Guest Networks and control access to company computers and servers. Limit Internet resources available to visiting customers, clients and vendors and ensure your company network and servers are kept secure from sophisticated Trojans and malware that can use guest's mobile devices to attack your network.
Low-Profile Design & PoE Support
Its award-winning, low-profile design blends nicely with other common building appliances, making it perfect for settings where room aesthetics or a more discrete ceiling placement is desired. Because the EAP1200H is designed for deployments on ceilings, where power outlets may be scarce, it can be powered via Power-over-Ethernet (PoE) from an 802.3atrated Switch or used with the EnGenius Gigabit PoE Injector EPE-4818G 802.3at-capable PoE Injector.
Fast Roaming with Enhanced Security
When used with a RADIUS server, the EAP1200H's Fast Roaming feature supports PMKSA that distributes and caches a designated WPA/WPA2- Enterprise encryption key to neighboring EAP Access Points. Together with the Fast Handover feature, the AP automatically initiates a secure client transfer from one EAP Access Point to the next nearest AP with a stronger signal, keeping clients continuously and seamlessly connected to the network.
Flexible Modes for Versatility
Easily configure the EAP1200H as an Access Point or WDS AP or WDS Bridge based on user needs in each frequency band. This allows multiple operation combinations on a single device to address specific deployment requirements.
Simplified AP Monitoring
For simplified Wireless AP monitoring and sequential firmware upgrades after deployment, IT managers can download the free the SNMP-based EZ Controller software for Windows, Mac OSX and Linux. Since software is not required, set up and configuration is completed quickly through the
Specifications: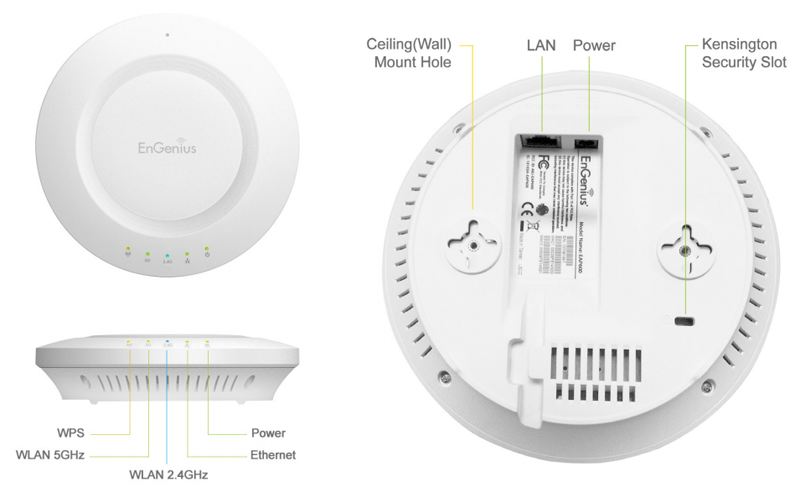 EnGenius EAP1200H Specifications
Standards
IEEE 802.11b/g/n on 2.4 GHz
IEEE 802.11a/n/ac on 5 GHz
IEEE 802.3at
IEEE 802.1r
IEEE 802.1k
IEEE 802.11x
Memory Capacity
Memory: 128 MB
Flash Memory 16 MB
Antenna
Internal Omni-Directional Antennas
5 dBi on 2.4 GHz & 5 GHz
Physical Interface
1 x 10/100/1000 Gigabit Ethernet Port
1 x Reset Button
1 x Power Connector
Physical Security
Kensington Security Slot
LED Indicator
1 x Power
WLAN (Wireless Connection)
2.4 GHz
5 GHz
1 x LAN
Power Source
External Power Adapter
DC IN, 12V/2A
IEEE 802.3at Compliant Source
Mounting
Ceiling Mount
Wall Mount
Wireless & Radio Specifications
Operating Frequency
Dual-Radio Concurrent 2.4GHz & 5GHz
Operation Modes
Access Point
Frequency Radio
2.4GHz: 2400MHz ~ 2835MHz
5GHz: 5180MHz ~ 5240MHz, 5260 ~ 5320MHz, 5500MHz ~ 5700MHz, 5745MHz ~ 5825MHz
Transmit Power
Up to 26 dBi on 2.4 & 5 GHz
Max transmit power is limited by regulatory power
Radio Chains/Spatial Streams
2x2:2
Supported Data Rates (Mbps)
2.4 GHz: Max 300
5 GHz: Max 867
802.11b: 1, 2, 5.5, 11
802.11g: 6, 9, 12, 18, 24, 36, 48, 54
802.11n: 6.5 to 300 (MCS0 to MCS15)
802.11ac: 6.5 to 867 (MCS0 to MCS9, NSS=1 ~2)
Supported Radio Technology
802.11b: Direct-Sequence Spread-Spectrum (DSSS)
802.11a/g/n/ac: Orthogonal frequency-division Multiplexing (OFDM)
Channelization
802.11ac with 20/40/80 MHz channel width
802.11n with 20/40 MHz channel width
802.11a/b/g with 20 MHz channel width
Supported Modulation
802.11b: BPSK, QPSK, CCK
802.11a/g/n: BPSK, QPSK, 16-QAM, 64-QAM
802.11ac: BPSK, QPSK, 16-QAM, 64-QAM, 256-QAM
Management
Multiple BSSID
Supports up to 8 SSIDs per radio
VLAN Tagging
Supports 802.1q SSID-to-VLAN tagging
VLAN Pass through
QoS
Compliant with IEEE 802.11e Standard
WMM
SNMP
v1, v2c, v3
MIB
I/II, Private MIB
STP
Spanning Tree Protocol
Management Features
Deployment Options
Standalone (Individually Managed)
Configuration
Web Interface (HTTP)
CLI (Telnet)
Control Features
Firmware Upgrade: Web interface or CLI (FTP/HTTP)
Auto Reboot
Auto Channel Selection
Auto Transmit Power
Band Steering
Fast Roaming
Email Alert
Wireless MAC Filter
Wireless Traffic Shaping
System Log
Remote Log
Backup / Restore
WiFi Scheduler
Ping / Traceroute / Speed Test
LED Control
Device Discovery
Wireless LAN Information
Statistics
Security
WPA/WPA2 Enterprise
Hide SSID in beacons
MAC Address Filtering
Https Support
SSH Support
L2 Isolation
Guest Network
Environmental & Physical
Temperature Range
Operating: 32°F to 104°F (0°C to 40°C)
Storage: -4°F to 140°F (-20°C to 60 °C)
Humidity (non-condensing)
Operating: (90% or less
Storage: 90% or less
Device Dimensions & Weights
Device
Weight: 0.62 lbs.
Diameter: 6.36"
Height: 1.64"
Package Contents
EAP1200H Dual-Band Wireless AC1200 Indoor Access Point
12V/2A Power Adapter
T-Rail Mounting Kit
Ceiling and Wall Mount Screw Kit
Mounting Bracket
RJ-45 Ethernet Cable
Quick Installation Guide
Certifications
FCC
CE
Warranty
1 Year
Product Comparison:
Model
EAP1750H
EAP1200H
EAP900H
EAP600
EAP350
EAP300
Frequency
802.11 a/b/g/n/ac
802.11 a/b/g/n/ac
802.11 a/b/g/n
802.11 a/b/g/n
802.11 b/g/n
802.11 b/g/n
Maximum Data Speed
450 + 1300Mbps
300 + 867Mbps
450 + 450Mbps
300 + 300Mbps
300Mbps
300Mbps
LAN Interface
10/100/1000
10/100/1000
10/100/1000
10/100/1000
10/100/1000
10/100
Encryption
WPA2 WPA WEP
WPA2 WPA WEP
WPA2 WPA WEP
WPA2 WPA WEP
WPA2 WPA WEP
WPA2 WPA WEP
SDRAM
128 MB
128 MB
128 MB
64 MB
32 MB
32 MB
FlashMemory
16 MB
16 MB
16 MB
16 MB
4 MB
4 MB
RF Power (dBm)
2.4 GHz: 28 dBm
5 GHz: 28 dBm
2.4 GHz: 26 dBm
5 GHz: 26 dBm
2.4 GHz: 28 dBm
5 GHz: 28 dBm
2.4 GHz: 29 dBm
5 GHz: 26 dBm
29 dBm
29 dBm
Receive Sensitivity
≤-94 dBm
≤-94 dBm
≤-94 dBm
≤-94 dBm
≤-94 dBm
≤-92 dBm
Antenna
6 x 5 dBi Sectorized 3D
6 x 5 dBi Sectorized 3D
6 x 5 dBi Sectorized 3D
4 x 5 dBi Embedded
2 x 5 dBi Embedded
2 x 5 dBi Embedded
Transmit Power (mW)
630mW/630 mW
400mW/400mW
630mW/630mW
800mW/400mW
800mW
800mW
Operation Modes
Access Point, WDS AP, WDS Bridge
Access Point, WDS AP, WDS Bridge
Access Point, WDS AP, WDS Bridge
Access Point, WDS AP, WDS Bridge Repeater
Access Point, WDS AP, WDS Bridge Repeater
Access Point, WDS AP, WDS Bridge Repeater
Number of SSID
16 (8 per radio)
16 (8 per radio)
16 (8 per radio)
16 (8 per radio
8
4
802.1q zVLAN
QoS
AP Management Software (EZC)
PoE
802.3at
802.3at
802.3at
802.3at/af
802.3af
802.3af
User Support
Up to 50 on each radio
Up to 50 on each radio
Up to 50 on each radio
Up to 50 on each radio
Up to 50
Up to 50
Views: