EnGenius DuraFon UHF

Long-Range Multi-Line, Expandable, Cordless Phone System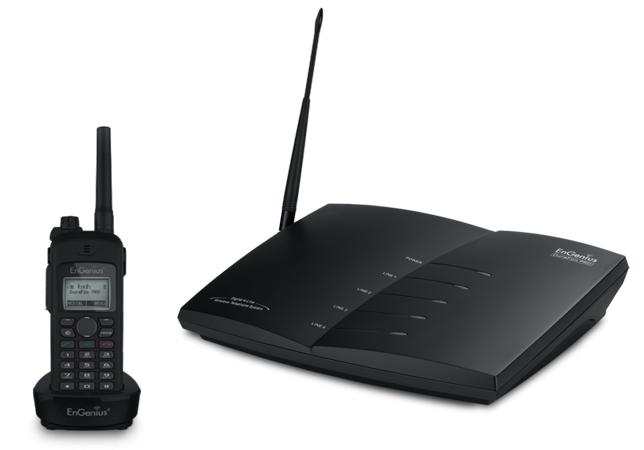 EnGenius Products
EnGenius DuraFon UHF
EnGenius DuraFon-UHF Handset
#DURAFON-UHF-SYS
List Price:
$1,699.98
Our Price: $1,405.69
EnGenius DuraFon PRO Multi-Handset Kit for UHF
#DURAFON-UHF-PIA
List Price:
$3,299.00
Our Price: $2,832.73
More pricing below, click here!
Overview:
The DuraFon-UHF long-range wireless phone system is perfect for businesses that require staff members to cover large areas, up to 12 floors; 250,000 sq. ft.; or 3,000 acres. The package includes a multi-line base and one UHF handset. DuraFon-UHF Handsets can also communicate with third party UHF radios.
Product Highlights
Long Range, up to 12 Floors, 250,000 sq. ft.; or 3,000 Acres
Supports up to 90 Handsets
Expandable From 4–32 Lines
UHF Long-range Phone & Two-Way Radio
Long-Range Cordless Phone and UHF 2-Way Radio Handset
The dual-mode radio phone, DuraFon-UHF-HC Handset is the industry's only durable, long-range cordless phone with a UHF 2-way radio that allows communication with both UHF 2-way radios and phone users. The DuraFon-UHF-HC Handset works with a DuraFon PRO Base Unit (purchase separately) to provide the telephone line connection. It's ideal for employees that need to make and receive calls and want the added convenience of communicating with other personnel using UHF 2-way radios in the area.
Ideal Users:
Benefiting from the dual function of phone and UHF 2-way radio, the DuraFon-UHF-HC Handset is an exceptional device for these environments and users:
Retail / Grocery Stores (Managers, Cashiers, Loss Prevention)
Restaurants (Hostesses, Managers, Cashiers)
Hotels / Motels (Managers, Front Desk Staff, Bell Hops, Security)
Schools (Administrators, Safety Monitors, Coaches)
Theaters (Security, Managers, Customer Service)
Family Entertainment Centers (Managers, Security)
Warehouses / Mfgrs (Managers, Leads)
Event Venues (Event Coordinators, Managers, Directors)
Religious Venues (Coordinators, Assistants)
Features & Benefits:
On-Premises Mobility for Managers and Staf
Exceptional Coverage of Up to:

250,000 sq. ft. (Retail/Warehouse)
12 Floors of Penetration (In-Building)
3,000 Acres (Open Land)
Single Handset for Communication Flexibility
No Need to Carry Both a Phone and a 2-Way Radio, a Single Handset Offers:

UHF 2-Way Radio
Long-Range Cordless Phone
Private Intercom between DuraFon Base Registered Handsets
Easy Integration and Deployment
Compatible with:

Motorola CLS / CLP UHF Radios
Analog Phone Lines or PBX Ports
Durable and Reliable Handset
Handset is Ready for Demanding Environments:

Drop-Tested
IP55 Ingress Protection Rated
FCC Certified
1 Year Factory Limited Warranty
Itemized Features and Functionality
UHF 2-Way Radio Function
902~928MHz Telephone Function
Push-to-Talk (PTT)
Phone Book: 90 Entries
Soft Menu Key
H/S Speakerphone
Broadcast
Intercom
Key Guard
3 Call Log Types
4-Line LCD Display
Call-on-Hold
Rapid Charging
Mute
Call Manager
Any Key Answer
Feature Call: 10
Adjustable Flash Time
2.5mm Headset Jack
Ringer/Vibrator
Flexible, Dual-Mode Radio Phone Communications
DuraFon Telephone
The DuraFon-UHF-HC Handset offers long-range cordless telephone communications to make and receive both internal and external calls through a DuraFon PRO Base Unit (purchased separately).
DuraFon Exclusive Private Intercom
The DuraFon-UHF-HC Handset provides private handset-to-handset communications independent of the Base Unit to another specific DuraFon Handset.
DuraFon Exclusive Group Broadcast
DuraFon-UHF-HC Handsets have the ability to broadcast to other DuraFon Handsets that have joined a communication group.
2-Way Radio UHF Broadcast
DuraFon-UHF-HC Handset offers "Push-to-Talk" through the Handset's Broadcast button, allowing users to instantly broadcast to all Motorola CLS / CLP and DuraFon-UHF-HC Handset users.
Flexible, Multi-Mode Communications
Durable, Ruggedized Design
The DuraFon-UHF-HC durable, rugged Handset is designed for use in harsh environments and is IP55-rated for protection against dust and water. Tested to withstand 4-foot drops over 50 consecutive times onto concrete floors, the proven durability of EnGenius DuraFon Handsets ensure the phones will survive in the most challenging environments even when subjected to drops and shocks.
Superior Long-Range Performance
DuraFon-UHF-HC implements a high-powered 900 MHz proprietary air protocol, with high RF transmission and sensitivity to provide superior range and coverage for the industrial market; covering up to 250,000 sq. ft. indoors, 3,000 acres outdoors and penetrating up to 12 floors.
Highly Secure
Adopting 900 MHz (902~928 MHz) FHSS (Frequency Hopping Spread Spectrum) technology, the DuraFon-UHF-HC ensures a high level of privacy during conversations.
Single Cell Technology Minimizes Equipment Needs, Saves Money
Designed to simplify deployment, the DuraFon-UHF-HC features single cell technology that leverages a single 900 MHz Base Station for long-range coverage, eliminating the need for added Base Stations or repeaters, helping companies lower their capital expenses through faster deployment.
10-Years of Trusted Reliability
The DuraFon-UHF-HC shares the trusted, proven durability of the popular DuraFon Series with over 10 years of continued innovation and testing that ensures the Handsets will survive in even the most challenging environments.
Operates Independently of Wi-Fi Networks
DuraFon-UHF-HC avoids adding traffic over Wi-Fi networks, which means there's no need to worry about roaming or QoS issues that are typical with voice communications on a WLAN.
Specifications:
EnGenius DuraFon UHF Specifications
Electrical Specs
PRO-BU Base Unit
UHF-HC Handset
Frequency
902 - 928 MHz
902-928 MHz (Phone Mode)
UHF 461- 469.5 (Radio Mode)
RF Power
Peak: 708 mW
Average: 304 mW
Peak: 800 mW
Average: 100 mW (Phone Mode)
Channel Spacing
200 kHz
200 kHz (Phone Mode)
12.5 kHz (Radio Mode)
Number of Channels
128
50 (Phone Mode)
5 (Radio Mode, UHF)
1 (Radio Mode, 900mHz)
Modulation
MSK
MSK
Multiple Access
Freq. Hopping TDMA
Frequency Hopping TDMA (Phone Mode)
Freq. Hopping Rate
100 per second
100 per second (Phone Mode)
TDMA Frame Length
10 ms
10 ms (Phone Mode)
Number of Talk Paths
4 per base (32 max)
4 per base (32 max)
Reciever Sensitivity
< -108 dBm (@ BER 0.01)
< -109 dBm (@ BER 10-2) (Phone Mode)
Antenna Connector
Reverse TNC
RP-SMA
Antenna Gain
2 dBi
5 dBi Enternal (Optional)
2 dBi (Phone Mode)
0 dBi (UHF Radio Mode)
TX Power Control Range
N/A
800 mW (Phone Mode)
1 W (UHF Radio Mode)
Telephone Interface
RJ11 x 4
N/A
VoIP Interface
N/A
N/A
Default IP Address
N/A
N/A
Default User Name & Password
N/A
N/A
SIP Protocol
N/A
N/A
Speech Coding
8 kbps G.729A
8 kbps G.729A
Channel Coding
8 kbps Convolutional + CRC
8 kbps Convolutional + CRC
Transmission Data Rate
170.678 kbps
170.667 kbps
User Data Rate
128 kbps duplex
128 kbps duplex
Duplex
Time Division Duplex (TDD)
Time Division Duplex (TDD)
Voice Quality
TIA / EIA -470B
TIA / EIA -470B
Number of System ID
65,536
65,536
Ring Signal
N/A
N/A
Auto-Attendant Coding
N/A
N/A
Flash Time
N/A
100-900 ms Programmable
Power Source
3.6V 1700mAh Li-ion Battery
3.7V, 2300 mAh Li-ion Battery
Charger Current
500 mA
850 mA
Charge Time
4 Hours (from empty)
4 Hours (From Empty)
Battery Talk & Standby Time
6 Hours/ 50 Hours
90 Hours (Walkie off)
27 Hours (Walkie Mode, 5/5/90)
Physical Interface
PRO-BU Base Unit
UHF-HC Handset
Buttons
End/Power
Left & Right Soft Keys
Up & Down Scrolling Keys
Broadcast
Talk/Speakerphone
Intercom/2-Way
0 – 9, #
Power/Volume Knob
Left & Right Soft Keys
Up & Down Scrolling Keys
Speakerphone
Mode
Talk/Flash
Intercom/2-Way
End
Push to Talk
0 – 9, #
Jacks (on charging cradle)
Travel Charger
Headset (2.5 mm)
Travel Charger
Headset (2.5 mm)
LED Indicators
N/A
Walkie
Spare Battery Charging Indicator
Environmental Specs
PRO-BU Base Unit
UHF-HC Handset
Regulation Compliance
FCC Part 15, Part 68
CAN/DOC RSS210, CS03
FCC Part 15, Part 68;
RSS-210, CS03 (Phone Mode);
FCC Part 90 (Walkie Mode)
Operating Temperature
-14 – 140°F (-10 – 60°C)
14 – 140°F (-10 – 60°C)
Storage Temperature
14 – 158°F (-10 – 70°C)
14 – 158°F (-10 – 70°C)
Humidity
20 - 75%
20 - 75%
IP Rating
IP 42
IP 55
Dimension without Antenna
2.28" x 1.22" x 6.34" (58 x 31 x 161 mm)
5.59" x 2.36" x 1.49" (142 x 60 x 38 mm)
Weight
0.39 lbs. (175g)
0.39 lbs. (175g); 0.56 lbs. (257g) Incl. Battery
UHF-HC 2-Way Radio Mode
General
Range Coverage
200,000 sq. ft./ 18.580 sq. m.
PL Codes
38
DBL Codes
83
Average Battery Life @ 5/5/90
14 Hours
Transmitter
RF Output (Conducted into 50 Ohms)
1.0 Watts
Frequency Stability
< 2.0 ppm
Spurs & Harmonics
< -45 dBc
Modulation Limiting @ 12.5kHz
± 2.5kHz
Adjacent Channel Power
60dBc
Radiated Spurious Emissions @ 12.5kHz
< -20dbm
Audio Frequency Response (0.3 - 3.0 kHz)
+1 to -3 dB
Audio Distortion
< 2%
Receiver
Receiver Sensitivity (12 dB SINAD)
-122 dBm
Adjacent Channel Selectivity @ 12.5kHz
60 dB
Intermodulation Rejection
55 dB
Spurious Response Rejection (blocking 1MHz)
75dB
Audio Distortion
< 5%
Radiated Spurious Emissions (< 1GHz)
1GHz)
< -52 dBm
Audio Output @ <5% Distortion
0.5W @ 8 ohms
Diagram:
Views: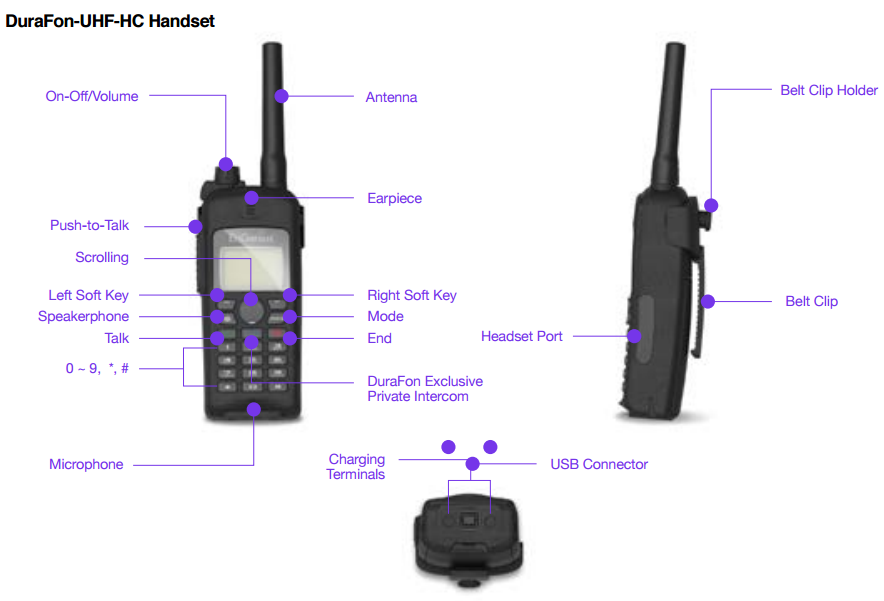 Pricing Notes:
Pricing and product availability subject to change without notice.
EnGenius Products
EnGenius DuraFon UHF
EnGenius DuraFon-UHF Handset
#DURAFON-UHF-SYS
List Price:
$1,699.98
Our Price: $1,405.69
EnGenius DuraFon PRO Multi-Handset Kit for UHF
#DURAFON-UHF-PIA
List Price:
$3,299.00
Our Price: $2,832.73
EnGenius DuraFon UHF Accessories
DuraFon-UHF Battery
#DURAFON-UHF-BA
List Price:
$49.99
Our Price: $36.55
DuraFon-UHF Belt Clip Adapter
#DURAFON-UHF-BCO
List Price:
$2.99
Our Price: $1.98
DURAFON-UHF HANDSET FOR USE
#DURAFON-UHF-HC
List Price:
$499.99
Our Price: $449.48
DuraFon-UHF Handset Antenna
#DURAFON-UHF-HSA4
List Price:
$19.99
Our Price: $15.84