EnGenius DuraFon PSL

Long-Range, Single-Line, Expandable with PRO system, Cordless Phone System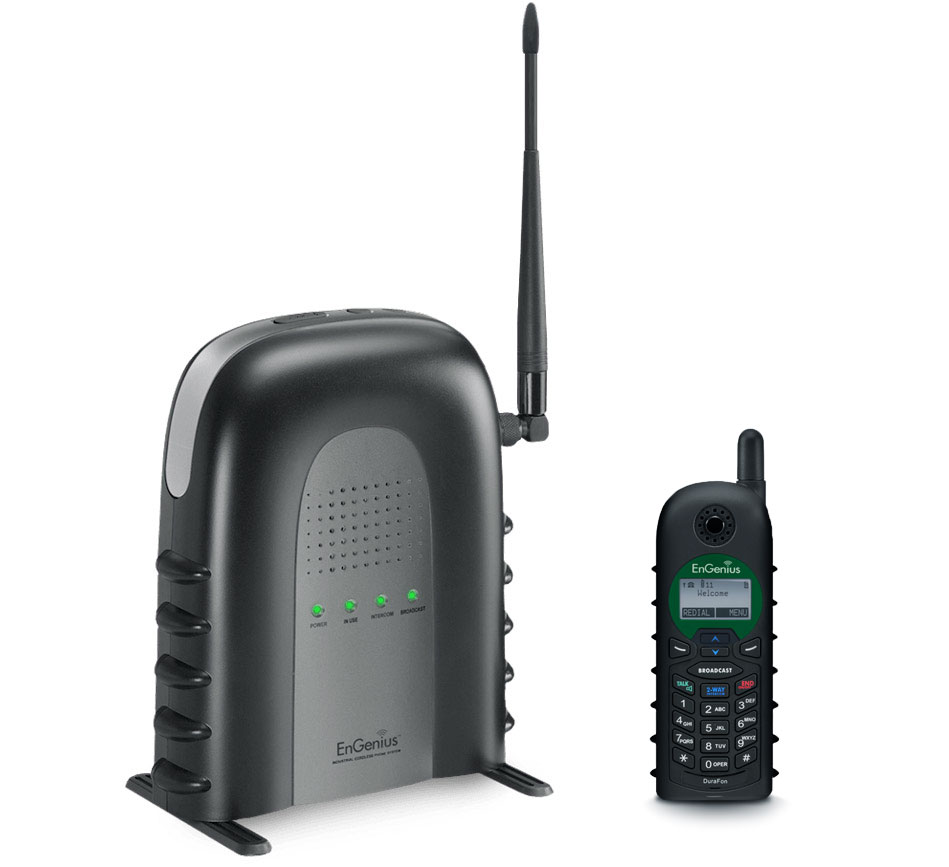 EnGenius Products
EnGenius DuraFon PSL
EnGenius DuraFon Pro Single Line System
#DURAFON-PSL
List Price:
$779.99
Our Price: $657.31
More pricing below, click here!
Overview:
The DuraFon PSL-BU is a single-line base for the DuraFon PRO system. It is an ideal solution when there is a need for an additional line or port to be added to the DuraFon PRO system. The DuraFon PSL base unit provides the same long-range coverage as the Durafon PRO system to allow users to enjoy having telephone access throughout a large, demanding environment.
As an expansion base for the PRO system the PSL can work behind a standard phone line, or analog ports from a PBX or IP-PBX. As part of the DuraFon PRO system, the DuraFon PSL can be part of an up to eight base unit system and support up to 90 handsets. It also is compatible with the DuraFon PRO, DuraWalkie and DuraFon UHF handsets.
Key Features
Digital, long-range cordless base station
Long-range coverage
1-line/port
Multi-base capacity w/ DuraFon PRO
900MHz ISM band
Optional external indoor / outdoor antenna
Compatible handsets: DuraFon PRO, DuraWalkie & DuraFon UHF
Product Highlights
Long range: up to: 12 floors in building penetration (office / motel), 250,000 sq. ft. (warehouse / retail store), 3,000 acres (farm / ranch)
Frequency band: 902~928MHz
Single line/port base of DuraFon PRO
Multi-base (Up to 8 bases)
Multi-handset (Up to 90 handsets)
Intercom: Not available from base unit
Broadcasting: Not available from base unit
Works on analog CO lines or behind PBX analog ports
Audio-in jack for music/sales message on hold
Frequency hopping security: 100 times per second
Digital spread spectrum (DSS) technology for privacy and clarity
Optional indoor / outdoor antenna – sold separately
One year limited warranty
FCC/IC compliant
DuraFon PSL System Includes:
1 - Phone Base unit w/ rubber antenna
1 - Base unit AC adapter
1 - Handset w/ battery cover
1 - Battery pack
1 - Low profile handset antenna
1 - High performance handset antenna
1 - Handset charging cradle
1 - Handset charging cradle AC adapter
1 - Handset belt clip
Specifications: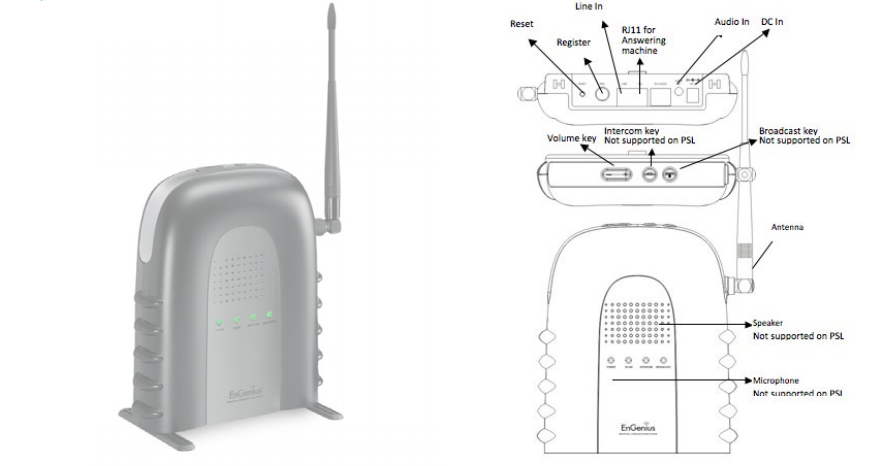 Frequency902-928 MHz
RF PowerPeak: 708 mW ; Average:
304 mW
Channel Spacing400 kHz
ModulationMSK
Multiple AccessFrequency Hopping TDMA
Frequency Hopping Rate100 per second
TDMA Frame Length10 ms
Number of Slots/Frame8
Antenna Gain2 dBi
5dBi External (optional)
TX Power708mW
Telephone InterfaceRJ11x1
Speech Coding8 kbps G.729A
Channel Coding8 kbps Convolutional + CRC
Transmission Data Rate170.678 kbps
User Data Rate128 kbps duplex
DuplexTime Division Duplex (TDD)
Voice QualityTIA/EIA-470B
No. of System ID65,535
Ring Signal20-50 Hz, 12-90 Vrms
Auto-Attendant Coding8 kbps G.729
Flash Time100-900 ms programmable
Power Source100~240V/12V AC/DC Adapter
Charger CurrentNA
Charge TimeNA
Regulation ComplianceFCC Part 15, Part 68
Operating Temperature0~50C
Storage Temperature-10~70C
Humidity20~75%
Storage Temperature-10~70C
Humidity20~75%
Dimension Without Antenna161W x42D x 188H (mm)
Weight424g
Pricing Notes:
Pricing and product availability subject to change without notice.
EnGenius Products
EnGenius DuraFon PSL
EnGenius DuraFon Pro Single Line System
#DURAFON-PSL
List Price:
$779.99
Our Price: $657.31
EnGenius DuraFon Pro Single Line Base
#DURAFON-PSL-BU
List Price:
$524.99
Our Price: $391.97