EnGenius DuraFon 1X PIDW

Single Line System - Industrial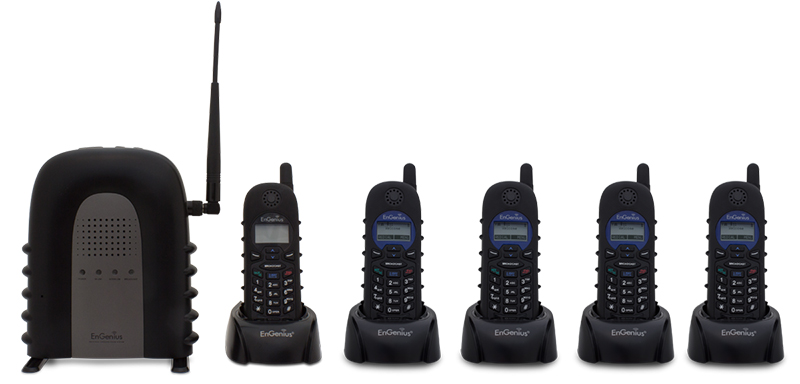 Sorry, this product is no longer available, Please, contact us for a replacement product!
The EnGenius DuraFon 1X system delivers immediate workplace and large property mobility. The DuraFon 1X delivers unmatched wireless coverage with easy set up and usability. The DuraWalkie 1X allows users of the DuraFon 1X system a choice in handsets. The DuraWalkie 1X is a 2-way radio only handset that works only with the DuraFon 1X system.
Product Highlights
12 floors in-building penetration
250,000 sq. ft. of facility coverage
3,000 acres of property, open land coverage
Single Line (1-ports / line per base unit)
Multiple handsets (up to 9 per base unit)
Works behind any analog port (PBX, VOIP, PSTN, FXS or POTS)
Supports portable handset models DuraFon 1X-HC and DuraWalkie 1X
Speakerphone
Wireless full duplex intercom between DuraFon & DuraWalkie handsets
Broadcast Page half duplex (PTT) between DuraFon & DuraWalkie handsets
Rugged & durable designed handsets for industrial environments
Easy to install and easy to use
6 hours talk time, 50 hours stand-by time
DuraFon 1X-PIDW System Includes:
One (1) DuraFon 1X Base Unit
One (1) DuraFon 1X Handset
Four (4) DuraWalkie 1X Handsets
Five (5) DuraPouch (handset protective case)
Ten (10) Li-Lon Battery Packs (5 Spare)
Five (5) AC Charging Cradles w/ power adaptors
Five (5) Belt Clips
Documentation:
Download the EnGenius DuraFon 1X PIDW Single Line Phone System Datasheet (PDF).