EnGenius DuraFon 1X Handset

DuraFon 1X Expansion Handset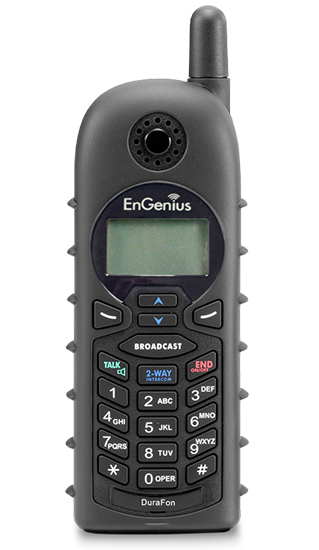 Sorry, this product is no longer available, replaced by the DuraFon PSL or DURAFONPRO-HC.
Overview:
The DuraFon long range cordless handset was designed for industrial environments that require a rugged portable handset. The DuraFon 1X-HC is an expansion or replacement handset that works only with the DuraFon 1X base unit. Maximum of (9) DuraFon 1 X-HC handsets are supported on a DuraFon 1X base.
For use with:
DuraFon 1X System Only
Designed for rugged industrial use
Handset function as telephone and two-way radio
Two-way radio function:  full-duplex intercom or half duplex broadcast
Speakerphone
4-Line liquid crystal display
2.5mm headset port
Includes:
(1) Desktop Charging Cradle w/AC Adaptor
(1) Li-Ion Battery Pack
(1) Low Profile Handset Antenna
(1) Optimal Performance Handset Antenna
(1) Belt Clip
Features:
DuraFon 1X Feature Set

Long-Range

Up to:

12 floors in building
250,000 sq. ft. in a warehouse
3,000 acres on a farm or ranch

Durable

Tested to withstand 6 foot drops, 54 times on to concrete floors

Expandable

1 – 4 ports / lines
1 – 9 handsets per base
Up to 4 base units

Handset–1X

Telephone
2-way radio
User handset naming
Keypad lock
Speakerphone
Caller ID
Call waiting
Vibrate mode
Line Select/Base Select

2.5mm headset jack
Call Logs – Dialed and Received
Redial
Speed dial
Call hold
Call transfer
Wireless PBX function sharing
Wireless phonebook sharing
Silent ring
Mute
900 Mhz, DSS, Frequency Hopping
Selectable handset grouping (7 groups)
User programmable PBX functions (9)
Phonebook 30 entry
Intercom (handset-to- handset), no group chatter
Broadcast (Push-to-Talk)

Optional Equipment

External base antennas: 30' or 60' low-loss LMR-400L cable
Lightning protection kit
Antenna splitter
DuraPouch

Battery & Charger

Li-Ion technology
6 hrs talk-time
50 hrs stand-by time
Handset & spare battery charging slots
4 hr recharge time
Battery hot-swap while call onhold

System

1 analog port per base unit
Up to 4 base units (4 ports)
Removable base antenna
Flexible port dedication: Single, group or all
Broadcast port
Any analog line connection: Landline, ATA, cellular, VoIP or satellite
Supports ring groups & hunt groups
Conference calling
Modifiable flash and DTMF tone timing
Secure, digital spread spectrum w/ freq. hopping technology
Single base support of 9 handsets

Important Info

1 year system and handset warranty, if sold by Authorized Reseller
FCC certified
Meets HIPPA compliancy
No monthly bill (like cellular)
No per minute charges (like cellular)
No contracts (like cellular)
No annual FCC license fees (like 2-way radios)
No extensive infrastructure installation (like wireless networking, wifi phones)
No QoS concerns
No wireless network interference
Secure
FAQs:
General FAQs
Can a 1x handset work with a 920, 4x, or PRO base unit?
No. 1x is not compatible with any other systems.
Can I answer a second call coming through a secondary base while on a call with an initial base?
No. The DuraFon 1X handset can only utilize one connection at a time. Outside of the Telephone service provider's "Call Waiting" the only way to answer a second inbound call is to be free to connect. If you need this capability, we suggest using our multiline systems (DuraFon 4x and PRO)
Programming FAQs
How do I register a new DuraFon 1X handset to a base unit?
To register a new DuraFon 1X handset to a base unit, please follow the following instructions:
Power the base unit
Power the handset to be added
On the handset, press MENU - 6
On the Durafon 1X base unit, press and hold the REG button near the telephone line jacks
All the LED lights should light up when registration mode is entered
On the handset, press 1
Handset will indicate successful registration and handset ID will have been assigned
Press END to exit to main menu
How many handsets will each DuraFon 1X base unit support?
The EnGenius DuraFon 1X system will support 9 handsets per base.
Troubleshooting FAQs
How can the range be maximized?
Range depends upon the environment, but below are some guidelines:
12 floors in building penetration
250,000 sq. ft. in a warehouse or retail store
3,000 acres on a farm or ranch
The range can maximized by:
Mounting the terminal base antenna as high as possible and away from obstacles.
An external base antenna can be used to provide coverage outside or to get above obstacles.
The optimal performance, tall handset antenna will provide about 20% more coverage than the low profile, stubby antenna.
If using an external antenna, be sure the antenna is mounted high and away from other antennas and obstacles. Be sure any remaining coaxial cable is un-coiled and laid flat in large 6 - 8 foot loops.
What is the battery life?
DuraFon 1X battery life:
Talk-time: 6 hours
Stand-by time: 50 hours
Lifetime cycles: 400 (about 1 year)
Battery time is based on distance between the two transmission / reception devices and will vary greatly.
Use of the tall fixed antenna may reduce the amount of power required to make or receive a transmission.
Specifications:
DuraFon 1X Handset Specifications
Electrical Specs
Base Unit
Portable Handset
Frequency
902 - 928 MHz
902 - 928 MHz
RF Power
Peak: 708 mW
Average: 76 mW
Peak: 708 mW
Average: 76 mW
Channel Spacing
200 kHz
200 kHz
Number of Channels
128
128
Modulation
MSK
MSK
Multiple Access
Freq. Hopping TDMA
Freq. Hopping TDMA
Freq. Hopping Rate
100 per second
100 per second
TDMA Frame Length
10 ms
10 ms
Number of Slots / Frames
4
4
Reciever Sensitivity
< -108 dBm (@ BER 10-2)
< -108 dBm (@ BER 10-2)
Antenna Connector
Reverse TNC
Non-standard
Antenna Gain
2 dBi Standard Rubber Duc Antenna
3 dBi Enternal Antenna Option
2 dBi Tall Hanset Antenna
0.5 dBi Low Profile Anntenna
TX Power Control Range
N/A
100- 708 mW
Telephone Interface
RJ11 x 2
N/A
Speech Coding
8 kbps G.729A
8 kbps G.729A
Channel Coding
8 kbps Convolutional + CRC
8 kbps Convolutional + CRC
Transmission Data Rate
170.678 kbps
176.678 kbps
User Data Rate
128 kbps duplex
128 kbps duplex
Duplex
Time Division Duplex (TDD)
Time Division Duplex (TDD)
Voice Quality
TIA / EIA -470B
TIA / EIA -470B
Number of System ID
65,536
65,536
Ring Signal
20-50 Hz, 12-90 Vrms
N/A
Flash Time
100 - 900 ms Programmable
N/A
Power Source
120V/12V AC/ DC Adapter
3.6V, 1700 mAh Li-Ion Battery
Charger Current
N/A
600 mA
Charge Time
N/A
4 Hours (from empty)
RegulationCompliance
FCC Part 15, Part 68
CAN/DOC RSS210, CS03
FCC Part 15, Part 68
CAN/DOC RSS210, CS03
Hearing Aid Compatible
Operating Temperature
-10 - 60o C (14 - 140o F)
-10 - 60o C (14 - 140o F)
Storage Temperature
-10 - 70o C (14 - 158o F)
-10 - 70o C (14 - 158o F)
Humidity
20 - 75%
20 - 75%
Dimension without Antenna
188 x 161 x 42 mm
7.4" x 6.3" x 1.7"
188 x 161 x 42 mm
7.4" x 6.3" x 1.7"
Weight
15 Ounces (424g)
6.17 Ounces (175g)
Applications in Depth
Self Storage: The DuraFon 1X allows a facility manager to tour and maintain the grounds while manning the main office at the same time. This helps them to provide superior customer service and ensure the property runs at peak efficiency.
Hotel/Motel: 1X Systems allow hospitality staff to have immediate access to one another from anywhere within the hotel/motel property resulting in improved guest satisfaction and business efficiency.
Ranches an Farms: DuraFon 1X offers superior coverage for most every user that requires mobility within a large outdoor environment. Cut costs from Cell Phone usage and/or 2-way radio with the 1X you can cover up to 3000 acres of outdoor property.
Estate Homes: Traditional cordless telephones can't offer the coverage that the 1X will provide. Offering complete coverage both indoor and outdoor and throughout the neighborhood.